Ernest Sanchez woke to the sound of a smoke bomb blasting through his bedroom window one night last weekend.
"He almost had a heart attack because he didn't know what was going on," said Cathy Espindola, Sanchez's daughter, who swept up shattered glass and hung blankets over broken windows the morning after the Victoria Police Department's SWAT team executed a search warrant at her 81-year-old father's home.
"He was sound asleep and then all this stuff started happening," she said. "He panicked."
The SWAT team served a search warrant about 10 p.m. Aug. 9 at the Brazos Street home. The warrant, which is currently sealed, is related to an investigation into a sexual assault that occurred at the residence, said Officer David Brogger, a spokesman for the Victoria Police Department.
The Advocate requested the sexual assault incident report, but those records are "being withheld in their entirety," said city of Victoria's legal assistant Katy Connally. The Victoria Police Department is seeking an opinion from the Office of the Attorney General about whether the report is public by law.
Brogger said the tactical response was prompted by firearm and narcotic gang-related affiliations tied to the residence.
"These things are considered when formulating a plan to execute any type of warrant and once certain criteria are met, a tactical response such as deploying SWAT is required," he said.
As a result of the warrant, a stolen firearm and narcotics were seized, and two of Sanchez's family members were taken into custody.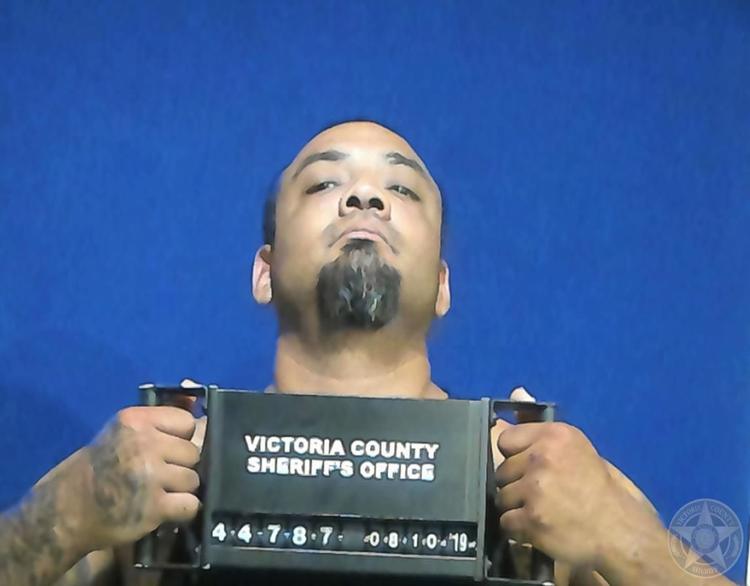 Patrick Ray Sanchez Sr., the homeowner's 40-year-old grandson, was arrested on suspicion of possession of marijuana less than 2 ounces and possession of a controlled substance less than 28 grams at the residence. Espindola said her nephew does not permanently live at the home, though the address is listed on his driver's license.
A 16-year-old boy was also arrested on suspicion of possession of marijuana less than 2 ounces and theft of a firearm. His name was not released because of his age.
Ernest Sanchez sat quietly in his wheelchair the morning after police searched his home and watched television. He and his daughter had delayed their routine Saturday breakfast plans so she could finish cleaning up the house.
Sanchez is a Type 2 diabetic, who has tremors and has had to have both of his lower legs amputated. His daughter said that while she understands Victoria police had a warrant to execute, she does not understand why his room had to be bombarded.
"I just feel that they did us wrong in the way they did this," she said. "If you were investigating the house, did you not know that there was a disabled person in here?"
Espindola said she arrived at the home about 11:30 p.m. to find her dad waiting on the street with officers, where he stayed until the search concluded about 1:30 a.m.
"He needed to urinate and couldn't even come in to use the bathroom," she said.
The SWAT team executed the warrant knowing residents could be home, Brogger said, but questions about whether or not investigators knew a disabled man either owned or resided in the residence went unanswered.
Sanchez declined medical treatment offered by the Victoria Fire Department, and no injuries were reported, Brogger said.
Regardless, Blake Sanchez, another of Sanchez's grandsons, said he felt as if the police department did not care about his grandfather's well-being.
"What if someone had a baby here?" he said. "I mean I've been here (at the house) a few times where he has fallen and he is not all there, like his blood sugar is too low ... If they don't care about an elderly man like that, what are they going to care about?"
Damage from the police entry included at least five shattered windows and sets of broken blinds and a ripped off screen door in need of repairs that Espindola said her dad cannot afford to fix.
Sanchez is able to file a property damage claim with the city of Victoria, but he had not filed one as of Friday.
Questions about whether the city has a precedence or guideline regarding property damage claims related to search warrant executions went unanswered by City Attorney Thomas A. Gwosdz.
"We're poor people, and he is on Social Security," Espindola said. "Who is going to pay for all this to get fixed?"