Blake Farenthold, while serving in Congress, tried to steer a federal contract to a business owned by the chairman of the Calhoun Port Authority, which later hired the former congressman after he resigned in disgrace.
Legal experts and a political watchdog group described Farenthold's business favor as ethically questionable.
In March 2015, Farenthold's office arranged a meeting between the port's board chairman, Randy Boyd, with two top Army Corps of Engineer Galveston District officials. In that meeting, Boyd told the Corps that his dredging business, RLB Contracting Inc., should work for them on the Houston Ship Channel.
The federal officials declined his offer, citing ethical and environmental rules that they had to abide by. After receiving a follow-up message from Farenthold's office, they repeated this to the former congressman.
"The problem is, one, did he (Farenthold) intervene appropriately?" said Meredith McGehee, of Issue One, a Washington, D.C., nonprofit that seeks to reduce pay-for-play politics. "Two, did he do so because this entity or the people involved were contributors? And three, did he get this job as a reward for what he had done for him as a public official? And the fourth question is, obviously, what the heck is the owner of a dredging company doing as chair of the port authority?"
The Victoria Advocate became aware of the meeting through a Freedom of Information request the newspaper filed with the Corps.
The port's hiring of Farenthold in May 2018 prompted public outcry. Many asked why a congressman forced out of office only a month before by his own party's leadership would be an effective lobbyist and why the port had hired him.
When the Advocate learned that neither Farenthold's name nor his position were on the agenda, it sued the port for violating the Texas Open Meetings Act.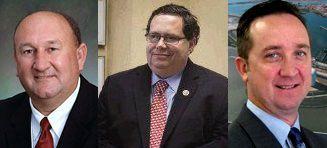 Farenthold, Boyd and Calhoun Port Authority Director Charles Hausmann all gave court-ordered depositions as part of the lawsuit.
In their depositions, Boyd and Hausmann said it was Boyd's idea to hire Farenthold but hiring and firing port employees was within Hausmann's power. However, emails the port provided to the Advocate show a different approval process. They show Hausmann wrote to the former congressman that the board needed to approve his contract before he could be hired. Minutes from the board's May 9 meeting also show Boyd directed Hausmann to hire Farenthold.
Boyd has said Farenthold could help save the port about $25 million, or a quarter of the estimated cost to repair long-defective jetties in the Matagorda Ship Channel. The port is now obligated to pay a portion of the work, so changing that arrangement would require congressional action. Boyd said Farenthold's close ties to U.S. Rep. Bill Shuster, outgoing chairman of the House Transportation and Infrastructure Committee, could accomplish this.
Neither Shuster nor his spokespeople responded to multiple requests for comment. Speaker of the House Paul Ryan has not met with Farenthold and has no plans to do so, said AshLee Strong, Ryan's national press secretary.
During his deposition Aug. 1, Farenthold said the business favor he did for Boyd was not exceptional. He said he's helped many constituents who have had trouble with a federal agency.
"It's certainly not my job to push one person over another to get a government contract," Farenthold said, "but it is to bring economic development to the district I represent."
The Houston Ship Channel project Farenthold discussed with the Corps was not in his district.
Boyd said during his deposition July 31 that he considered Farenthold a friend, but he didn't think the former congressman had helped him or any board member in securing a government contract.
"I don't believe he's able to by law, but I don't know," Boyd said. "Not to my knowledge."
McGehee said the Farenthold-Boyd deal reminded her of the Keating Five. That's when five U.S. senators were accused of improperly intervening on behalf of Charles H. Keating, Jr., chairman of the Lincoln Savings and Loan Association, which was the target of a regulatory investigation by the Federal Home Loan Bank Board.
Since 2011, Boyd has donated $17,800 to Farenthold. He had never donated to a federal political candidate before. And Boyd donated $5,000 to Farenthold's campaign a day after the congressman's office began arranging a meeting for him with the Corps, according to Federal Election Commission records.
Boyd also gave $3,250 to Brighter Future PAC, which lists Farenthold's wife, Debbie, as the treasurer, on Oct. 13, 2016. Federal Elections Commission records show that the next day, the Brighter Futures PAC gave $2,500 to Bill Shuster for Congress and $2,500 to Issa for Congress. Shuster also announced earlier this year that he is leaving Congress. Issa for Congress is the committee for Congressman Darrell Issa, R-California, who serves on the House Committee on Oversight and Government Reform.
In an interview Thursday with the Victoria Advocate, Boyd said his donation to Farenthold after his office arranged a meeting with the Corps was "coincidental."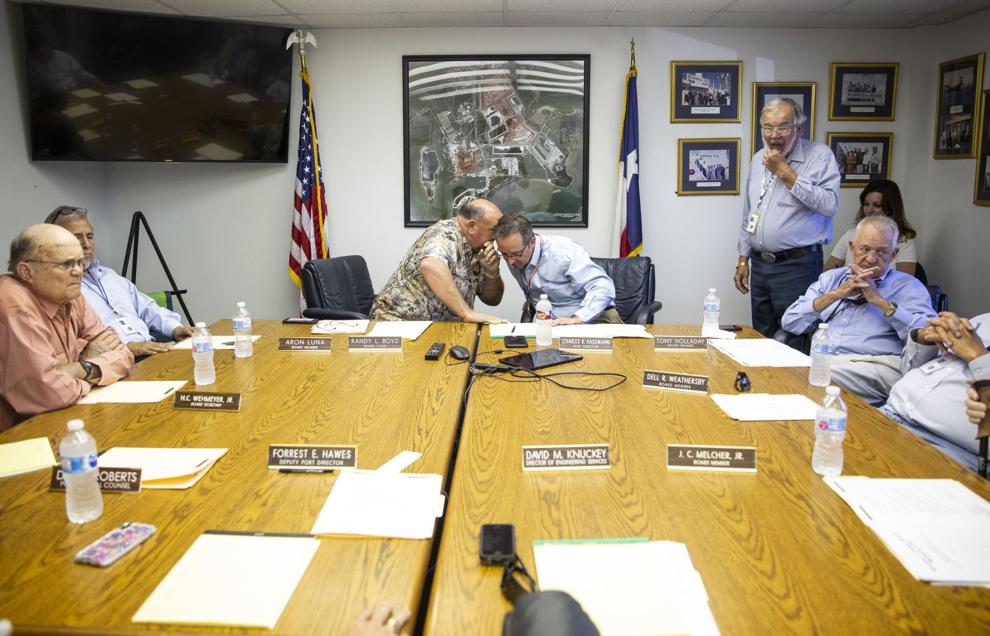 Boyd was first elected to the board of the Calhoun Port Authority in 1997. By then, he had been in the dredging business for many years. First, he worked for his grandfather's well-respected dredging business, King Fisher Marine Service. Then, he worked for Orion Marine Group, which bought King Fisher Marine Service and remains in Port Lavaca.
In 2000, Boyd started his own dredging business, RLB Contracting Inc., according to the Secretary of State's Office.
The next year, when Boyd was port chairman, the board passed a conflict-of-interest policy. According to the policy, the port can do business with a board member's company if that board member is "not the key decision-maker regarding the goods or services sought to be furnished" and if there is public bidding.
In his interview Thursday, Boyd said he didn't remember the specifics of the policy but said it was his idea to come up with it and he's abided by it ever since. He said he does not think he has a conflict of interest after consulting over the years with the port's attorney, Wanda Roberts.
Robby Burdge, a one-time donor to Farenthold, is chairman of the nearby Port of Victoria. In his 10 years on the Port of Victoria board, he said, no board member has ever owned a dredging business.
The Port of Victoria's ethics policy states "no commissioner shall directly or indirectly engage in any private business, transaction or employment, or have any significant financial interest therein, which is incompatible or in conflict with the proper or impartial discharge of his/her duties on behalf of the navigation district."
It defines "significant financial interest" as "any direct or indirect benefit to the decision-maker other than the interest that would accrue to him or her as a taxpayer or resident."
Port of Victoria Director Skip Kaup said the policy was similar to ones used by other ports.
If a dredger were on a board with a policy like the one adopted by the Port of Victoria, he would be in violation, said Katya Abazajian, who works for the Sunlight Foundation, which works on local government policy issues like this one.
"And I would add that this is especially true of a business operating within the jurisdiction of the port/navigation district since it means that a wider range of the commission's activity would be directly relevant to the business' operation," she said.
Danny W. Wan, an attorney for the Port of Oakland in California, taught at a recent American Association of Port Authorities seminar that "a public official may not make, participate in making or in any way use or attempt to use his or her official position to influence a governmental decision when that decision will have a reasonably foreseeable material financial effect, distinguishable from the effect on the public generally, directly on the official..."
Wan taught that public officials could open themselves up to criminal or civil liability if they do. The Calhoun Port Authority is a member of the national association.
Victoria City Councilman Tom Halepaska has thought a lot about ethics because he, too, owns his own business. To avoid even the appearance of conflict of interest, he does not sell his Halepaska's Bakery pastries to the city of Victoria.
He said he considered the Calhoun Port Authority to be similar to the Metropolitan Planning Organization, which he chairs. Both the port and MPO vet projects and give their blessing to the governmental agencies that fund the work. For the MPO, that's the Texas Department of Transportation. For the port, that's the Army Corps of Engineers. Because of this conflict, Halepaska said, Boyd should step down.
"You might be a Democrat, you might be a Republican, but everybody votes their pocketbook," Halepaska said. "Put yourself in that situation. Something that would affect your income, you'd be hard-put not to be thinking about it."
The Advocate asked for copies of any contracts the port had with RLB Contracting Inc., and the port said it did not have any.
RLB has had 33 contracts with the Army Corps of Engineers since 2003, and eight of those contracts were in the immediate vicinity of the Calhoun Port Authority. Some were for dredging the Matagorda Ship Channel and the Gulf Intracoastal Waterway, which would enable the port to accept more heavily loaded ships.
A look at RLB's contracts with the Corps shows the company flourished during Farenthold's tenure.
In 2009, the year before Farenthold was elected, RLB reported having 45 employees and an annual revenue of $9 million. This year, it reported having 95 employees and an annual revenue of $25 million.
RLB also received more Corps contracts and payments from the agency during Farenthold's tenure: 19 contracts and about $89 million. Before Farenthold was first elected in 2010, RLB received 14 Corps contracts, and its payments from the agency totaled about $52 million.
Former Calhoun Port Authority Board Member Tom Flores said he also didn't think a dredger should be chairman. Flores said he thought Boyd could use information he obtained as chairman to give himself an edge in the bidding process.
Flores, who is retired from Alcoa's environmental department, served on the board from 1989 to 1997 and recalled winning his first election against an incumbent by just a handful of votes.
Flores said he thought it would be easy for Boyd to use his chairmanship to gain financial advantage for himself. Flores said he often worried those with whom he served with were subconsciously doing just that. When Flores served, the nearby Formosa chemical plant was covering the costs of building the present-day port because the waterway could handle only barge traffic at the time.
"All of the other guys wanted Formosa to come in because it was going to make them money, and I said, 'Wait a minute. We have to do this right,'" Flores said.
But some Port Lavaca residents said they don't see how RLB's success could be a conflict of interest or tied to any favor by Farenthold.
"I know that he has steadily grown the company and, at one time, he didn't have a dredge," Calhoun County Judge Michael J. Pfeifer said. "When he got his dredge, that opened up more opportunities, and when you start talking about a dredging contract, when you get a dredging contract, for the Houston Ship Channel or even here with some of this, just a small dredging contract is probably like a million dollars or over, you know?"
Pfeifer and Calhoun County GOP Chairman Russell Cain said Boyd was charitable, especially to Calhoun County youth who raise livestock to show each year.
"The Boyds have fed a lot of mouths here," Cain said.
In his interview Thursday, Boyd said he grew his business in 2011 when he got into dredging after another dredging company in Port Lavaca bought out a third. The two other dredging companies were Orion Marine Group and TW LaQuay Dredging. Orion Marine Group was managed by one of Boyd's family members while TW LaQuay Dredging was owned by his aunt and uncle.
"What I'd like people to know about RLB is that we've given a tremendous amount of money to the community ... that we believe in doing what's right, and that there is no conflict of interest with us and the port," he said.
According to the Calhoun Port Authority's conflict-of-interest policy, those board members whose companies do business with the port must fill out an affidavit and file it with the chairman. Only nine such affidavits have been filed in 17 years. Boyd has filed only one during his 18 years on the board.
In 2003, Boyd filed an affidavit with then-chairman Roger G. Martinez, promising to abstain from discussing or voting on the "Indianola-Magnolia Beach Erosion Control Project" because the General Land Office had selected his company, RLB, as the contractor for the $1.9 million project. In his interview with the Advocate, Boyd contended that this is his only conflict of interest while serving on the board and that it was a conflict of interest because the port contributed money to the project. Boyd declined to say why the port contributed to the project or by how much.
The port, meanwhile, continues to deny violating the Texas Open Meetings Act when it hired Farenthold.
The port board agreed to pay either $400 an hour, or up to $80,000 a year, for a lawyer to fight the lawsuit.
John Griffin, an attorney who represents the Advocate in the matter, has said repeatedly that the port could have avoided any legal expense by reposting the May 9 meeting's agenda with Farenthold's name and the lobbying position on it. After doing that, the port board could legally hire Farenthold.
Instead, the case is awaiting trial while the port pays Farenthold about $13,333 a month and doesn't require him to document his work. When the Advocate asked for any evidence of Farenthold's work, the port provide only one email exchange between Farenthold and Hausmann.
"I think I qualify as a 'public official' being an employee of the port, so my communications are excepted from the definition of 'lobbying contract' and shouldn't require registration," Farenthold wrote to Hausmann.
In his deposition, Boyd downplayed the public's outrage about Farenthold's hiring. He said he had heard from maybe one or two people in his district concerned about the hiring.
As part of a Texas Public Information Act request, the Advocate received 99 emails and 17 letters from the public to the port and to Farenthold in the two months after Farenthold's hiring.
Only two were positive, asking Farenthold for his autograph. Some were riddled with expletives.
"Your board has broken the law by hiring him! Fire him immediately as Farenthold has dishonored his oath and took (sic) taxpayer funds for personal use," wrote Claudia Tarrillion, of Port O'Connor, who signed her email as a "disgusted and sickened taxpayer."
Joseph Moldenhauer, an 84-year-old who owns a weekend home in Seadrift, tried Aug. 3 for the fourth time to mail a letter to the port. He said each of his letters had been returned to him as undeliverable even though he was mailing them to a post office box listed on the port's website.
"I'm just protesting the malodorous appointment of Farenthold as the port authority's lobbyist," he said in an interview with the Advocate. "You can quote me as saying that I care very much."
In his deposition, Farenthold said he advised Boyd and Hausmann not to worry about any public backlash.
"I think we had a conversation about the fact that I was a media focus right now," Farenthold said, "and we both agreed that in a month or so that that would die down, and we'd be able to go on with my job without a lot of media scrutiny. With this litigation, that has not come to pass."
Click here to read Boyd's deposition and here to read Hausmann's deposition.