ROCKPORT – Andrea Carlson relaxed in a chair Thursday on the back porch of Rhonda and Marty Cantu's home, tucked in a quiet, unassuming cul-de-sac on San Leanna Drive.
With her hands in her lap and a camera beside her feet, Carlson watched with bewilderment as dozens of ruby throated hummingbirds fluttered between 10 feeders and countless plants.
"They are just magical little creatures – fast and tiny, and fierce and beautiful," she said as they fed on sugar-water and nectar.
How often do you see hummingbirds?
Rhonda Cantu, 56, estimated that at least 100 people will visit her backyard by Sunday for the Hummer Homes tour, which is part of Rockport-Fulton's 31st annual HummerBird Celebration.
"I have had some people come right at the crack of dawn and they'll stay all day until they're gone," she said.
The Cantu house is one of 29 homes and nature sights on the self-guided tour this year, which is free and open to the public from dawn to dusk until Sunday, said Diane Loyd, the festival's Hummer Home chairmen.
The three-day festival occurs annually during the third weekend in September, when ruby throated hummingbirds migrate through the region from as far north as Canada, south to Mexico and beyond.
The birds usually weigh less than a penny and have a higher energy output per unit of body weight than any animal in the world, according to the Texas Department of Wildlife. From a standing start, hummingbirds can rev up speed to 60 mph in a distance of 3 feet.
Because of the birds' high energy output, hummingbirds have to increase their body fat by 50% to use as fuel during their migration. Upon leaving the Texas coast, they will fly nonstop across the Gulf of Mexico – a flight of about a staggering 800 miles.
After reading about the festival in magazines and hummingbird groups on Facebook, Carlson said she traveled from her home in a town just north of Des Moines, Iowa to see the migration for the first time.
Cantu said she had visitors last year from as far as Australia.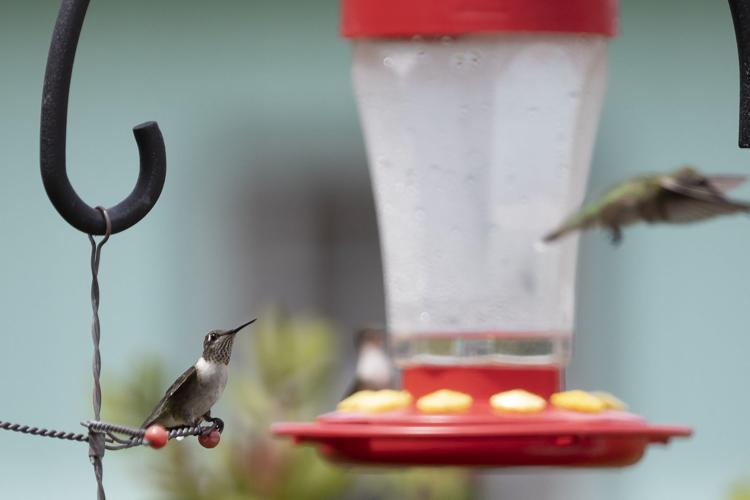 About 5,000 people attend the festival annually, which is packed with tours, banding demonstrations, photography classes, excursions and more, according to the Rockport-Fulton Chamber of Commerce.
Cantu joined the home tour in 2016, but had to prepare her backyard from scratch after Hurricane Harvey, she said. After riding out the storm in her hallway, Cantu emerged with her family to find a huge oak tree ripped from the Earth.
"The hummingbirds loved to perch on that tree," she said. "Harvey even took out my grass, so we had to kind of start from scratch ... we didn't plant anything that the hummingbirds wouldn't love."
Cantu's home became a sugar stash after the storm, when Wild Birds Unlimited dropped off sugar, distilled water and feeders at her house to make sure the birds were properly fed during their migration.
She recalls locals stopping by to pick up bags of sugar.
"We went through it pretty quickly," she said. "I was making six gallons of sugar-water each day."
Feeders have to be washed daily to avoid mold, yeast or bacteria from building up and making the birds sick, Cantu said. She has gone through about a gallon of sugar-water each day this week.
Cantu feeds different hummingbird species and other birds year round. After the ruby throated hummingbird migration is over, for instance, she will prepare for American goldfinches that will stay through the winter.
The work is "a labor of love," she said.
"If you sit out here long enough, you will just learn to really love them," Cantu said. "When it is really quiet back here and it's just me, they'll come close enough that I can almost feel the breeze that their little wings will give off."
This story has been updated to reflect the correct food sources for hummingbirds in Cantu's backyard.