Suddenly serious, Victoria single mom Cecilia Espindola gripped her twins' hands, hefted her 2-year-old and marched across the pocked and faded remnants of a crosswalk.
"Wait," said Espindola, 30, uncharacteristically snapping at her children.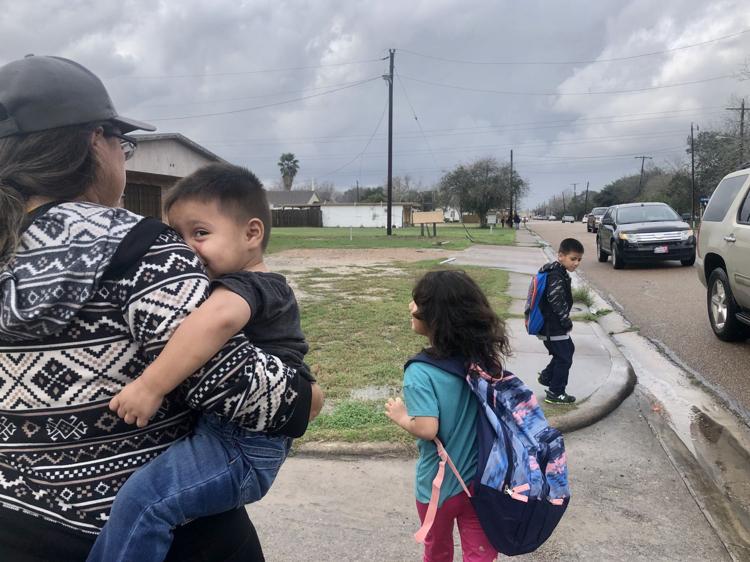 Leading a long line of traffic, a pickup pulled up hurriedly, braking just in time at the intersection at Odem and Callis streets.
"People don't see the crosswalk, so they don't stop," she said, adding her biggest fear is that her children will be struck by an inattentive driver.
Before Espindola and her three children could exit the intersection, more vehicles sped through – mere feet away.
"They just kept going," the mother said. "They see us standing there, trying to cross."
One afternoon in mid-January, Espindola set out from her southside Victoria home on an hours-long journey by foot and bus that would take her miles across town to the children's day care. Despite the time, energy and risk required, the trip was one of countless others she had regularly undertaken as a vehicle-less Victoria resident.
Waiting at the bus stop, Espindola said her experience getting around town is one of intermittent safety features such as sidewalks, signals and crosswalks; a limited bus system; and a perception that city leaders care more about residents with vehicles.
The difference in daily experiences between those who have vehicles and those who do not is quite real, said District 6 City Councilman Mark Loffgren.
"There's people who have cars, and there's people who don't have cars," Loffgren said.
In parts of the city, he said, essential businesses such as laundromats and groceries are few and far between.
The number of residents who have no vehicle is considerable, meaning many are burdened with long bus rides and walks to accomplish daily tasks that those with vehicles take for granted.
"A lot of people can't relate to that," he said. "They don't understand. The people who read this newspaper probably have a car."
Suddenly carless
After embarking on the Victoria Transit bus, Espindola finally took a breath and settled into her seat.
Engrossed with a Youtube channel on Espindola's phone, her two twins, Texas and Montana, sat quietly in their seats.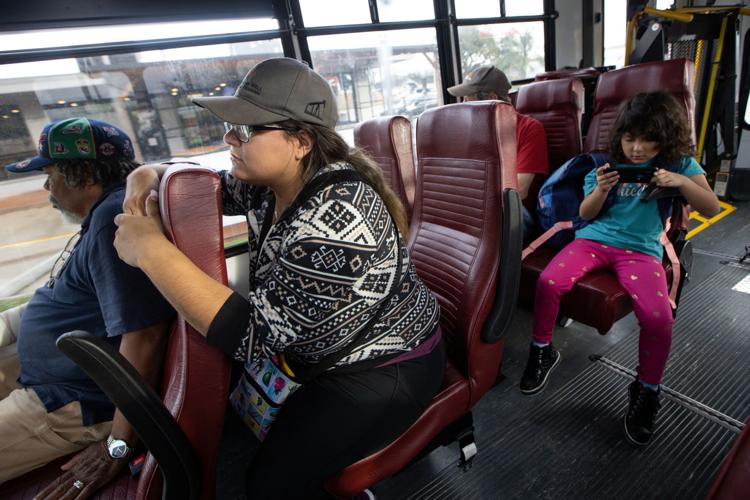 The mother's youngest, Memphis, was enraptured by the scenery flying by his window.
The family had not always relied on the bus, she said.
Despite the about $1,000 she has spent on her Mitsubishi Montero, Espindola said her vehicle is no closer to being repaired since it unexpectedly stopped running several months ago.
Losing the function of that vehicle, she said, caused her to quit her job as a convenience store clerk.
That loss was hard to swallow, she said.
"I cried," she said, recalling the memory even as new tears came to her eyes. "I was like, 'Can anything ever align for me?'"
That job, she said, was ideal not only because of the steady income but also because her former boss had given her the necessary flexibility to pick up her kids from school and drop them off at day-care.
"I can't do that when I don't have a vehicle because of the time it takes," she said. "If I was walking, that's even more because then I have my kids and, well, you saw like just now, I'm having to cross streets and crosswalks. It's the safety of it."
Costs add up
Most days, the trip from Dudley Elementary School to the day-care takes about an hour, she said.
But buses are sometimes late, and that turned out to be the case that day.
With traffic heavy that afternoon, Espindola found her usually one-hour, two-transfer trip stretching to about an hour and a half.
About halfway through that ride, a red-faced Montana burst into loud sobbing because of a dispute over the phone with her brother.
Espindola suddenly found her parenting thrust into the public as other passengers craned their necks out the windows, eager to give them privacy.
"That's why I don't let you use the phone, because you fight about it," she said to the twins before taking the phone away. "Look out the window. Look at the clouds and see what you can make out."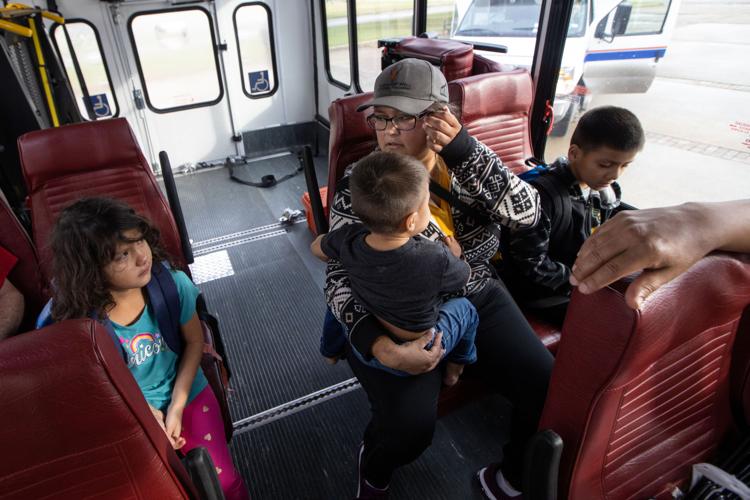 Ticket fare, which Espidola said adds up surprisingly fast, is not the only cost the family has had to bear.
Living without a vehicle also has cost the family its independence, she said.
Now, getting out of the house is a rare luxury that must be planned far in advance.
Although Espindola said she previously called friends to ask for rides, she has noticed many of those friends no longer answer the phone when she calls.
She suspected they have grown tired of driving, even though she offers abundant gas money and thanks.
After completing the long ride and dropping off her kids at day-care, Espindola breathed a long sigh of relief.
She walked back to the bus stop, sat down on the bench and began the 30-minute wait for the bus that would return her home.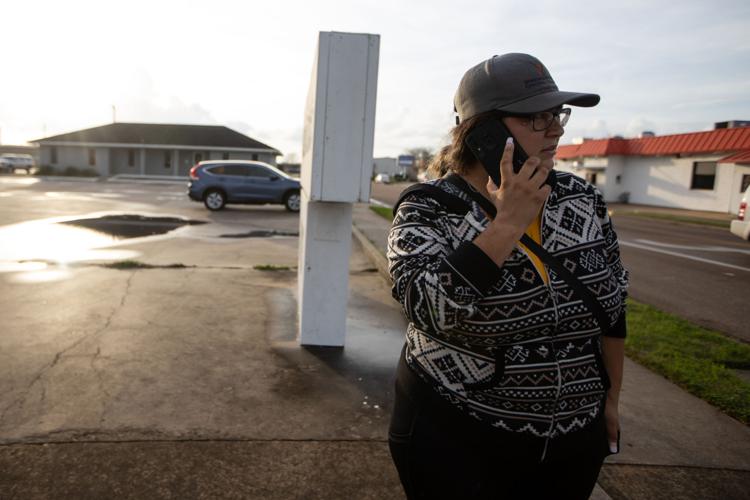 Listening to the community
Maggie Bergeron, coordinator for the Victoria Metropolitan Planning Organization, said she knows what it is like to live without a vehicle.
"I've been without a car, but had a job and places to go," Bergeron said. "It is rough. It is near impossible."
While studying in Fort Worth, Bergeron said she learned just how frustrating that life can be.
Her studies eventually led her to leading Victoria's MPO, which listens to residents and advises decision-makers about transportation.
Although the MPO is managed financially by the city, it is beholden to a planning committee made up of city, county, regional and state officials.
"We're a table for everyone to come to, and we want to give everyone a voice at that table," she said.
Although Bergeron said she agrees drivers' priorities historically have been prioritized nationally, she said the city has not forgotten about its pedestrians.
Sidewalks and medians
Along North Navarro Street, the city's central consumer corridor, a median is planned to prevent turning vehicles from disrupting the flow of traffic.
That project will also complete sidewalks and street lamps that are for now intermittent.
About two decades ago, city planners began requiring construction projects on Navarro to install new sidewalks.
But many buildings there were constructed before the requirement.
Similar sidewalk improvements are planned along U.S. 59 business from North Laurent to North Ben Wilson streets.
"They are so needed," Bergeron said.
City Council members are also moving forward with a project there that would create a crosswalk in the area, which is known for pedestrian-vehicle injuries and deaths, as well as jaywalking.
Buses and stops
While Bergeron said Victoria Transit buses could use improvement, she defended the system.
"When you look at the resources our transit system receives ... , we have an excellent transit system for our costs," she said.
While the system may lack online bus tracking, which Bergeron said is expensive, other improvements are on the way.
"It's on their radar," she said.
Installation could begin in March for additional bus stops with benches for waiting, trash cans and roofs to protect from weather and South Texas sunshine.
Crosswalks, community involvement
With about $200,000 available this year for re-striping, City Engineer Ken Gill expects about 7,130 feet of crosswalks, stop bars and lane demarcations to be painted and cleaned.
That work is scheduled to begin in February and will continue incrementally in upcoming years, he said.
In fact, Bergeron said, community engagement is essential to a improving transportation infrastructure.
She invited residents to contact her office directly and participate in workshops to say what features they most need.
Such workshops, Bergeron said, can be held with as few as five residents.
"Our transportation system is just not effective without community input," Bergeron said. "If you feel drivers are being heard more, then the louder you are, the more effective the change is sometimes."
Still waiting
Espindola said that although she thinks community engagement could eventually result in improvements in the future, for now the problems remain a very real and very frustrating part of her daily life.
"If I walk to the store down from my house, I'm struggling to push my son in grass and potholes. A sidewalk would be great," said Espindola, adding she has doubts about whether a sidewalk is coming any time soon.
After all, the Victoria native said she's seen the same problems persisting in certain neighborhoods for her entire life.
"Those streets have been like that forever, since I was a kid – a baby even," she said.