Live music blared throughout the Victoria Community Center on Tuesday night and into its annex, where H-E-B's 29th annual Feast of Sharing overflowed.
Melissa Cisneros bent down in the back corner of the room to help her granddaughter write a letter to Santa.
H-E-B asked children to include their address on letters to Santa this year, so that some of the wishes could be fulfilled by the Texas-based supermarket chain.
"Is this real?" Cisneros asked a volunteer as she spelled out 6-year-old Araceli's address to her.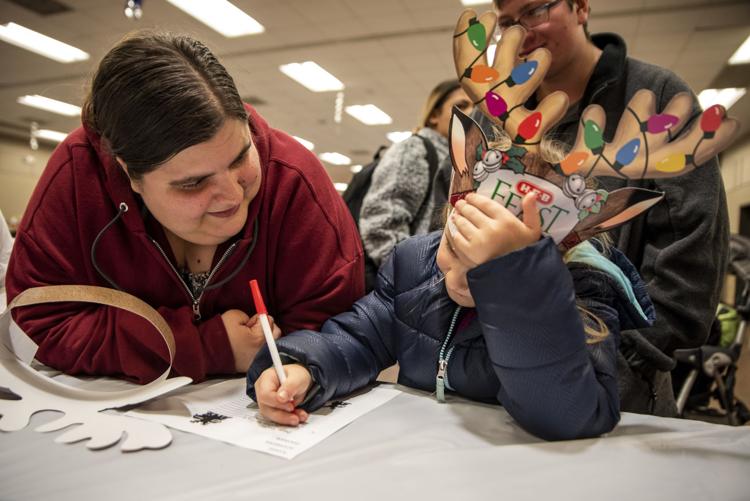 The Victoria resident said she tries to attend the Feast of Sharing with her family each year after her daughter spent years volunteering at the event.
"It is good to see unity in the community and fun for the kids; to bring them and show them that there is more than just the material things and there are a lot of unfortunate families who see this as their Christmas meal," she said. "Usually it is just stuff for north side or south side or whatever, so this kind of brings everybody together and is a reminder that, you know, we're all equal."
H-E-B prepared meals for 5,000 guests on Tuesday with the help of 400 volunteers, said Joe Farias, the H-E-B Plus! store leader event co-chairman.
The meals included 1,250 pounds of ham, 1,100 pounds of green beans, 1,250 pounds of mashed potatoes, 100 gallons of brown gravy, 5,000 rolls, 5,000 slices of apple pie and numerous soft drinks.
The Feast of Sharing in Victoria is one of 30 that H-E-B serves throughout Texas and Mexico, feeding about 250,000 people during the holiday season, Farias said.
Dancers and musicians performed throughout the dinner and kids took pictures with Santa in the annex, where face painting and crafts stations were set up. The H-E-B Pharmacy team also administered 200 free flu shots.
"It started as a feed the hungry initiative because we do not want anybody to go hungry during the holidays," Farias said about the event. "One of our pillars of our business is the community pillar. We take that very seriously, whether it is a serious natural disaster like Hurricane Harvey or one of the fun things we're able to do like purchasing animals in the Victoria Livestock Show."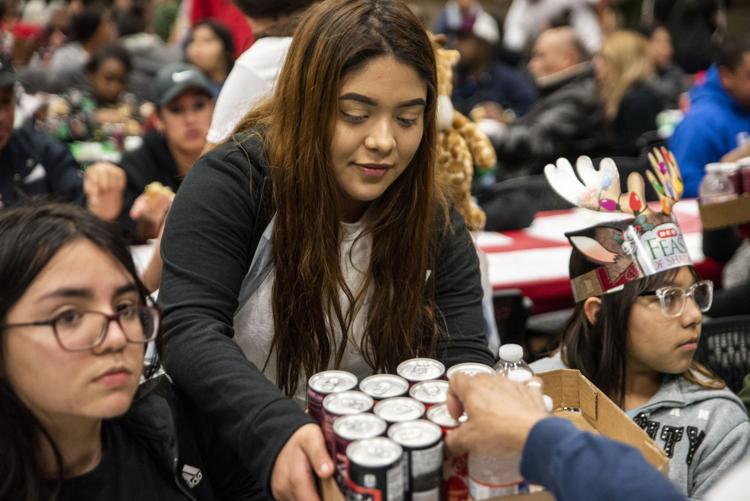 Farias said the event would not be possible without volunteers, many of whom are local teenagers such as 13-year-old Elizabeth Roane.
She passed out reindeer hats in the hallway and greeted guests with a welcoming smile.
"We got to choose if we wanted to volunteer as part of Girl Scouts and I decided to," she said. "I really like seeing all the people and being able to interactive with everyone, give back to the community and see everybody just all come together."
By 6:30 p.m. she had gone through hundreds of reindeer hats, but had no plans to stop.
"Some more people I think are going to come show up," she said as she walked back into the crowds.