Albert Kitchen's brother-in-law gave him an arm to lean on at the altar Saturday morning as he sang "I Found Love" by BeBe Winans to the woman at the end of the aisle.
The night before his wedding, he pointed to his oxygen machine and said he was going to get "pumped up" to sing to her. Kitchen coughed and took a few moments to breathe but managed to get through every angelic lyric before Robin Harris married him.
"I made her one promise when I asked her to marry me," he said. "I told her that I don't have nothing ... I can't make her no promises but one, and that is if she will allow me to love her for the rest of her life, she will know what love is.
"I've waited so many years to tell someone that."
Tissues were passed around the Sam Houston Room at 120 Main Place on Saturday, where the Victoria chapter of Harbor Hospice held the couple's wedding and reception.
Kitchen, 52, has been a patient of Harbor Hospice since March. He is battling his second round of cancer and is not seeking treatment, said Roxanne McAdams, his registered nurse case manager at Harbor Hospice.
Kitchen is a man who has faced struggles but never lost his faith.
"Whenever we have our chats, they are very deep," she said. "I always think when I'm leaving that it is mutual; I gain from what he imparts to me."
Kitchen never thought he would find someone who would love him after he was first diagnosed with cancer.
"It started off with me only having about three years to live, and that was in 2014," he said. "I thought nobody was going to want me because of my illness, and not only has God allowed me to live longer than those three years, he has allowed me to find my unconditional love."
When the local Harbor Hospice team heard their story, they decided to help.
"We usually don't intervene in something like this, but it was all them," said Jamye Huff, the director of nursing for the Victoria branch of Harbor Hospice. "They told everyone who walked through their door that they wanted to get married; they just needed a little help making it happen."
What started out as vision of vows in their living room with a few family members turned into a fully decorated wedding with a meal, cake and about 50-60 loved ones, said Cindy Lampkins, Harbor Hospice's volunteer and community education coordinator.
The family was blown away by the gestures of the Harbor staff.
"I think they both have been looking for this for a long time," said Harris-Kitchen brother, Elliot Harvey Jr. "It is something that I know he (Albert) has talked about since the time they started dating, and then he became really sick, so they weren't able to do those things. To have all of the hands come in and help them get to this point has been a blessing."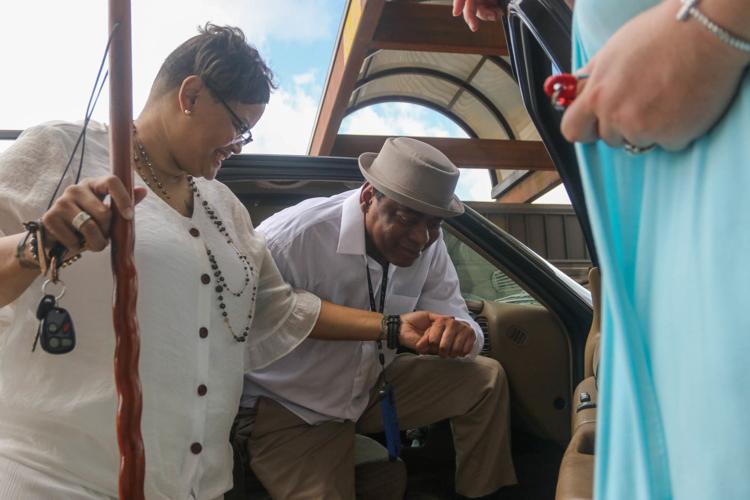 When Kitchen found out that the Harbor staff wanted to help with his wedding, he said he shamelessly "cried like a baby."
"I just froze because we're the ones who are always giving, and to see blessings come back to you is just overwhelming," he said.
Kitchen and Harris-Kitchen have known each other since they were kids playing on the same block in Victoria but were merely distant acquaintances until two years ago. After reconnecting on Facebook, messages turned into phone calls, then visits and one day, Kitchen told his now bride how he felt.
"I told her, 'I need to tell you this and I need to tell it to you fast before I pass out, but I am the person that you've been looking for,'" he said.
"He literally said that and hung the phone up," his wife said and laughed.
"The connection they made was amazing and continues to be," said Barbara Williams, the bride's sister. "You know someone all your life, but you never know what lies beneath the surface."
Harris-Kitchen said finding her husband is the answer to years of prayer. The 45-year-old Victoria native said he is the first person she has ever been in a romantic relationship with.
"For somebody to go from nobody to having this person that thinks the world of you is overwhelming," she said. "It gives you hope that it is never too late, that somebody that you've waited for your whole life is there – they show up."
Kitchen may be declining in health, but he refuses to let his condition define his idea of forever.
"I promise that I am going to love her," he said. "Not for the rest of my days because my days are going to be shorter than hers, but I want her, even when I am gone, to feel the love that I have for her."