Five months and 26 days have passed since Roy and Diane Rosalez drove to CHRISTUS Santa Rosa Hospital in San Antonio and cried out for their daughter.
"Roxana, we're here. Roxana, can you hear us?" they screamed.
She was in intensive care at the hospital, on a ventilator with the coronavirus, although they didn't know exactly where. The Victoria parents begged staff to see her, offering to suit up and take any precautions necessary, but the only place they were allowed to go was the chapel.
So, to the chapel they went and prayed the rosary.
The Rosalezes' daughter, Roxana Rosalez, died the next morning at 40 years old, and they found themselves grappling an unimaginable loss in the context of an unimaginable pandemic.
"I can't believe she's gone," her mother said on a recent evening in her living room. "I feel like when I look at her pictures, she's telling me 'Mama, don't cry. It's OK. I'm OK.' But I can't stop crying."
Rosalez, 65, and her husband, 65, are not alone. The pandemic is ongoing yet already among the most deadly events in U.S. history, having claimed the equivalent of more lives than 100 9/11 tragedies.
"We've had cases of massive fatalities in wars in the past, but wars involved a particular enemy who has particular intentions. This case of massive death involves a virus, which is quite impersonal," said Joel Kuipers, a professor at George Washington University who is among a team of researchers studying funeral ritual practice during the COVID-19 pandemic.
Hundreds of community members and millions throughout the U.S. have lost loved ones to the coronavirus and been forced to mourn in the face of compound loss — the loss of people but also of jobs, food security and the ability to gather with friends, family or even a crowd of complete strangers.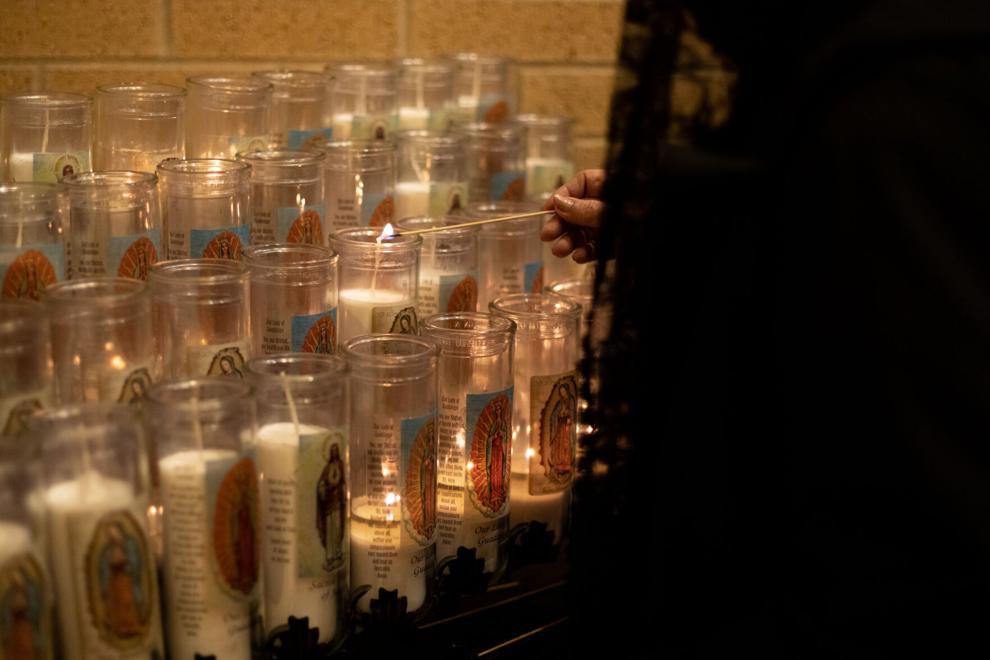 Added stressors of the pandemic and restrictions put in place to mitigate the spread of the virus complicate the grieving process by upending assumptions about everyday life and death, said Robert Neimeyer, a doctor of clinical psychology and director of the Portland Institute for Loss and Transition.
"Our sense of being able to predict, anticipate and control life has been shaken or shattered in the current climate, and the world is nothing like we thought it was," he said. "And then, we add to that the loss of a stabilizing, important, often central relationship with someone we have loved and counted on for friendship, nurturance, caretaking or to whom we've offered those same things, sometimes reciprocally … and you have an assault on our world of meaning at two levels — what life means and what our relationship or family means."
In addition to the psychological isolation inherent to grief, the pandemic created physical isolation.
"People end up finding that all those things they used to be able to do, small pleasures that we once relied on to give us time out from grief, are a lot less available," Neimeyer said. "It is not only what we have to do but now what we can't do that makes a big difference, and that is true whether the loss that we're grieving happened in 2019 or 2020."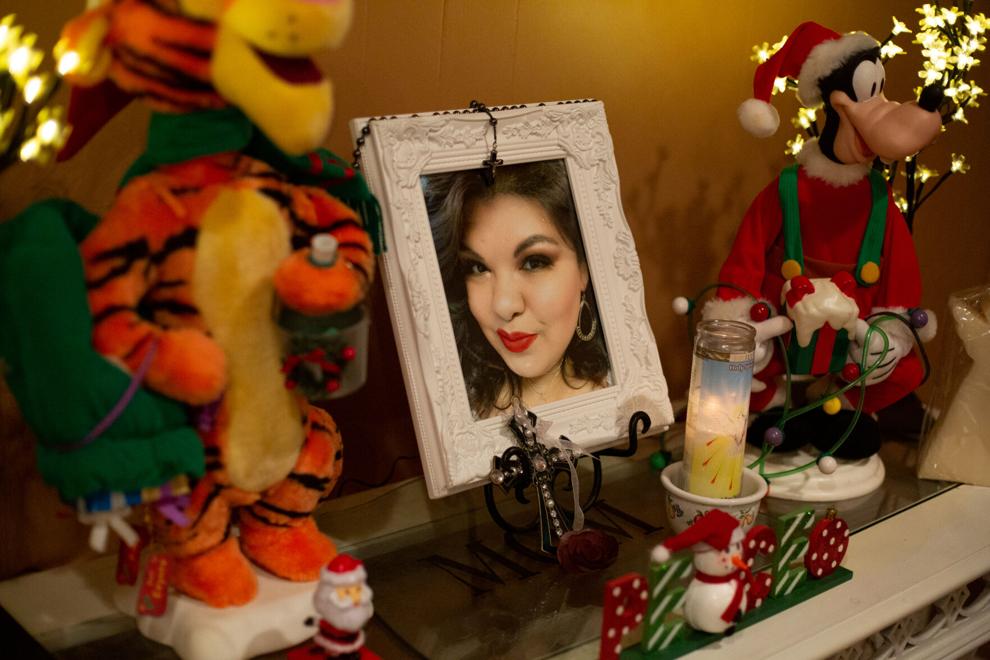 Virtual goodbyes
Grieving is an attempt to reconstruct or reaffirm a world of meaning that has been shaken or challenged by loss, Neimeyer said.
"We try to wrap our hearts and minds around the event itself and then, in another dimension, try to access that backstory of our life with our loved one and figure out how to carry that story forward," he said. "Grieving is the emotional, psychological and relational process of dealing with those two ruptures in our life story and figuring out how to revise that story or reaffirm a story of love in order to move forward into a changed world."
Having control or regaining control is key to the grief process, which is in part why pandemic restrictions have been so difficult, said Sue Morris, a clinical psychologist and director of bereavement services at the Dana-Farber Cancer Institute in Boston.
Prior to the pandemic, people expected to be able to be with their loved one when they died from illness, she said. But visitation restrictions at hospitals and nursing homes have made that impossible for many during the pandemic, including the majority of families who spoke to the Advocate about loved ones they lost to COVID-19.
Roxana Rosalez last communicated with her parents through text messages.
Beth Riedesel, of Yorktown, last saw her mom, Ruth Brandt, through FaceTime. She died from COVID-19 complications in September at a nursing home in Yorktown.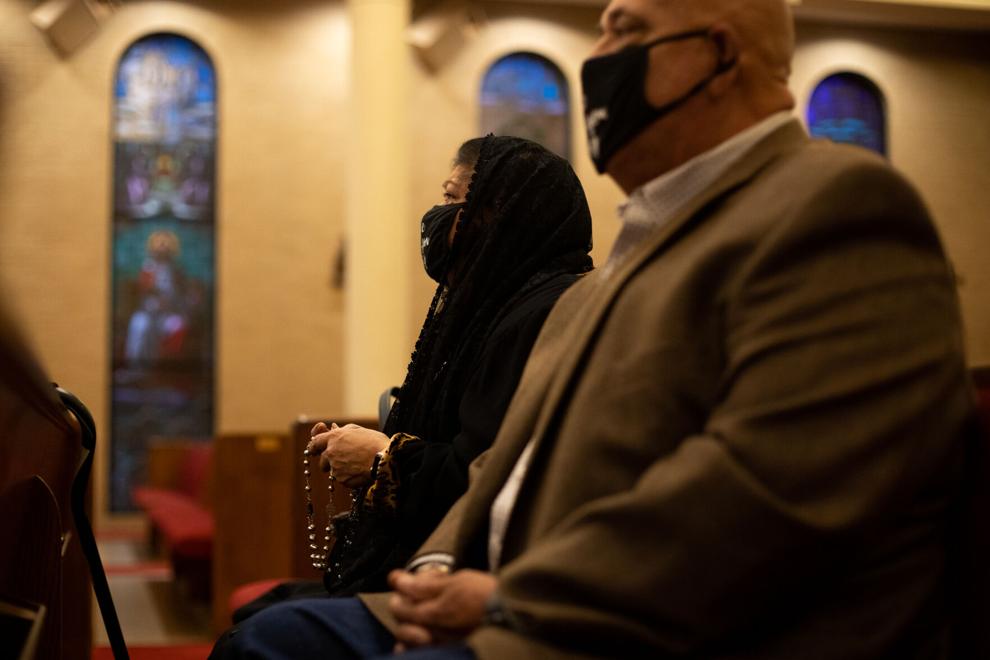 The nursing home offered to let the 61-year-old daughter say goodbye in person, but she knew her mom wouldn't want her to risk contracting the virus.
"It was horrible because you want to be there so badly," Riedesel said. "It is a lot of guilt, and you're angry because you've been locked away from them for all those months, and you can't go see them or hug them, and there are telephone calls, but that is not the same thing … You're mad at the government, but then you don't know who to be mad at. You're just mad at the whole thing."
Rachel Valdez, of Victoria, was able to see her mom, Rachel Martinez, one last time at Baylor St. Luke's Medical Center in Houston before she died from COVID-19 in early December.
After only Zoom sessions and phone calls made possible by nurses and chaplains who used their personal phones, that hour and a half meant everything, she said.
"I cried and cried, and told her I still needed her," she said. "They put my phone in a plastic bag, and I started calling everybody. I put it on speaker next to her ear. I could hear them crying, but I called as many people as I could think of, so they could get a chance to talk to her."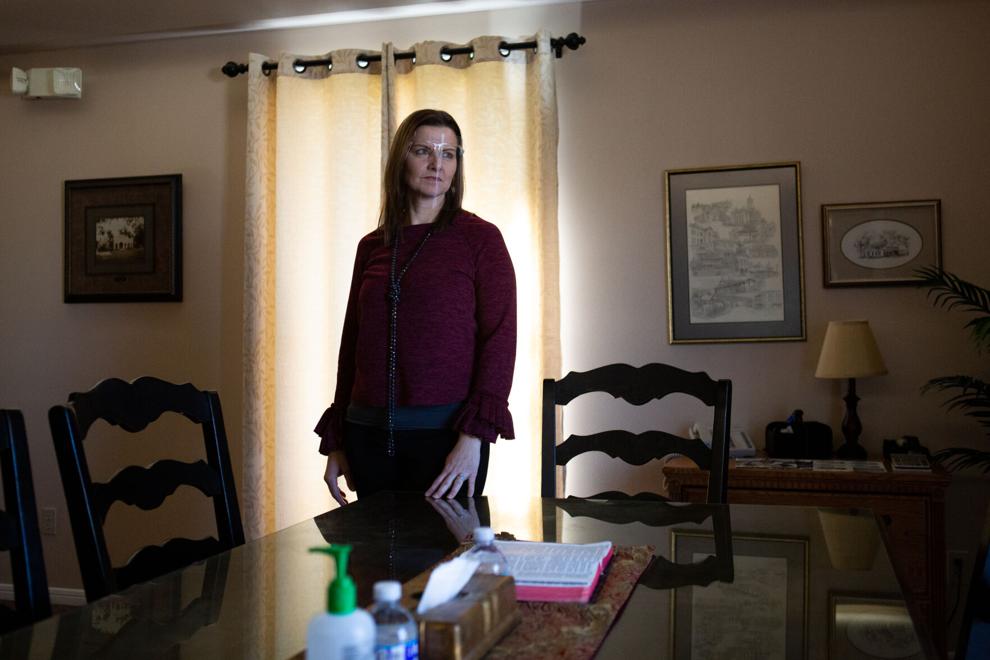 Changed funeral services
Funerals play an important role in the grieving process, Morris said. They serve as an opportunity to honor the dead and for communities to come together and offer condolences to a family, signaling to the broader community that someone has lost a loved one and needs support.
When the pandemic hit the Crossroads in March, the funeral industry was forced to figure out how to provide these essential services within guidelines, including requiring face masks, social distancing and additional disinfectant and precautionary measures for open casket viewings and visitations.
Many people opted for graveside services in an effort to protect all in attendance, said Eric Draper, who owns Fruend Funeral Home in Cuero with his wife, Dawn Draper.
"We had vehicle caravans. People sat in their cars for graveside services and held signs up instead of approaching the families, just to show their support," he said.
Staff put themselves and their families at risk of exposure to the coronavirus as they retrieve and care for the deceased and their families.
Calls came in and continue to come in from families who were exposed to their loved one who had COVID-19 and didn't know whether they had contracted it, Draper said. Others have had to arrange their loved one's funeral while they themselves are ill with the virus.
Some families postponed or canceled services while many went ahead with much smaller funerals because of capacity restrictions. Visitations were either done away with or extended in length to prevent crowds from gathering and some families asked funeral homes to livestream their loved one's service.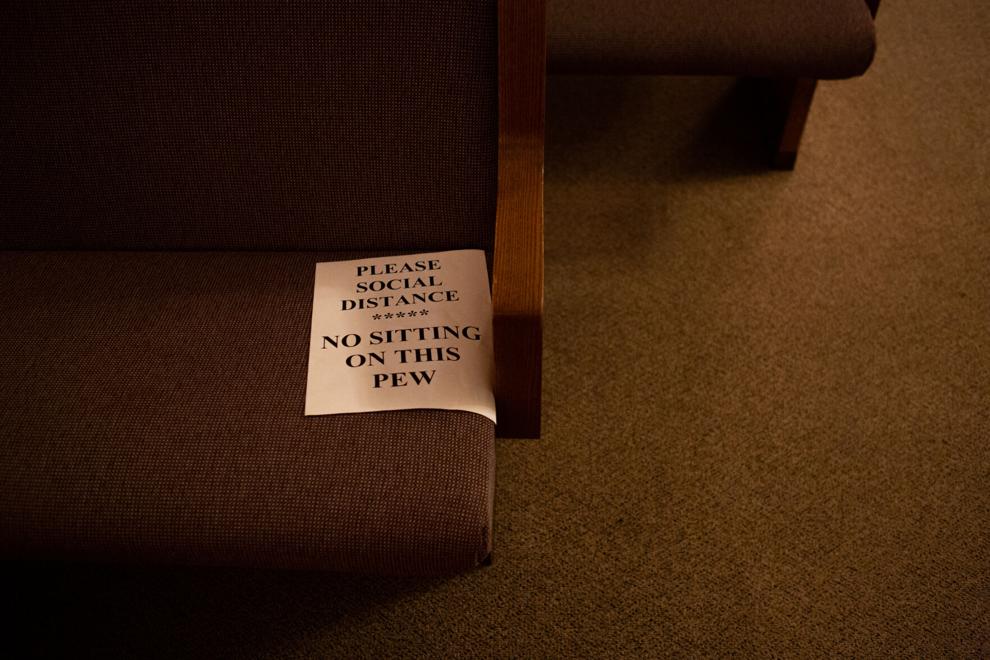 "It is already stressful enough that someone's lost a loved one, but then not being able to be surrounded by your friends, your family and sharing those stories — that's just part of the closure. And when you lose that part, there's going to be some empty parts, some emptiness from all that, for sure," Draper said.
Riedesel, whose mother was buried in Yorktown, said she felt cheated out of having a visitation and proper funeral for her mom. She had to limit the service to immediate family.
"She was just put in there and closed up and disinfected, and we had a 15-minute graveside service, and she was gone … I told my husband, 'This is what her life has boiled down to,' and it's a real feeling of being cheated," she said. "It just seemed so dehumanizing, and it's nothing derogatory toward the funeral homes, but (it's) just what this virus has done."
The Rosalezes also held their daughter's funeral graveside. Three days later, both parents and other family members became ill with COVID-19.
Roy Rosalez was sick for 26 days. He had to call an ambulance because he had difficulty breathing, but he decided not to go to a hospital because he was afraid he, like his child, wouldn't return home if he did.
"I feel like we didn't get to grieve because we got the coronavirus, and the doctor told us not to stay in the same room," his wife said. "He was sick for so long."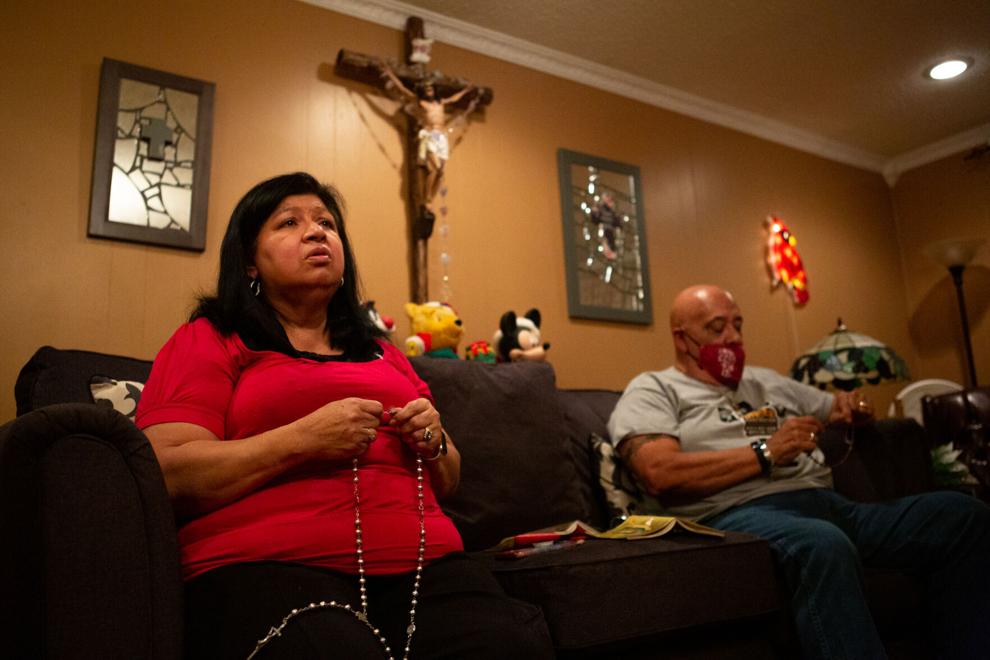 Profound challenges
For every person who dies from COVID-19, an average of nine people will experience the death of a close relative — a grandparent, parent sibling, spouse or child, according to a study recently published in the Proceedings of the National Academy of Sciences of the United States of America.
In another recent study, about 66% of bereaved people surveyed using a pandemic grief screening tool scored in the clinical range for dysfunctional grief with associated functional impairment in work and social adjustment.
"If the findings are replicated in future studies, it raises the specter of a second pandemic in the shadow of the first," according to the researchers, which included Neimeyer.
Since the study's completion, the findings have been replicated, Neimeyer said.
While alarming, research overwhelmingly shows that the majority of people are resilient to grief despite how painful, and sometimes long, the process can be, he said. Over time, most people do learn to adapt to tragic circumstances, and a significant minority emerge more resilient.
"Grief and growth are not sort of opposite forces," he said. "It is the very fact that we suffer that leads us to review and revise our deeper life meanings, and it is the revision of those life meanings that produces substantial growth in people and systems, sometimes whole societies."
Neimeyer said he "thinks we face such a moment in our individual and collective lives," but the ongoing, mounting toll of loss people are experiencing every day must not be undermined nor ignored, he said.
"The reality is that a lot of people are really hurting and will be hurt by this, and part of our growth as a community is to address the real needs that are there, not to ignore them and say people are going to get through this just fine based on their own resilience," Neimeyer said. "We need resilient systems to support individual people's resilience."
For families like the Rosalezes, the pain is still raw.
Roy Rosalez and his wife said they are working to find support in their community.
The parents try to stay busy and recently scheduled an appointment with a counselor. They were angry with God at first, but both said that anger lessens the more they lean into their faith.
"It still is so hard, but the more I pray, the more I feel like I'm getting a bit better," the father said. "The grief of a child will never leave you, and I'm feeling that. I pray for strength and comfort for us and for my son."
Surrounded by photographs of their beloved daughter, the parents pray the rosary each evening on their living room couch.
"We've been doing the rosary every day since June 25th to honor Roxana," the father said. "I'm trying to do it at least six months straight or up to a year. Otherwise, we probably couldn't handle it. That is where we get strength from. The prayer makes us stronger."
A heater hummed in the living room on a recent, cold night as he and his wife grasped their rosaries for the 173rd day in a row.
"Heavenly Father, we come to you right now to recite this holy rosary on behalf of everybody throughout the whole world," Rosalez began. "Yes, we're going through something right now, and we may be heartbroken, but I know there are millions of people going through the same thing we're going through here, so we dedicate this rosary to everyone."