Terry Turner paced in his Victoria apartment. He heard voices. He thought of suicide.
When Turner heard a knock on the door, a young, uniformed officer with cropped, blond hair greeted him.
The interaction in October 2013 was a lot different from one Turner had decades ago. In the midst of another mental health crisis then, Turner was tackled to the ground.
Officer Blair Cerny took a gentler approach.
"You know, you don't need to feel embarrassed," Turner recalled Cerny saying. "I know it must be rough for you, and it might help for you to talk to somebody. We can arrange that."
Three years later, Turner remembers Cerny's kindness, but not all police interactions with the mentally ill end so well.
Nationwide, police spend more time learning to use their firearms than learning to use their words to de-escalate a mental health crisis.
Overview of the problem
This year, police have fatally shot 148 people with mental illness, according to the Washington Post.
From 2010 to 2015, 6 percent of officer-involved shootings in Texas' most populated cities began when officers responded to a mental crisis call.
The Police Executive Research Forum found recruits spend a median of 58 hours training on firearms and eight hours training on de-escalation, crisis intervention and electronic control weapons.
In Texas, recruits spend 16 hours training on crisis intervention.
Officers can later take a 40-hour course to become certified as a mental health officer, but only 8 percent do.
Thirty-one, or 7 percent, of officers in the Crossroads are certified as mental health officers. They do not have to do anything to renew that certification, according to the Texas Commission on Law Enforcement.
More training necessary
Traditionally, police have been taught to draw lines in the sand.
While the rush to action is essential when there is an active shooter, it can lead to tragedy when dealing with the mentally ill, who may be hallucinating rather than willfully breaking the law, experts say.
In March, the Police Executive Research Forum recommended discontinuing use of force policies that do not allow officers to consider the totality of the circumstance, such as the 21-foot rule.
The rule was developed 30 years ago by a Salt Lake City police officer who performed some rudimentary tests that showed an adult male armed with a knife could cover 21 feet before an officer could draw, aim and shoot him.
The 21-foot-rule has been corrupted to justify shootings, research forum Executive Director Chuck Wexler wrote in March.
In April 2014, Victoria police officers fatally shot Brandon Lawrence, an Army veteran, who had sought treatment for post-traumatic stress disorder, anxiety and alcohol dependence. Lawrence got within 21 feet of them with a machete. They ordered him to drop the machete more than 50 times and fatally shot him within minutes of arriving.
A grand jury cleared the officers of wrongdoing, but Lawrence's family thinks the officers should have keyed in on how the 25-year-old was disoriented.
The officers were silhouetted against some bright lights when they encountered Lawrence outside his apartment on Simpson Road.
"I was able to shield myself with a pole nearby to get a clear look at who it was, but unfortunately, Brandon was in the middle of our yard," Lawrence's widow, Yasmine, said. "He called them by the neighbors' names. He told them at one point, to get off his property." Yasmine thought the officers needed more training.
"A lot of people are in the military, and they don't know how to deal with the things they see or go through," she said.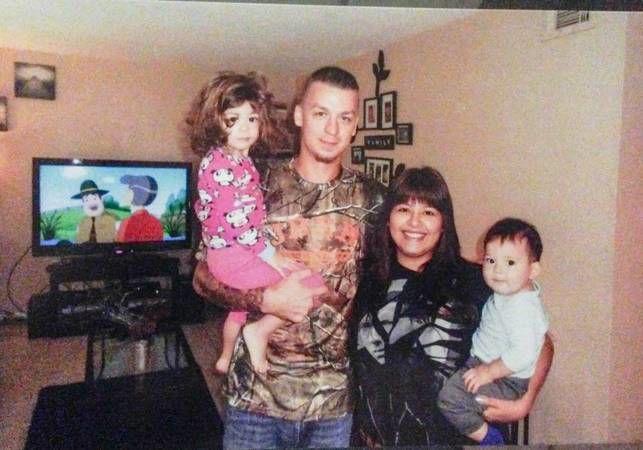 Best practice
Officers Ernie Stevens and Joseph Smarro have not fired their guns once since joining the San Antonio Police Department's six-member mental health unit.
"And we deal with some very sick individuals. We deal with people who tell us that they are not going, that they refuse and that we're going to have to kill them, yet we talk them into our vehicle most of the time, without handcuffing them," Smarro said.
Since the unit was created in 2008, it has helped save $4.8 million by diverting the mentally ill from emergency rooms and the Bexar County Jail to the Restoration Center.
The Restoration Center is run by San Antonio's mental health authority, the Center for Healthcare Services.
The unit accomplished this by working directly with the community's mental health professionals to provide the right service the first time.
When unit officers respond to a call, they put more distance between themselves and a suspect. They are calm. They take their time.
"There used to be an old acronym in police work, ATM, which is ask, tell, make. I ask you to do it. I tell you to do it, and then, I make you do it. That's kind of a quick escalation in tactics. But now, the stress is going toward LEED, which is listen and explain with equity and dignity," Smarro said.
Stevens used to think the easiest and best option was to arrest someone with mental illness.
"If I had to take somebody in for a mental health screening, that could take almost your entire shift back then," he said. "I was like, 'I'm not a social worker. Why am I doing this?' When in reality, this is very much law enforcement-based. I had to change my mind in order to change my heart."
Stevens and Smarro have since realized they need to change everyone's mind and heart.
Today, 85 percent of SAPD's officers have completed the 40-hour class and become mental health officers.
Stevens and Smarro teach a lot of those classes, which are offered for free to other law enforcement agencies.
"It's one thing to train the instructors a new way to teach the cadets, but if you don't grab all the FTOs (field training officers) and train them the same way, as soon as they graduate, you're going to have two completely different officers working against one another," Smarro said.
Local practice
Although it was initially started with a grant, SAPD now pays for its mental health unit.
In 2015, the Victoria County Sheriff's Office requested money from Texas Department of State Health Services to start its own mental health unit.
The sheriff's office request was denied because the state did not have enough money.
Meanwhile, the Gulf Bend Center, which provides mental health care to those who are indigent or on Medicaid in the
seven-county region, has five employees who can respond to mental health crises during the week.
They are part of what's called "the mobile crisis outreach team."
The public or law enforcement can reach them by calling a 24-hour hotline.
Sometimes, the team will not respond to a scene without law enforcement coming with them for their safety.
It's not clear how often the team and law enforcement work together.
Since he started managing the team in 2015, Brad Jurica has worked to strengthen its relationship with law enforcement.
The relationship with some departments was strained because officers called for help and were turned away.
Jurica said they were turned away because what the officers described did not meet the definition of a mental health crisis. The team did not do a good enough job of explaining that, though, he said.
"I guess what had happened a couple times is someone would just say, 'Oh, that's not my job.' And that would be the end of the conversation," he said.
Gulf Bend also now offers an eight-hour class that teaches law enforcement how to identify symptoms of mental illness and ways to talk to someone in a crisis that is both nonjudgmental and nonconfrontational. Gulf Bend charges $40 per officer for that class.
The Victoria Police Department took advantage of that, sending 60 officers to the class in September 2015, including one of the officers involved in the fatal shooting of Lawrence.
Sgt. James Poe, one of the first in the department to become certified as a mental health officer, said it was a nice refresher.
"I've always wanted to see those people get the help they need, not just go through the system, and that's how it was when I started," Poe said.
In December, Victoria police will get additional mental health training, Lt. Eline Moya said.
Victoria police have 13 mental health officers, the most of any law enforcement agency in the Crossroads. One, Senior Officer Rick Soto, teaches the 16 hours of crisis intervention at the Victoria Police Academy.
In addition to that, recruits there receive about 130 hours of training on how to respond to other chaotic calls, such as those involving domestic violence, in a way that produces positive and safe results for all involved, Academy Director James Martinez said.
The academy does not offer the 40-hour mental health officer course, but may one day, he said.
Turner's past
Turner, now 62 and grateful for his encounter with Officer Cerny, was diagnosed with schizoaffective disorder in his 20s.
Symptoms include hallucinations, disorganized thinking, depressed mood and manic behavior, according to the National Alliance on Mental Illness.
Turner thinks he goes into crisis when he's stressed.
The Beeville native once deliberately drove his car into a tree after arguing with his wife.
Later, when he boarded an airplane for the first time to fly to South Bend, Ind., for work, he started hearing voices.
He had dressed for Texas' balmy weather, not for snow. He also had not eaten all day.
"It sounded like an auction going on in my head," Turner said. "I just really kind of lost touch with reality. The next morning, I was making signs with my hands and chanting some of the stuff I heard in my head."
Maids at the hotel where he was staying called a security guard, who tackled him to the ground. Turner was then taken to a hospital.
"That was the first time I'd ever been put in a straitjacket and the last time, thank goodness," he said.
Where Cerny and Turner are now
Cerny is now a detective on Victoria Police Department's crime reduction unit while Turner is an amateur radio operator.
When Cerny met Turner, his duties required him to respond to between 10 to 35 calls on the south side of Victoria in a single, 12-hour shift.
Some of those calls have since become a blur. The one involving Turner did.
"I was very glad I made such an impact, a positive impact on his life," Cerny said.
Cerny is in his 20s. He went to Wharton County Junior College and then studied criminal justice at Sam Houston State University. No one has to ask him to check on residents he has met before. He wants to.
"Sometimes, if we're in the area and not busy, you'll remember, 'Hey, I spoke to so and so, and I'd like to see how he's doing,' and we'll go ... We're here to help. That's our job," Cerny said.
Cerny said he learned a lot at the police academy and even more on the job.
"The thing is you've got to talk to people. You have to see what's going on in their life at that time," he said. "Hopefully, we can help, but some of them, we can't."
Because Turner was one of those Cerny was able to help, Turner has spent his days tinkering in his study, either on his radios or on his computer.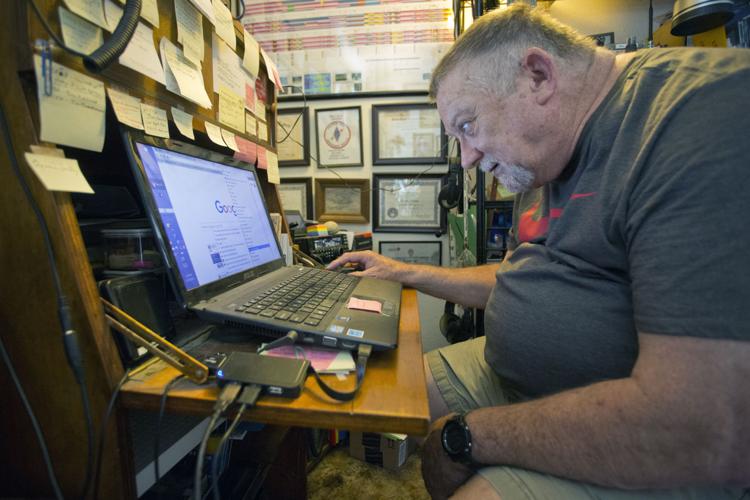 Turner set up a Google Plus page for people who have schizoaffective disorder. It has about 40 members.
After Turner created the page, he stayed up late to monitor the group and whenever someone posted that he or she was in crisis, he referred them to the National Suicide Prevention Lifeline.
"It takes somebody who can be cool and calm-headed to kind of help you regain your perspective so you can realize, 'Hey, this is not the end of the world, and it will pass,'" he said.
After all, that's what Cerny told him. And Cerny was right.
"It seemed like really what he offered me was hope," Turner said, "and I was really short on that at the time. That was really important."