Multiple agencies responded to a Pro Field Services Inc. storage yard Wednesday afternoon on Blue Quail Court, where a fiberglass saltwater storage tank was struck by lightning and caught fire.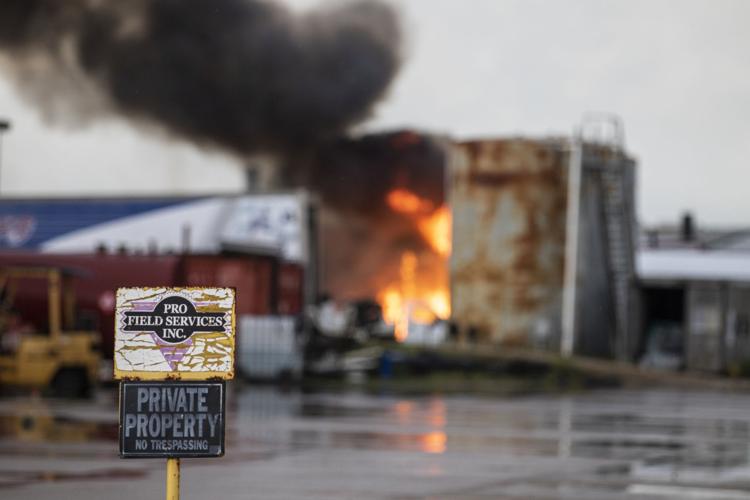 The flames caused two other tanks stored nearby to explode, said Chief Tracy Fox of the Victoria Fire Department. No injuries were reported.
The tanks are used to store saltwater, but have small amounts of crude oil mixed in, said Shannon Martin, the city's assistant fire chief of operations. About 4:30 p.m., the fire was contained but multiple agencies remained on scene while the tanks continued to burn.
"It is on the property of the company, so it's not going anywhere and there is nothing in danger," Martin said.
The Victoria County Office of Emergency Management was also on scene to monitor and ensure there was no pending hazard to the public, he said.
The Victoria County Fire Department and Victoria Fire Department, as well as Quail Creek, Raisin and Nursery volunteer fire departments, responded to the fire about 3 p.m. Wednesday, where witnesses said they saw lighting strike the storage tank.
Victoria County Fire Marshal Richard Castillo also responded to investigate the cause.
"We're going ahead and calling it a lightning strike," he said at the scene. "The tanks are going to burn for awhile, so if you're seeing all this black smoke that is what it is."
Pro Filed Services Inc. could not be reached for comment Wednesday afternoon.