A low pressure system in the Gulf of Mexico has intensified into a tropical storm, according to the National Hurricane Center.
Named "Tropical Storm Barry," meteorologists said it is expected to bring potentially life-threatening storm surge, rainfall and wind hazards to the central Gulf Coast during the next several days.
Although Barry is expected to make landfall near Louisiana, the Crossroads could see scattered rainfall and storms over the next few days. The National Weather Service issued a hazardous weather outlook for the region Thursday, in light of expected isolated to scattered thunderstorms and possible coastal flooding and rip current risks through the weekend.
Nevertheless, Barry is not expected to pose any considerable threat to the Crossroads, a National Weather Service meteorologist said.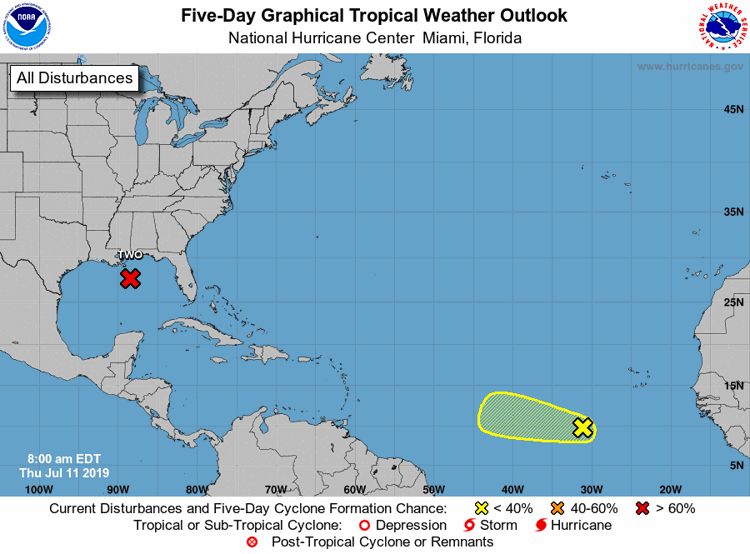 A low pressure system in the north Gulf of Mexico was expected to become a tropical depression Thursday.
Located just south of the Louisiana coast as of Thursday morning, the system was not expected to directly hit South Texas, according to a National Hurricane Center bulletin.
"This system is expected to continue drifting west across the northern Gulf of Mexico today, before turning northwest on Friday," the bulletin states. "The system is expected to strengthen into a hurricane as it approaches the Louisiana Coast Saturday."
But it was expected to bring storm surge, heavy rains and hurricane conditions across the North-Central Gulf Coast during the next few days.
As that system intensified, meteorologists also began tracking a low pressure wave in the mid-Atlantic that had only a slight chance of forming a tropical depression in the next 48 hours.
Although both low pressure systems were distant, the Crossroads was forecast to receive rain and scattered storms into next week.
Thursday was predicted to be hot but also potentially wet with a 40% chance for showers and thunderstorms with partly sunny skies and a high of 96 degrees. Heat index values were expected to reach 105 degrees.
That night, there was a 20% chance for showers and storms with mostly cloudy skies and a low of 78 degrees.
Friday, a 30% chance for rain and mostly cloudy skies were forecast with a high of 98 degrees and heat index value of 105 degrees.
Partly cloudy skies and a low of 77 degrees were expected that night.