Victoria Police Department investigators believe the man who robbed the Wells Fargo Bank on North Main Street on Saturday is the suspect in a Houston robbery who has been dubbed the "Dapper Desperado."
Officers responded to the bank at 1201 N. Main St. about 12:45 p.m. Saturday, where an unidentified suspect entered the location with a handgun or pistol before stealing $11,442, according to a police report from the department.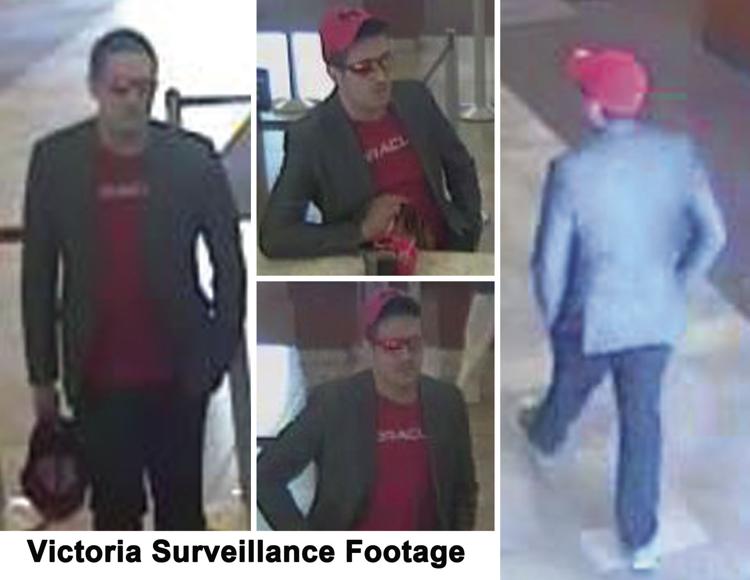 The suspect left the bank through the main building with the money after brandishing the weapon to a teller, said Lauren Meaux, a spokeswoman for the Victoria Police Department, in a news release.
The department has described the suspect as a 6-foot-tall man with shaved or short-cut brown hair. He was wearing a red hat that could be Under Armor, a red shirt that could say "Oracle," a pair of multicolored sunglasses and a green or brown sports coat, according to the news release.
The suspect matches the physical description of a suspect in a recent Houston robbery, the news release said.
"After comparing the surveillance footage, it is believed the suspect from Houston aka 'Dapper Desperado' is the same suspect that robbed our Victoria bank," Meaux wrote in the news release.
The Federal Bureau of Investigations in Houston tweeted Friday that they needed the public's help in identifying the suspect who robbed a Commercial Bank in northwest Freeway on Thursday. The FBI described the suspect as a male who is in his late 20s to early 30s and is about 5 feet, 10 inches tall.
The FBI is offering a reward of $5,000 for information that leads to the identification and arrest of the accused Houston robber. FBI officials in Houston could not be reached after 5 p.m. Tuesday to answer questions about their investigation.
The Victoria Police Department is asking anyone with surveillance equipment in the area to check their footage, specifically between noon and 1 p.m. Saturday.