Symphony supporters brought their friends, imaginations, libations and lots of decorations to the Spring Creek Event Center on Wednesday for the Victoria Symphony League's 12th annual Fall Luncheon and Style Show.
The theme this year was musicals, from Broadway to Hollywood, and more than 350 guests dined amidst 43 elaborate tablescapes reflecting various movies or productions.
"Our goal is to raise money to support the symphony and music education in our area," said Helen Hultquist, chairwoman of the event.
Under the portico at the entrance, a small group of VISD middle school students played string instruments as guests arrived.
"Guys and Dolls," "South Pacific," "The King and I," "My Fair Lady," and "Madam Butterfly" were among the tablescapes that provided an entertaining stroll around the event center.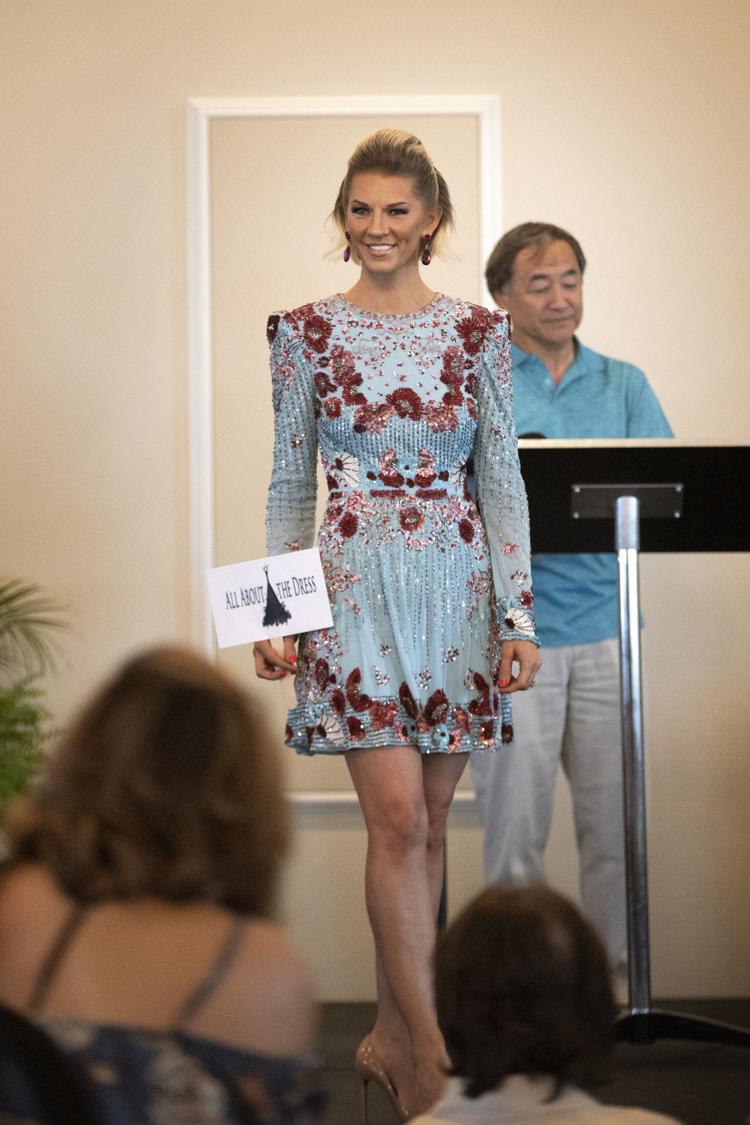 A wildcat and a covey of quail, all of whom took a prior trip to the taxidermist, rested amidst cacti, tree branches, moss and wild grass that spanned the center of the only long table in the room. Large, flat cacti rounds served as living chargers under clear glass plates at the "Cactus Flower" table. Across the room, small versions of the mysterious man-eating plant from "Little Shop of Horrors" in glass planters labeled "Maxwell House Coffee" stared at guests seated around the table.
Lunch was served just after David Means, the new chairman of the music department at Victoria College, belted out "There's No Business Like Show Business." A dozen men decked out in tuxedo shirts and bow ties helped league members serve plates of chicken salad, mustard green beans and mango mousse to the ladies. Guests at each table brought their own spirits that ranged from wine cooling in tabletop ice buckets to frozen concoctions in faux-coconuts.
"They go to great lengths with the tablescapes, and they all bring their own drinks," said Cora Jo Hummel, tablescape coordinator for the event. "Everybody has a good time visiting, and it's fun to see all of it come to be."
Ladies in little black dresses with black opera gloves and jewels gathered around the "Breakfast at Tiffany's" table. Pink roses towering over white hydrangeas in the table's tall centerpiece matched the pink background in the framed image of Holly Golightly on the table below. Tiffany-blue salad plates atop progressively larger white and silver plates complemented Tiffany-blue cocktails poured in martini glasses around the table.
Across the room, a "Hairspray" Playbill hovered above the table with a couple of old-school records and pink feathers. Pink and blue Ultra Clutch hairspray cans surrounding the centerpiece matched hairspray cans iced on custom sugar cookies at each flower-shaped plate.
Single long-stem red roses with black ribbons were draped across stacks of white, gold and black china at the "Phantom of the Opera" table. "Mary Poppins Jr." featured kites flying amid white daisies above tall, black tabletop lanterns with pillar candles. Green light emanating from one centerpiece colored the entire "Wicked" table.
After lunch, 30 models paraded across the stage wearing the latest fall fashions from 11 boutiques located in either Victoria, Cuero or Goliad. Victoria Symphony Orchestra Maestro Darryl One emceed the style show while Marylynn Fletcher, the retiring chairwoman of the music department at Victoria College, played peppy piano show tunes in the background.
Generous underwriters, a silent auction, raffle and bake sale supplemented $50 ticket sales, Hultquist said. Last year, the event raised $25,000, and the goal was $30,000 this year. The Victoria Symphony League has about 65 active and encore members combined.
"I think this is a genius idea because it's all donated, and you get to come see how fabulous the tables are," said Kim Followwill of Cuero. "It's so clever – they raise a lot of money with very little expense so the funds go to the bottom line, and they are to be commended for this awesome idea."