Friends and former neighbors were surprised Wednesday morning when they drove past bulldozers and debris at 105 N. DeLeon St., where Charlie Berger made cabinets and hosted musical jam sessions for more than 30 years.
"A guy who worked here 25 years ago drove by yesterday and said, 'I drove by your shop to say hi, and it's gone!'" Berger said Thursday afternoon.
The Cabinet Shop had its first day of production at its new location at 1403 Elizabeth St. on Dec. 2.
Although he's happy to be in the new spot, once home to the business when he first started making cabinets, Berger said he was sad to say goodbye to the former building that was his home away from home.
"All the memories of people, some of them have passed away, are over there," Berger said. "But it'll all work out."
Berger moved his business, The Cabinet Shop, to DeLeon Street in 1987.
The land was purchased by Our Lady of Lourdes Catholic Church several months ago with the approval of Bishop Brendan Cahill of the Catholic Diocese of Victoria, said the Rev. Gary Janak.
The parish intends to build a parking lot on the property where The Cabinet Shop once stood, said the Rev. Albert Yankey, church pastor. Demolition and land clearing began Dec. 2.
Berger was disappointed that after years in the building he was given a 30-day notice to vacate his shop's longtime home.
"On Halloween they came and told me, you got until Dec. 2 to get out," Berger said. "I've been here 33 years in this building and now you're going to give me 30 days?"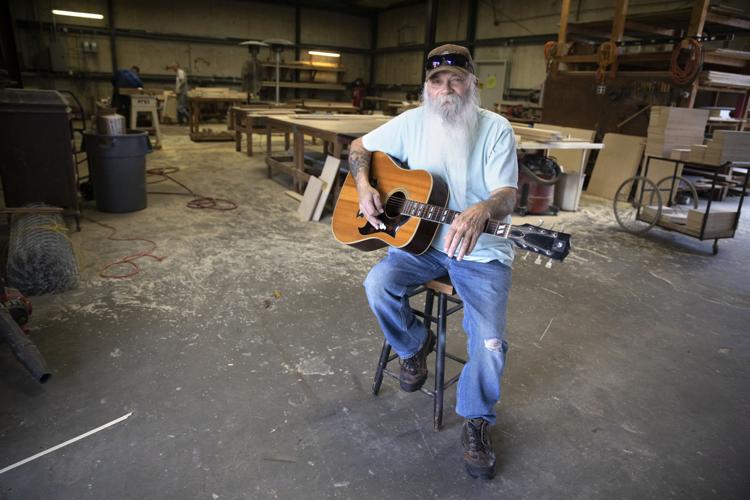 "Everybody got together, brought out the guitars and got the fire ring going," Berger said.
Although his new location doesn't have the same outdoor space, Berger said he wants to continue the weeknight tradition.
For when his first guest stops by, Berger keeps an old guitar ready so he can play Bob Dylan and country tunes like he has for years.
"The music will never die," Berger said. "It's in us."