About two years after Eugene Gonzales was paralyzed in a car crash, there was a lot he didn't know.
He wasn't sure how to easily get around Victoria now that he used a wheelchair, or how to stay active, he said. He didn't know anyone else in the city who used a chair.
Now, Gonzales is in a different place. He plays for Victoria's adaptive sports team, the Bad News Chairs, has learned how to drive a car using hand controls, and is studying welding at Victoria College so he can learn how to make customized wheelchairs for those who need them.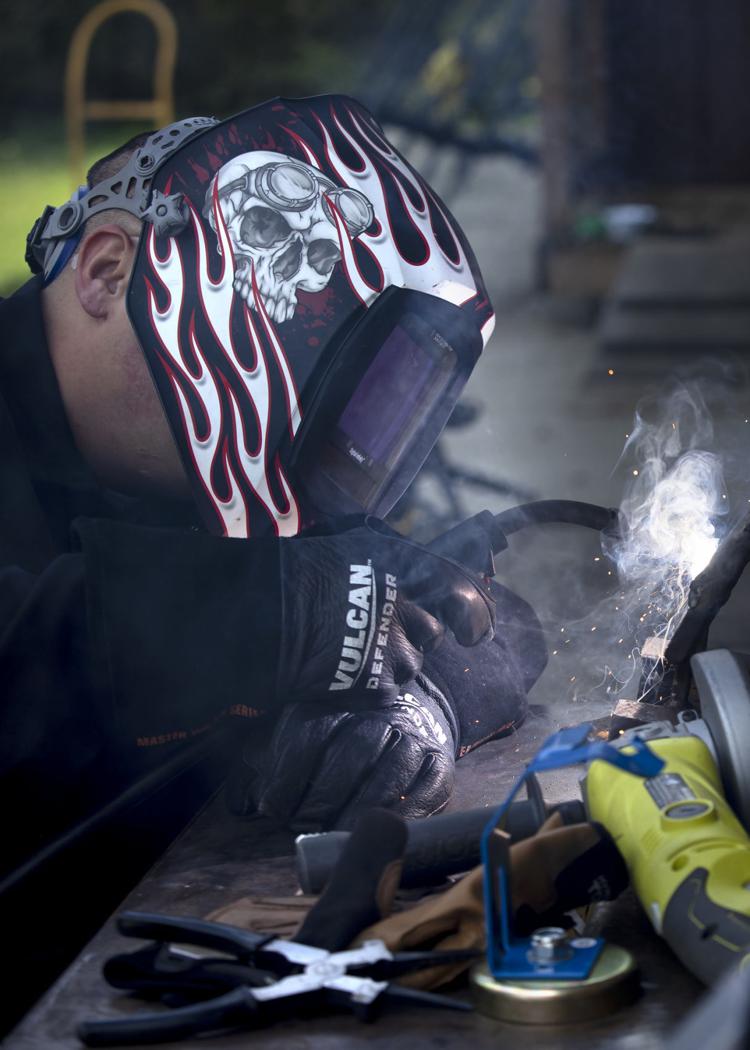 "I want to be able to build, modify, repair, customize wheelchairs for people to be able to get back into sports, be able to do their daily lives, be able to be in less pain," he said.
Gonzales, 31, is excited when he talks about his plans because having a customized wheelchair, one made for his body and based on his lifestyle, has made a huge difference in his life, he said.
In February 2012, Gonzales was driving drunk when he hit a culvert, was ejected from his car and hit a tree. He lost most of his left leg and was paralyzed. He spent two years adjusting to daily life in a wheelchair before he met Danny Camacho. Camacho was in a wheelchair and was getting ready to get in his car, Gonzales said.
"I was like, 'I got to talk to this guy 'cause it looks like he's driving, and I want to drive,'" Gonzales said. "I didn't know you could do that. I didn't know somebody who was paralyzed could drive."
"I had 100,000 questions for them," he said.
The team provided Gonzales with a community, he said, and he was able to get advice and support.
After joining the team, Gonzales realized that his manufactured wheelchair wasn't the best fit for playing softball, basketball and soccer. It also wasn't all that comfortable for going about his daily life, because the chair kept his torso frozen at an "L" shape, he said.
"There was nobody in Victoria, Texas, who would take care of medical equipment," Gonzales said. "There was no place that provided the stuff that an adaptive sports athlete would want."
Through Bad News Chairs, Gonzales learned about a company that had recently moved to Wharton: Box Wheelchairs, run by Mike Box and his wife, Allison Torp Box.
Box, 60, is a pioneer in the adaptive sports world. He began making customized chairs in 1992, after his brother was paralyzed in a motorcycle crash. Box Wheelchairs relocated from California to Texas in 2017, and now they make between 100 and 150 customized wheelchairs every year, Box said. He makes chairs for people of all ages, in all kinds of sports. Box has made chairs for Paralympians on the U.S. national quad rugby team, skate chairs for wheelchair motocross athletes and more.
"We actually take somebody's thoughts and ideas that they want to do, and try to make them happen," Box said.
Gonzales asked Box to make him a customized, suspension wheelchair. The suspension wheelchair, which Box built for him last year, gave Gonzales more range of motion and was much more comfortable for him, he said. The instant change was so dramatic that Gonzales immediately knew what he had to do next.
"When I sat in this wheelchair, I said it to myself, 'That's what I want to do,'" Gonzales said.
To build and adapt wheelchairs, Box told him, he'd need to learn how to weld.
So Gonzales enrolled in Victoria College's workforce and continuing education program and took his first welding course in August 2018. He's planning to take two more courses at VC and practicing welding on his own in the meantime. He said he turns to his teacher at VC or Box for advice or suggestions when he's stumped.
Ultimately, Gonzales said he hopes he can open up his own shop, so he can help others who were in his place, who might not even know the difference a customized wheelchair can make. The end result, Box said, is that Gonzales will be able to "make the village a little bigger."