Some Crossroads residents flocked to hotels Tuesday and others prepared to ride out the cold weather at home as widespread power outages persisted and temperatures remained in the low 30s.
As of Tuesday afternoon, more than 50,000 households in the Crossroads remained without power. Statewide, more than 3 million people remained without power. Some local residents told The Advocate their homes had not had heat for more than 36 hours.
At Linden Hill Motel on U.S. 59 in Victoria, Patsy Ramirez, 50, brought a handful of jalapeños out to the iced-over parking lot, where her brother Leo, 52, manned a grill filled with steak and tilapia.
Ramirez said the family had been without water since Sunday evening and power since Monday morning. She had been struggling to keep up with truck payments and rent, but she decided to book a couple of rooms for her family in an effort to keep her baby niece and her 81-year-old mother safe.
The family spent three and a half months living in a hotel after Hurricane Harvey hit in 2017, Ramirez said, but she said dealing with this week's freezing temperatures was "something different." Still, Ramirez said, her family was working to keep its spirits up.
"We're struggling, but you have to keep yourself going no matter what," she said.
Ramirez said her family was among the first to show up at the motel, but the parking lot filled up by the end of the day on Monday.
Other hotels in Victoria were also filled to capacity as power outages rendered homes uninhabitable and community members looked for a warm place to stay. Oscar DiNicolas, manager at the Courtyard by Marriott in Victoria, said the phones at the front desk have been "ringing like crazy" since Monday. Some people have been calling hotels as far away as Corpus Christi to try to find rooms, DiNicolas said.
Victoria resident Jeannie Decker, 51, said she, her husband and granddaughter had been without power continuously since about 11:15 p.m. Sunday. Temperatures in their apartment dropped to 40 degrees.
Decker, who has diabetes and breathing trouble, has been unable to plug in her CPAP machine, making it difficult to sleep during each of the last two nights. She said she was concerned her insulin would go bad in the powerless refrigerator.
"We haven't even gotten a break to say, 'Let's get a light turned on, give these people time to take a quick shower, let these people warm up the place,'" Decker said. "It's so frustrating."
ERCOT, the agency that regulates Texas' electrical grid, said Tuesday it expected to restore electricity to some households this afternoon as generators come online. Around midday, the agency directed local utilities to restore power to 400,000 households.
"The number of controlled outages we have to do remains high," said Dan Woodfin, ERCOT's senior director of system operations. "We are optimistic that we will be able to reduce the number throughout the day."
ERCOT is restoring load as fast as we can in a stable manner. Generating units across fuel types continue to struggle with frigid temperatures.

— ERCOT (@ERCOT_ISO) February 16, 2021
Still, tens of thousands of Crossroads residents remained without power Tuesday.
Tuesday afternoon, Victoria Electric Cooperative said it had 9,000 customers without power. In a Facebook post, VEC said 27 of its 55 circuits are out due to ERCOT's mandated cutbacks, along with one circuit in Port O'Connor that is down due to electrical issues and another in Port Lavaca that South Texas Electrical Cooperative is working to restore.
Those who have been without power since 3 a.m. should call VEC's office at 361-573-2428.
American Electric Power continued to report about 20,000 customers without power in the Crossroads after 3 p.m. Tuesday, with widespread outages in Victoria, Port Lavaca, Goliad, Refugio, Yorktown, Palacios, El Campo and Ganado. Thousands of STEC customers are without power in Victoria, Jackson, Wharton, Calhoun and Matagorda counties. Nearly 3,000 San Bernard Electric Cooperative customers were without power in the Hallettsville area, and about 600 Guadalupe Valley Electric Cooperative customers were powerless in Lavaca and DeWitt counties.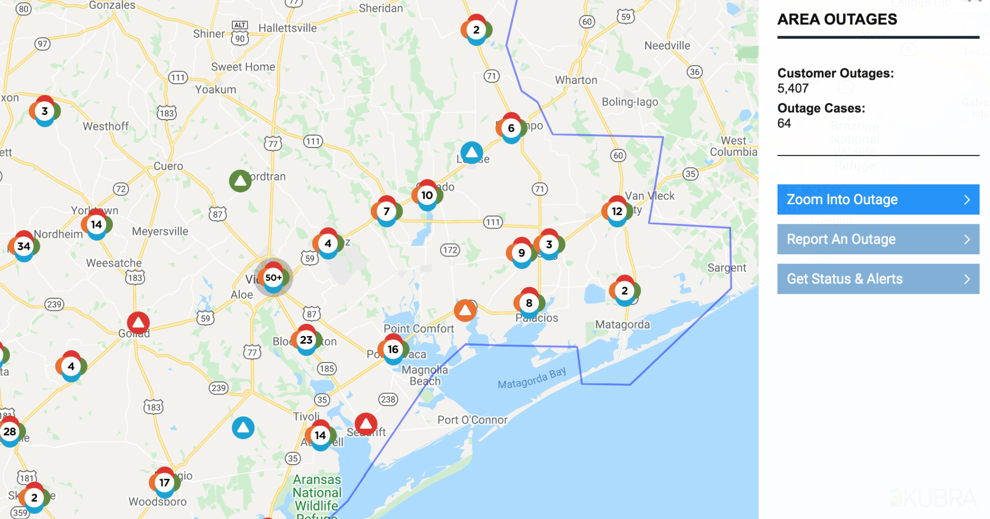 ERCOT implemented what it called "rolling outages" early Monday morning after more than 34,000 megawatts of power generation were forced off the state's grid due to extreme weather conditions. State officials initially said these outages would last no longer than an hour, but Monday morning, Woodfin said the outages would last hours and likely extend into Tuesday.
The agency said it was forced to implement widespread outages after 34,000 megawatts of power generation capacity went offline across the state Sunday night into Monday due to extreme winter weather. Another 18,500 megawatts went offline last night, ERCOT said this morning on Twitter.
Danielle Satterfield lost power at her home in Yoakum Monday morning. Her power flickered back on for about 45 minutes Monday, just long enough for her to cook a pot of taco soup on the stove, and another half hour Tuesday morning. Otherwise, it has remained off for hours at a time.
The temperature at her home is dropping, so her brother-in-law bought a propane tank and started a fire in their garage to help Satterfield, her mother, her two children and her nieces and nephews stay warm. Last night, the family had to huddle together in bed to stay warm.
Satterfield said she doesn't understand why power has been restored for such brief stretches, or why her family has gone without electricity while other homes in town have yet to lose power.
"It's record lows in Texas," she said. "I don't know why any provider would let a household go without electricity right now."