He suffered a concussion, and whiplash and endured surgery to rebuild his lower lip, but Chad Hall was determined to get back on his bike.
Chad was 21 miles into a 100-mile bike ride he'd done "hundreds of times" when he flew over the handlebars of his bicycle and slammed into the pavement on Diebel Road. He was training for the Ironman World Championship triathlon, a race Chad spent 13 years working toward. Two Months before he was set to fly to Hawaii for Saturday's race, he landed on his face, which wasn't protected by his helmet, while pedaling at 21 mph.
"I hurt so bad in so many different places," Chad, 44, said about the moment an animal ran in front of his bike and caused him to crash. "I can't spend time dwelling on it because it was traumatic."
Despite the trauma, Chad went back the next day to the spot in the road where he had lain unconscious and bleeding for two minutes.
"My blood was still all over the road, red," he said. "I had to come to grips with what happened there. I thought it was the first part of the recovery process, so I wouldn't be afraid to get back on the bike. More than anything, I was thankful I could have that moment to go back."
A few days later, Chad put his feet back on the pedals.
When Michelle Hall got a call from her husband July 27, she couldn't understand him.
"It was so hard to talk," her husband said. "Finally, I reached up, and all I felt was my teeth. I didn't have a lip anymore."
With her 8-year-old daughter in the backseat, Michelle raced down the road to find her husband based on the location she got from his phone when he called her. When she got there, someone had already stopped to help.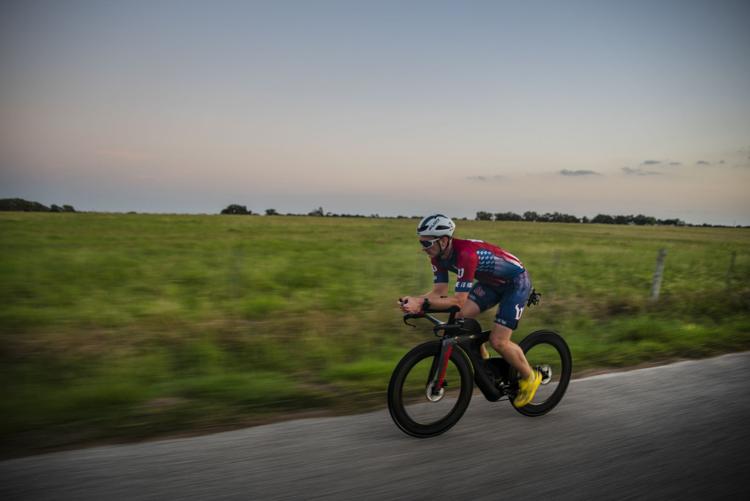 A woman who was on her way to work at the Citizens Medical Center emergency room had pulled over in her Tahoe to help Chad. She also followed the family to the hospital. When they arrived, Michelle said she left her car running with her daughter and purse still inside as she rushed her husband into the emergency room. She later learned the stranger helped again.
"This angel parked (my) car, brings in my daughter and my purse, and then goes to work," Michelle said with tears in her eyes, recalling the impact this woman made the day of the accident.
Chad's injuries from the accident were severe. Dr. Brian Burns, the plastic surgeon on call at the emergency room at Citizens Medical Center, said Chad's lower lip burst "like a balloon." Chad also broke his nose in two places, fractured his hand and had whiplash.
Chad was injured and unconscious mere months before the championship on Saturday, but his path to the world event began many years ago.
Of the three Ironman events, which do you prefer to do?
A journey that started in 2010, Chad has completed 14 Ironman races, including two in Canada, one in Mexico and several in Texas, to qualify for the world championship in Kona, Hawaii.
Most people would've given up on the world championship, but Chad's resilience kept him going. Moping and giving up wasn't on his mind. He said the accident could've been a lot worse.
"I wasn't even depressed for a second because I knew that somehow we were going to come out of this. There's a reason that all this bad stuff happened," he said. "Often times when we go through struggles, we don't know why we have to go through those struggles until we get to a point where we can look back and say, 'That's why I had to go through that.'"
After a two-week rest period to recover from his concussion, Chad started training again, but he had to start from scratch. His trainer, who had been with him for 12 races, was insisting that Chad quit. Meanwhile, Chad had to relearn how to eat, drink and speak. Still, he told his trainer he wouldn't quit.
"I'm not going to forsake my dream," Chad said. "I'm going to move forward. I'm going to carry this thing out."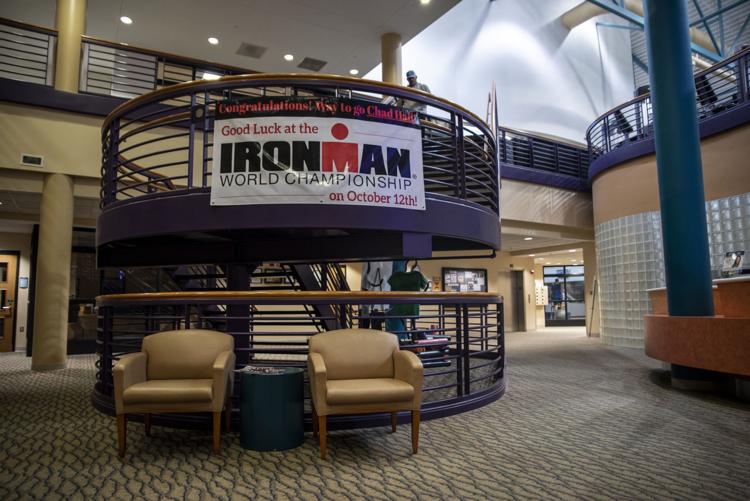 With the help of a new coach, Chad learned how to swim with a broken hand and a lacerated face that was causing him to swallow water. On the outside, his face also began to heal. Today, his smile is as bright as it was before the accident. Looking at him, no one would know the inside of his mouth still feels like it's in a knot as Chad's body builds scar tissue, Burns said. He said Chad's face will be healing for the next year. In spite of this, Chad continued on the road to his dream of being an Ironman world champion competitor.
"I've got to keep pushing forward and finding a way," he said. "Giving up has never been my thing."
Friends and strangers, or Chad's ohana, a Hawaiian term for extended family, have guided and supported him throughout his endeavors. Whether it was the woman who helped get him to the emergency room after his bike crash or the doctors who supported him, Chad said he carries them in his heart.
Two important strangers were an integral part in the beginning of his Ironman journey. During his first competitive race in 2010 in Florida, Chad finished the race because of the support from two bystanders during the race.
Ironman competitors have 17 hours to swim 2.4 miles, bike 112 miles and run 26.2 miles. With less than an hour left, Chad said he was close to giving up when he heard a woman cheering him from a window. Another stranger helped him reach the last half mile to the finish line. Their influence has lasted to this day.
"The kindness that she had to send out this encouragement to this complete stranger she didn't even know was so powerful," Chad said. "These two people for me, really gave me my mantra. I like to try to pay it forward and go help other people because these people helped me get across the finish line for my first race."
Before that first race in Florida, Chad received the push he needed to start his Ironman journey from Dr. Craig G. Chang in 2006. Overweight and struggling with stomach pains, Hall said the doctor told him, "You're the problem." The words are what projected Chad to start his fitness regiment that led him to the Ironman World Championship in Kona, Hawaii.
"When I dig my toes into the sand to go out to the ocean to begin the world championship, I hope that I can look back at that guy on that observation table in Dr. Chang's office and just tell him, 'You're the problem. You can do so much better,'" Chad said. "You've got to stop with the impossible and remember that anything is possible."
Chad said everyone has two superpowers: the power to do kind things and great things for each other. This is what drives him. He wants to build people up and make his ohana proud. To him, his story isn't just about himself.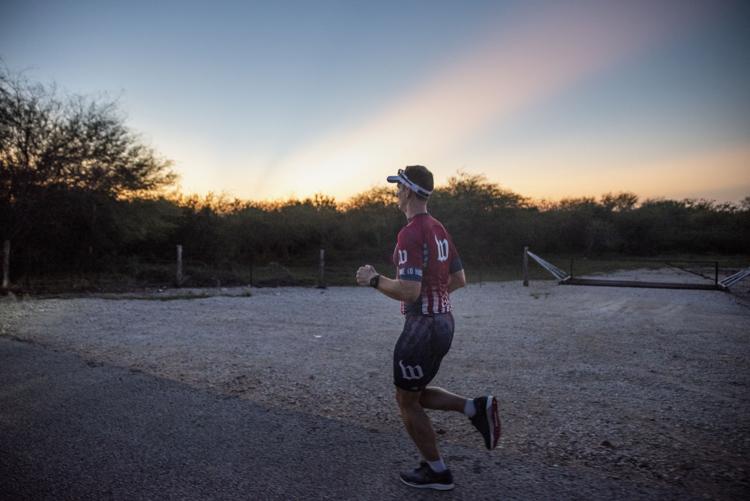 "Victoria is going to the world championship," Chad said. "This is a wonderful moment for us."
After years of working to reach the world championship, Chad said he is ready to live his dream.
"It's an odd thing when you're standing on the precipice of your dreams coming true," he said. "It's hard to grasp that you had the audacity to dream it in the first place, and it's impossible to comprehend what it means as it's taking shape right in front of your eyes. There's so many people on the way who have been such a big part of all of it."