Marcus Rocha sat in the shade Friday afternoon at a bus stop on North Navarro Street and waited with his 12-year-old son for a ride home from a hot, unsuccessful day of trying to find help.
Born with Usher Syndrome, Rocha is legally blind and partially deaf. His disabilities do not confine or define his life, but when two men asked if he was blind as he stood alone at a bus stop on Lova Drive last weekend, he said a part of him wishes he had replied no.
"Next thing you know, he pulled out a gun and hit me real hard, like (as if to say), 'Don't move,' and took everything out of my front pocket," he said. "Then another man came up from behind and ripped my wallet out of my back pocket."
The two men robbed Rocha at gunpoint about 8 a.m. on Aug. 3, according to a report from the Victoria Police Department. The offenders could only be described to police as heavyset with Hispanic accents, Victoria police said.
The men clipped the 39-year-old single parent in his right eye with a handgun and took everything out of his pockets, including his wallet, which held his Social Security card, Texas identification card, debit cards and U.S. currency. He said he had just withdrawn the cash to pay his rent and phone bill. He had planned to buy his son back-to-school clothes with whatever was left over.
Rocha spent all of last week trying to recuperate his losses. A local church was able to give him $75 toward rent, his case worker helped him get a new bus pass and he was able to have his food stamp card replaced. But a number of local resource centers turned him away due to sparse funds, he said.
"I called a lot of people – churches and a lot of nonprofits – and they said, 'We can't do this or we can't do that,'" he said. "They have a lot of help for single women or abused women, but I am a disabled person, and I am not asking for someone to do everything for me. Any little thing helps, and if you can't help me, just refer me to someone who maybe can."
Rocha has struggled at times as a single parent, he said.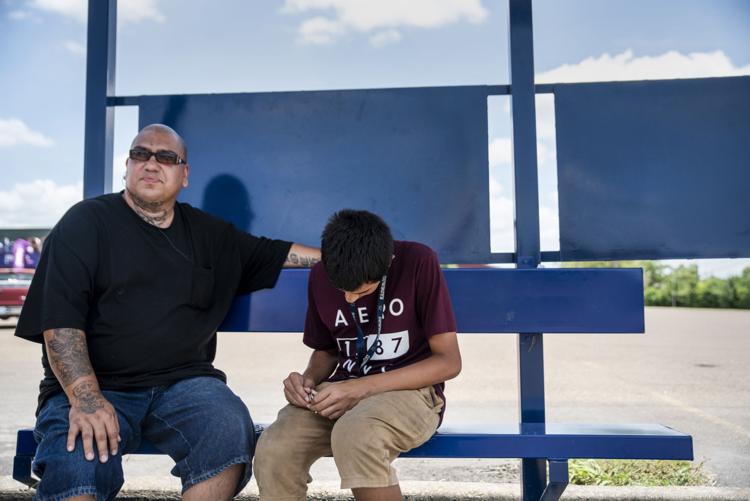 "I've been raising my son on my own since he was 2 weeks old. Trying to get help – it is difficult, especially 'cause I'm disabled," he said. "My mom used to help me, but she passed away going on four years ago."
Buses are a source of independence for Rocha, who has ridden them around town every day and never felt unsafe.
"I've been riding the bus since I was old enough to move around," he said. "Even though I am disabled, I don't let that keep me home. I am an independent person."
Rocha went home after the robbery to his son, who called 911.
As of Friday, there have been no arrests or updates in the ongoing investigation, said Lauren Meaux, a spokeswoman with the Victoria Police Department.
A robbery can be charged as an aggravated robbery if a disabled person is put in fear of imminent bodily injury or death, according to the Texas Penal Code. The crime is a first-degree felony and carries a sentence of five to 99 years or life in prison with a $10,000 fine.
Despite how difficult finding resources has been, Rocha said he will not be held back because of what was stolen from him.
"I'm not staying home because two people robbed me," he said. "I got to go, gotta keep living and can't just be stuck at home scared. I don't want other people out here who are disabled to be afraid and let that fear hold them down."
This story was updated Aug. 13, 2019 to correct items stolen.