Gaylen Youngblood and his father left Son Valley Ranch on Thursday afternoon with two ice chests and a 5-gallon bucket full of water — a necessity for life that is in demand throughout the city of Victoria and the state, where severe winter weather has left thousands without running water.
Youngblood said the water stopped running at his parent's home in northeast Victoria sometime on Monday.
"We were able to get right through there and fill up in no time," he said. "It is a very good deed and awesome deal that they have going on out there."
As of Thursday, Son Valley Ranch, which has its own private well, was one of the few places in Victoria that had opened up water distribution for residents.
From 10 a.m. to 6 p.m. Thursday, people stopped by the ranch to load up well water to boil for drinking and water from its kayak pool for toilets. The ranch also opened indoor space for people to warm up.
Some of the people who came had serious medical conditions and were in pressing need of water for survival, said the Rev. Glen Dry.
"Hopefully, as water comes back online, neighbors can start helping neighbors, but the reason we came online is because we knew it was such a drastic situation," he said. "The line never stopped (Thursday) … We've filled up everything from trash cans to liquor bottles. It's pretty wild."
High demand and several water main breaks led to widespread water loss throughout the city of Victoria Tuesday afternoon. Since then, city crews and private contractors have been working to identify, isolate and repair water line breaks as residents struggle to find water supplies to get by.
As of Thursday, crews had turned off nearly 200 meters to mitigate leaks.
The city has also been asking residents who have running water to conserve water as much as possible while the city continues trying to refill storage tanks, towers and plants.
City officials said Thursday that they expect to have sufficient water running through Victoria's entire water system by Saturday, but that doesn't mean every customer will have running water restored in that time frame.
"If there are residences or neighborhoods that have major water line breaks, there will be no option but to keep those shut off to be able to address the issue," City Manager Jesús Garza said during a Thursday press conference.
During a Thursday press conference, Gov. Greg Abbott said he has made a formal request to President Joe Biden for a major disaster declaration. If granted, residents will be able to apply for assistance with FEMA to cover costs of broken water pipes that are not already covered by private insurance.
Friday, the city will start releasing water to the low pressure plane, which has been most severely impacted by the city's water system issues, Garza said.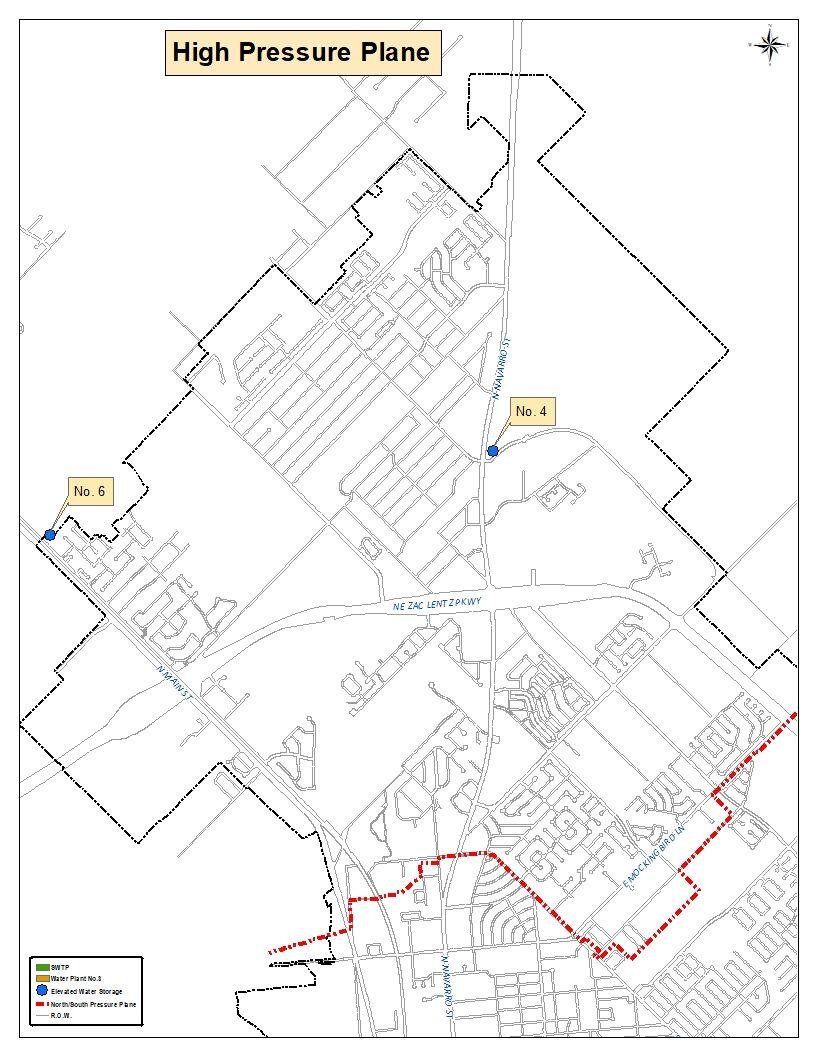 The city of Victoria is divided between a high pressure plane and low pressure plane.
The high pressure plane mainly serves the north side of the city and has been experiencing low to medium water pressure and was providing water to some residents as of Wednesday, Garza said.
The elevation on the northern side of town is higher, so water runs through those parts of the system first and is gravity-fed downstream, he said.
The low pressure plane serves roughly ⅔ of residents on the south side of town and is fed by Water Plant No. 3 and Water Towers No. 1, 3 and 5. Garza said the water release will start at Water Plant No. 3, which feeds into Tower No. 1 and then into Towers No. 3 and No. 5.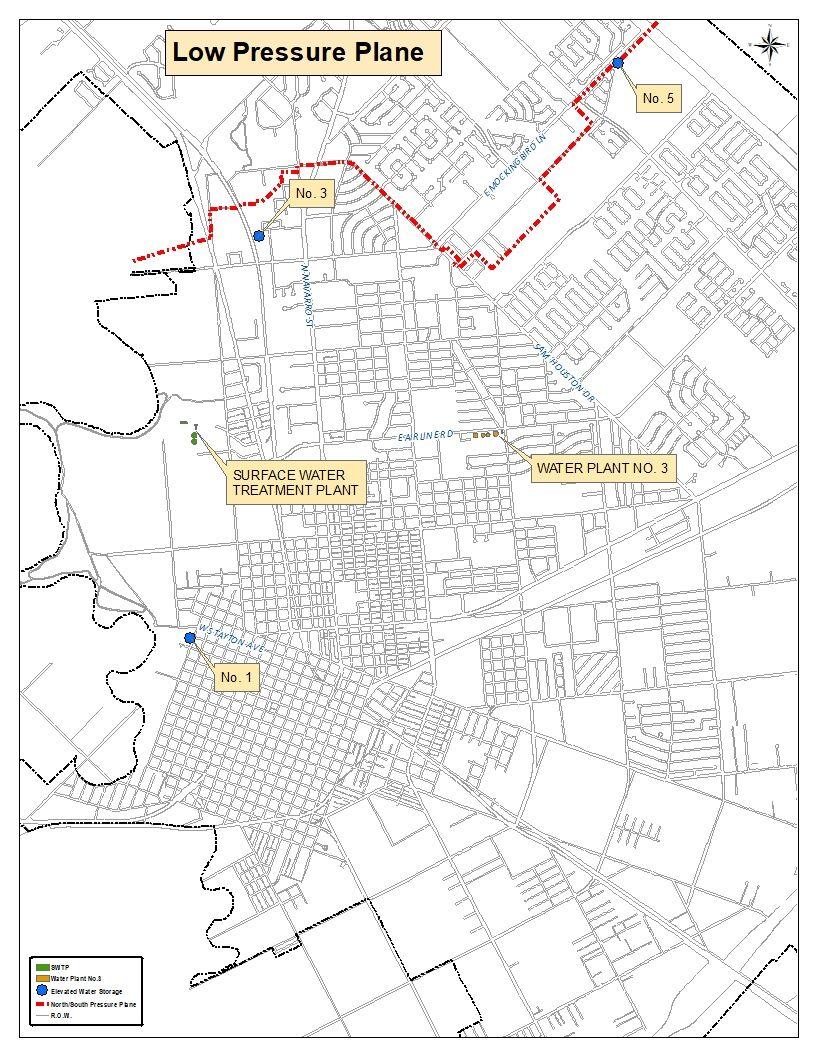 Both Garza and Mayor Rawley McCoy said there is a chance of more leaks or breaks being discovered as water is released. If a break is detected, the city might have to isolate certain areas affected by the break until it can be fixed, Garza said.
"While we will be releasing water, there is still the big unknown as to how far the water will get because of things we might come across," he said. "The last thing we want to do is just open the system up, free for all per say, and just have so many leaks and breaks that we start losing ground on all the water we've been able to store up to this point."
In addition to high demand and leaks and breaks caused by severe winter weather, the city is investigating whether frozen gauges and electrical components contributed to the water issues.
"We're beginning to investigate if that played a role in our situation, which caused this depletion or the appearance of the depletion of water to take place in such a rapid fashion," Garza said.
As of Thursday, the city was able to secure and provide almost 7,000 bottles of water to Citizens Medical Center and the DeTar Healthcare System, which are reserved for hospital patients.
The Victoria Fire Department was able to restore water to a dialysis clinic, which was operational as of Thursday and able to treat hundreds of patients, Garza said. As of 4 p.m., the fire department was working to restore water to another dialysis clinic, he said.
Garza said the city is still trying to secure water for a public distribution, but the process has been challenging because of high demand. As of 3 p.m., 797 public drinking water systems in Texas were reporting issues, Toby Baker, executive director of the Texas Commission on Environmental Quality, said during a press conference.
"As we continue to secure and procure more bottled water, we'll work without critical facilities to prioritize them and hopefully, if we get sufficient supply, we can turn our attention to a mass distribution effort," Garza said.
On Saturday and Sunday, the city will continue to monitor for breaks and leaks. Once the pressure is controlled, focus will shift to rescinding the boil water notice that was issued Tuesday, Garza said.
A hotline was opened for residents to report leaks and ask questions at 361-485-3381 Thursday. Residents can also go to a new website, victoriatx.gov/waterboil, for water-related news releases, virtual briefings and other resources.
The city will continue to host daily press briefings and provide daily written updates through email, its social media channels, partnerships with local media, and the new webpage. City officials will provide another update on the water issues through a written notice at 9 a.m. Friday and during a virtual press conference at 3 p.m.
"This situation is of great importance to everybody and don't think that we don't understand the frustration of everyone out there," McCoy said. "We're going to fight this problem. We're going to solve this problem and get this city back online as quickly as we can and I want people to understand that."