The number of colonial waterbirds breeding on the central coast of Texas is about the same year over year, but there's a risk of them disappearing along with their rookeries, said Brent Ortego, a retired Texas Parks and Wildlife biologist.
Ortego was one of several biologists to present Thursday at the Texas Colonial Waterbird Society's annual meeting at the O'Connor-Proctor building in downtown Victoria.
"The reason the society formed to begin with is because a certain number of people who were spending a lot of time on the coast and were familiar with what was going on started noticing there were less and less brown pelicans," said David Newstead, the chairman of the Society. "Now, even though there's more people and brown pelicans have recovered, other birds are having trouble, so it's good to get everybody to put their heads together to see what we can and can't do about it."
In his presentation, Ortego pointed out that since 1989, about 13 acres have eroded from the Lavaca Bay spoils, while another barrier island off the coast of Seadrift was down to a tenth of an acre before Hurricane Harvey struck.
After the meeting, Ortego said Harvey accelerated that erosion and killed brush larger birds nest in.
"Every year, these islands are shrinking. One island that's had some success as far as being replenished with spoil is Chester Island," he said.
Chester Island is named for its former warden Chester Smith, whose passion was recovering brown pelicans.
Brown pelicans ate fish contaminated with the insecticide DDT and other chemicals, which caused them to lay eggs with a thin shell. The eggs crushed under the weight of a parent incubating them. The use of DDT was banned in the early 1970s.
Brown pelicans were taken off the federal list of endangered and threatened wildlife in 2009.
Ortego said there were 8,326 pairs of brown pelicans breeding on the central coast of Texas this year, a 211 percent increase over the 10-year average.
The same cannot be said for black skimmers.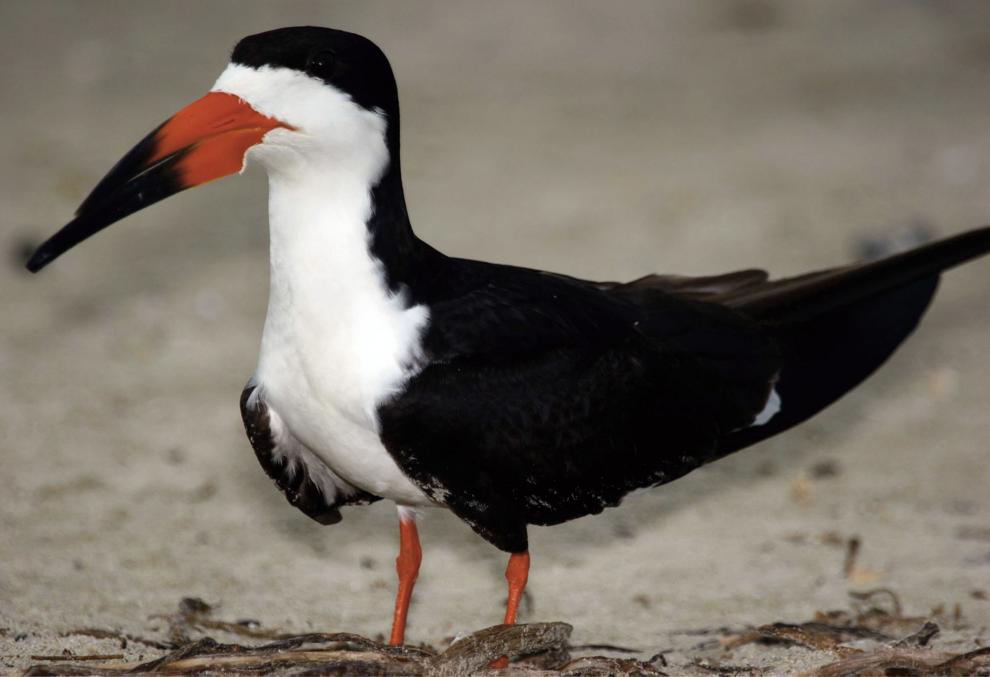 The number of black skimmers, which are known for using their uneven beak to skim the water for fish, are down coastwide.
Newstead, who also serves as the director of bird conservation at the Coastal Bend Bays and Estauries Program, said he and others have been banding them for about a year and learned that some black skimmers migrate to Central America.
Newstead asked for Society members' advice after some black skimmer chicks in East Matagorda Bay grew their feathers in an irregular way and then died. He said he suspected a heavy metal contamination.
After the meeting, Newstead said the number of birds breeding on the coast can tell one a lot about the health of the overall ecosystem.
Also, "if there are no birds, there's going to be other ecological consequences down the line," he said.