EDNA – As a 95-year-old World War II veteran, William Bruce Ellis has earned the right to have a quiet Veterans Day.
How do you observe Veterans Day?
He was one of 14 men from Victoria who enlisted in the U.S. Navy in 1942. Ellis was 17 years old at the time and was among the Houston Volunteers, a group of 1,000 men who joined the war after the Battle of Sunda Strait, in which the USS Houston sank while fighting an overwhelming Japanese naval force.
This year, Ellis said, he and his wife of 74 years don't have any special plans to observe the day that honors those who served. The Edna resident, who was aboard the USS PC 1077 submarine chaser, or "Hell Horn," said he believes there are other men who deserve the recognition instead.
"They did more," Ellis said. "We never did really come hand-to-hand in battle, and there are so many boys that did. And for those boys, I'm sorry."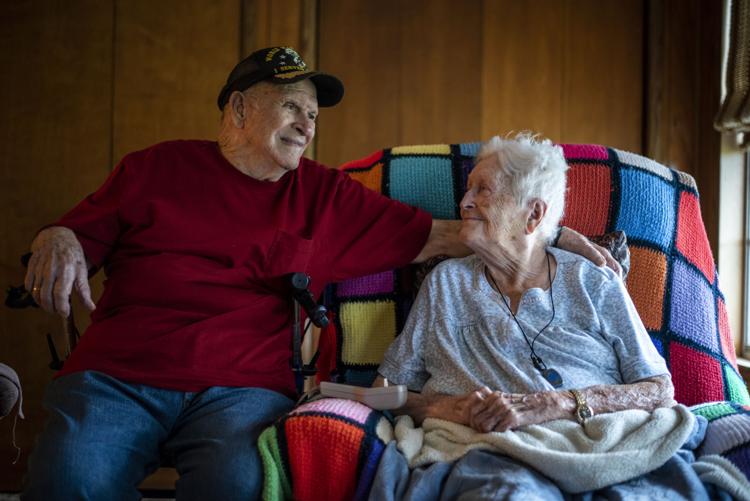 Ellis' humility about his service isn't uncommon among veterans, said Lila Rakoczy, of the Texas Historical Commission. She said she has encountered many who've served who feel they don't deserve to be thanked because they weren't on the front lines, seriously injured or killed.
"That's fairly common for a lot of individuals," she said. "I think they feel they did their duty, but it would be unseemly or unwarranted to accept gratitude when others sacrificed more or were impacted in more tangible ways."
During the war, Rakoczy said, public displays of patriotism and gratitude for people enlisting were encouraged on the home front. More than 150,000 people attended the symbolic induction of the Houston Volunteers on Memorial Day in 1942. The event, which had a lot of fanfare to encourage more people to enlist, was so festive that it was practically a public holiday.
Most of the Houston Volunteers enlisted to honor the sailors lost aboard the USS Houston during the Battle of Sunda Strait.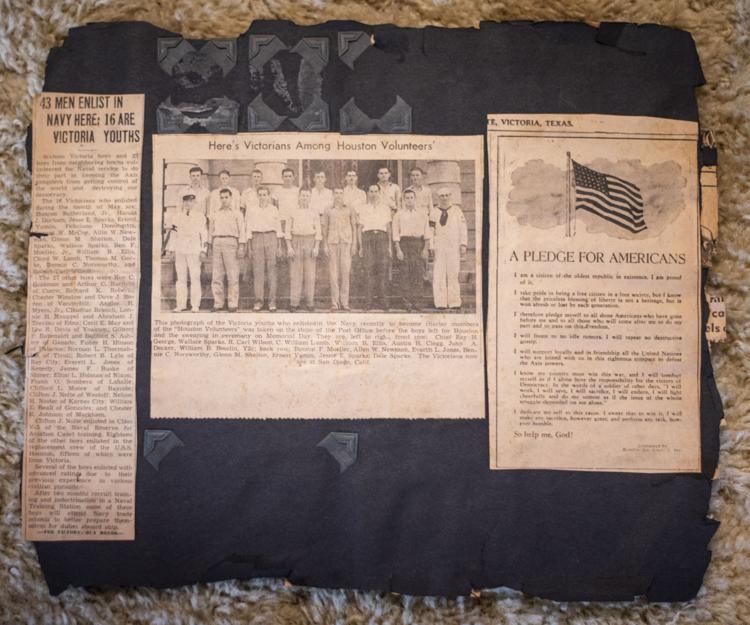 Ellis, who wanted to serve on a submarine but didn't because of his color blindness, said he chose to enlist in the Navy because he'd rather sleep in a bed than in a foxhole.
Although he dropped out as a junior at St. Joseph High School to join the military, Ellis said he was already well prepared for military service before he enlisted. When he was 16, Ellis was a member of the Civilian Conservation Corps, a public works program that President Franklin Delano Roosevelt created during the New Deal. Ellis said working with the conservation group taught him independence and self-discipline.
"I was already ready for the Navy when I went in," he said. "The CCC is the one that teaches you that you've got to be straight-up, you've got to do what you've got to do and Mom and Daddy ain't going to get you out of it."
While aboard a submarine chaser nicknamed the USS Hell Horn, Ellis worked as a storekeeper and acquired and maintained supplies for the vessel. He was also a gunner, which meant his ears were right next to a large piece of weaponry with nothing but cotton to protect his hearing.
Although the veteran said he didn't see much combat action during his 18 months aboard the vessel, he did see some action at Kiska Island and Attu Island, which were both controlled by Japanese forces.
Ellis said he still remembers bulldozers piling the bodies of the Japanese in mass graves and burying them.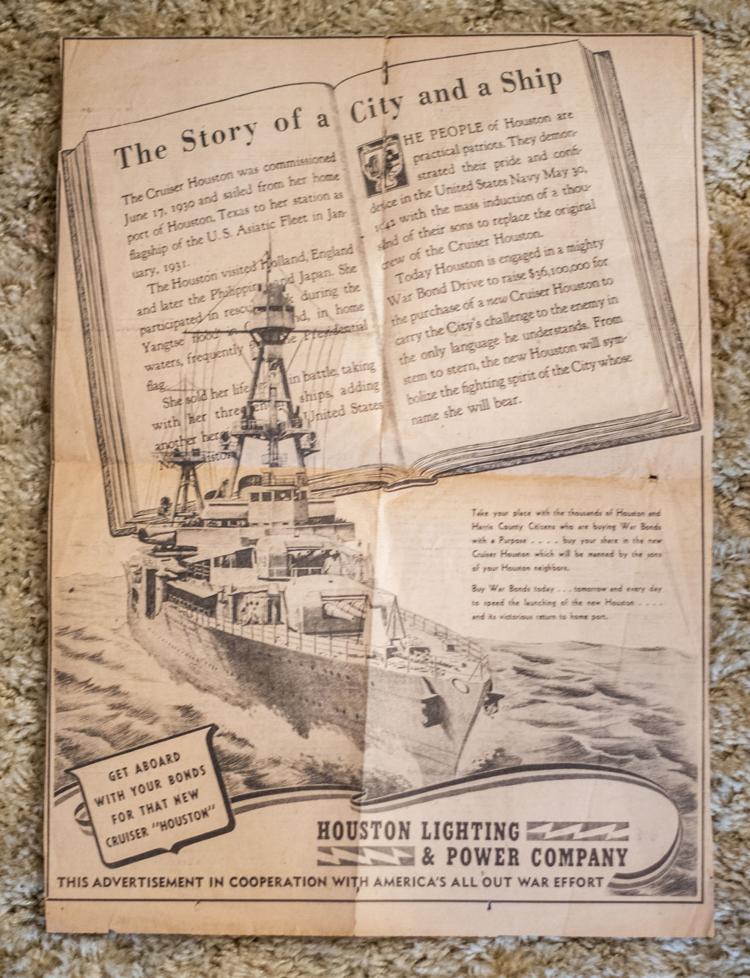 "Push the dirt over them, and that's it," he said. "There'd be an arm sticking out here and a leg there."
The submarine chaser's main mission was to find enemy submarines and patrol and escort Allied ships and submarines to the Bering Sea. Ellis said the ship also patrolled Pearl Harbor between Midway and Johnston islands.
During their limited time ashore in Hawaii, the sailors would get tickets to dance and take pictures with women dressed in grass skirts to send home to their families.
Although the veterans were excited to return home, Rakoczy said they struggled with the trauma of their service alone. It was expected in society that veterans wouldn't talk about the hardships of war, she said.
"They had, in most cases, this patriotic homecoming where they were greeted as heroes and liberators, but for many of them, they had to silence or push down some of the more awful elements of what they went through," she said.
Ellis said going home after being at sea for a year and a half was like getting out of prison. Before he worked at a blimp base in Hitchcock, Ellis had a month's leave to go home to family in Victoria and share with them a chicken fried steak dinner. In his time home, Ellis happened upon someone special at J.C. Penney, a girl who once asked him to a dance when they were in high school.
"It was one of those dances where the women asked the men," said his wife, Pauline, about how they met. "I didn't know who I wanted to ask, and my mother said, 'Why don't you ask that new boy? And I did, and look what happened."
Ellis' wife said he was a perfect gentleman and took her bowling after the dance at Patti Welder High School, where he helped her up after she slipped and fell in her high heels. About a month after Ellis returned to Texas and three days after Pauline's 19th birthday, the couple married on March 29, 1945. They eventually had three daughters, eight grandchildren, 20 great-grandchildren and two great-great-grandchildren.
As a father, the former sailor was strict but loving. All three of his daughters are still daddy's girls.
"I was strict with my girls; you can ask them," he said. "I'd bust their little tails, I'd guarantee you. It wasn't because I was mad. It was to teach them a lesson. And every one of them loved me to death."
Ellis was known for being a tough guy. After serving during the war, he worked as a roughneck for Mobile Oil, where he earned the nickname "Bull" after he gained almost 30 pounds of muscle on the job.
He also enjoyed hunting and fishing, especially with his daughters.
His middle daughter, Kathleen Snyder, said their freezer was always full of food her father brought home. As for Snyder, she said she has killer aim today thanks to her father.
"I'm still a great shot," Snyder said. "If I outshoot my husband, the first thing I do is call my dad. He goes, 'I taught you right.'"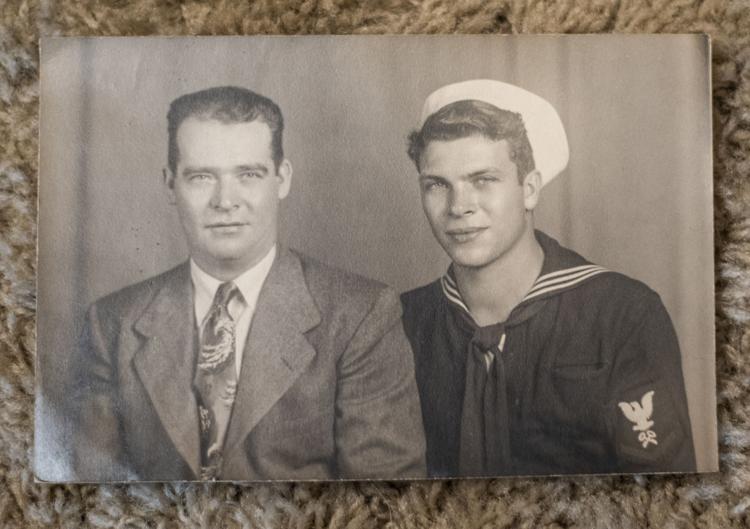 Snyder said her tough guy father, who would often take his family camping at Garner State Park, still has a light heart and knows how to laugh. She said he always has a joke or magic trick up his sleeve to make people smile.
"A lot of people know him for his jokes and his little tricks," Snyder said.
For Veterans Day, Ellis said he will probably watch television with his wife in their home in Edna with their two little dogs perched on their laps. The former sailor who served three years, four months and six days, won't participate in any parades or fanfare because for him, the war is in the past.
"I've done all I can do," he said. "I was glad to have served."