A 12-year-old boy died Saturday night after the car he was riding in struck a bull on a Victoria County highway.
About 9:30 p.m., a Toyota Yaris driven by the boy's father, John Michael Jacobs, 31, of Victoria, crashed near the U.S. 59 Guadalupe River bridge by Fox Road, said Sgt. Ruben San Miguel, spokesman for the Texas Department of Public Safety.
Jacobs was taken by helicopter to Brooke Army Military Medical Center in San Antonio in serious condition.
His son, John Michael Jacobs III, was the only other person in the car and was pronounced dead at the scene by Justice of the Peace MaryAnn Rivera. An autopsy was not requested.
Both were wearing seat belts.
The crash occurred when Jacobs' northbound Yaris crossed over the river bridge and struck a black bull, which had entered the highway, San Miguel said.
The collision caused the Yaris to spin into the grassy median, cross the southbound lanes and travel down an embankment, where it came to rest.
No other vehicles were involved, San Miguel said.
As of Monday, Jacobs was in fair condition at Brooke Army Military Medical Center, a hospital spokesman said.
Department of Public Safety investigators are working to determine the bull's owner but had not done so as of Monday, San Miguel said.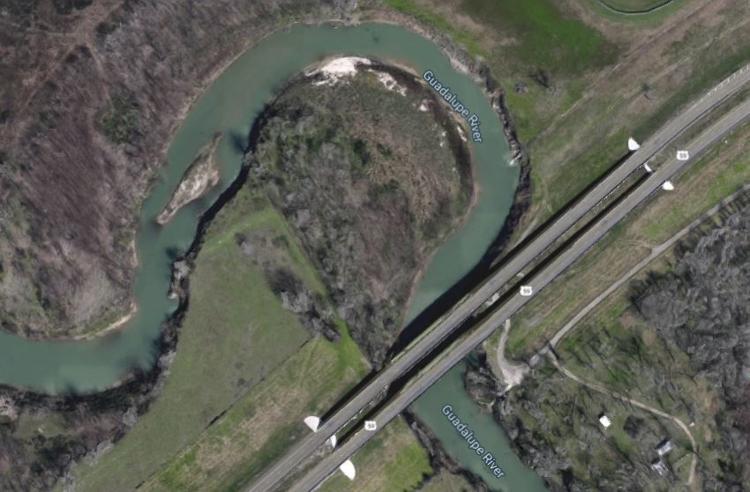 Loretta Davis, a 49-year-old Victoria resident, said she called the Victoria County Sheriff's Office to report a herd of cattle along that part of the highway the night before the fatal crash.
Friday night, she noticed a herd of about 10 cattle in an unfenced grassy field near the Victoria Regional Wastewater Treatment Plant, which is just down the highway from the scene of the crash.
Davis said she is familiar with the danger posed by livestock wandering onto highways. Once, she came up on the scene of a crash where a black Angus had been hit on a five-lane farm road. After the crash, despite the vehicle's flashing warning signals, several vehicles came along and struck the carcass.
"They didn't see it because (the animal) was black, and it was dark," she said.
Victoria attorney Brent Dornburg said Texas has no specific laws that would allow a person to be charged with a crime for allowing livestock animals to run loose and causing an injury or death. For an owner to be charged, a prosecutor would have to apply the situation to an existing law, which Dornburg said would be difficult.
"That would be a stretch because it would be so tough to prove any required mental state," he said. "If it happened over and over or if the owner of the livestock had notice, then perhaps something (could be charged) involving negligence."
In such cases where an owner repeatedly failed to contain an animal and caused a death or injury, criminal negligence or criminally negligent homicide might be applied, he said.
For example, if a landowner failed to prevent an animal from entering a highway after being informed by law enforcement of previous instances in which livestock had done so, they could be held liable. Other actions that could make a person liable include failing to inspect fences and failing to repair fences that break.
Finally, any person owning land adjacent to a highway is required to fence the area if livestock are raised there.
When Davis called the sheriff's office Friday night, she was told deputies were handling the problem.
Sheriff's officials did not comment about those calls.
But when Davis saw a black bull dead along the highway's northbound lanes Sunday and then heard the news of the child's death Monday, she became angry.
"I cried. It pissed me off," she said. "It ain't right."
The boy's death, she said, could and should have been prevented.
"Nobody took care of it like they were supposed to," she said. "They should have been checking because this is dangerous."