BLOOMINGTON − With hammers, nails and compassion, the Mennonites working on Roxanna Sanchez's home left her dumbfounded.
"I can't explain the gratitude. If they could only see inside my heart," said Sanchez, 40, a Bloomington wife and mother whose life was nearly swept away by Hurricane Harvey.
On a cool March morning, the drone of power saws and steady thump of hammers cut through the quiet of Bloomington, a rural Victoria County community of about 2,500 residents.
Women in long dresses and bonnets walked spryly across scaffolds and rooftop beams, shouldering building materials alongside their fellow male volunteers at Sanchez's future house. At noon, they broke for a brief lunch before launching themselves again into the job of rebuilding her home and hope.
"I can never repay them," Sanchez said, her voice overcome with emotion.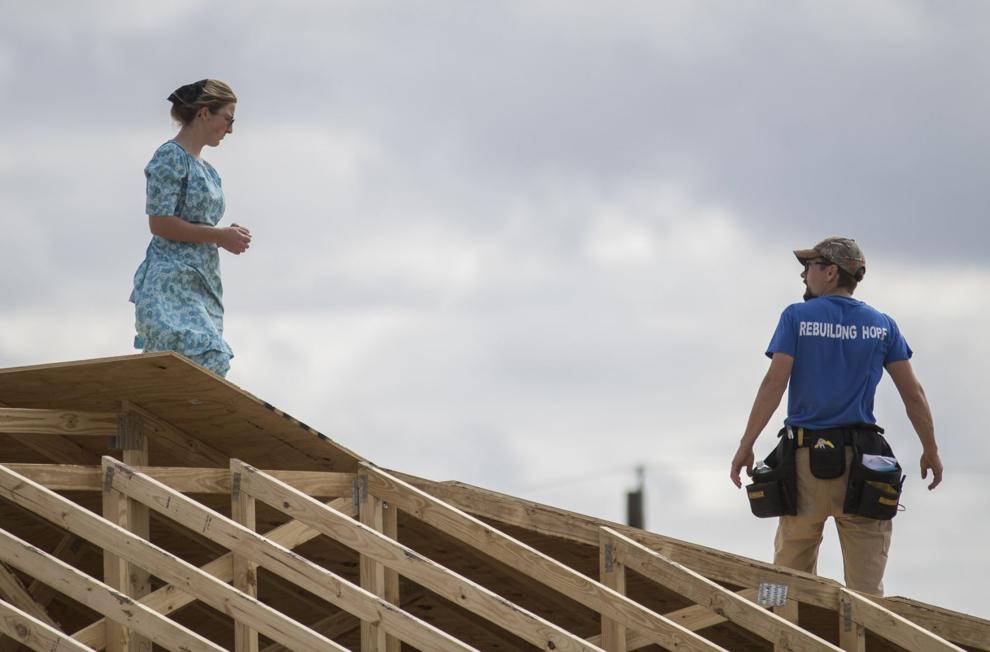 Since their arrival in Victoria County immediately after Harvey, volunteers of the Mennonite Disaster Service, a network of Anabaptist churches dedicated to helping those afflicted by disaster, have worked to rebuild four Bloomington homes and repair almost 60. The effort put in so far marks the beginning of the disaster service's work, which leaders said will likely continue for years in the community.
"At the end of the day, what they are providing for our community is hope," said Danny Garcia, county commissioner for Victoria County's Precinct 1, which includes Bloomington.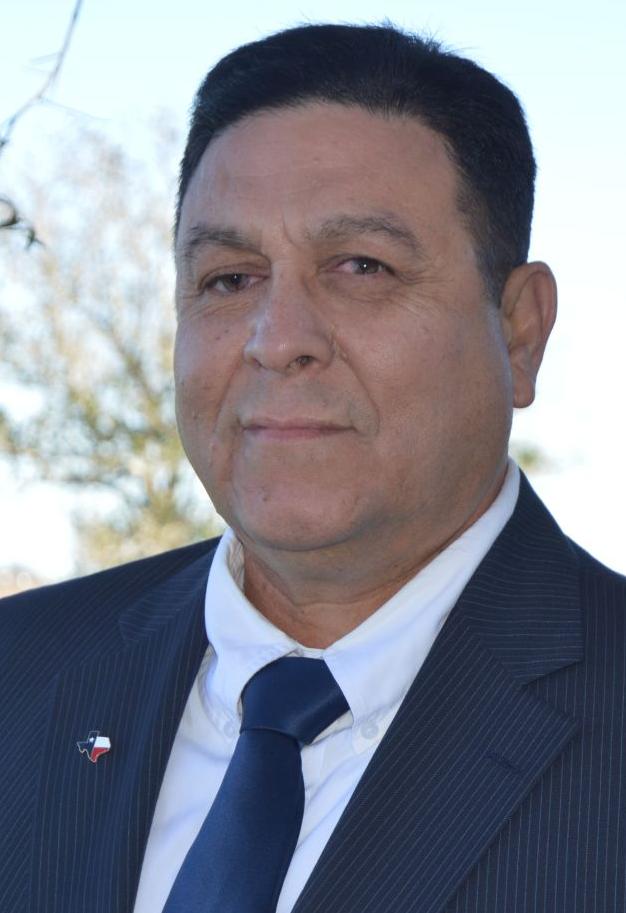 Faith follows disaster
Garcia said he can't help but credit the arrival of Mennonite volunteers in his storm-struck precinct to divine intervention.
"God made a greater believer out of me," Garcia said.
Several days after landfall, during the darkest moments of Harvey's aftermath, Garcia happened across a group of Mennonite volunteers at the county's emergency management center. They were about to travel to Refugio County in search of those in need when Garcia "happened to bump into them."
"They asked if I needed help," he said. "I said, 'Get in my truck. I will show you.'"
Although Garcia had heard of Mennonites before, he knew little about them. He knew some working with the diverse group lived more conservative lives, preferring plain clothing and forgoing some forms of technology.
He did not know, but would soon learn, the depth of their dedication and just how quickly residents would embrace them.
"It was kind of awkward to see these people walking around Bloomington at first," Garcia said, adding, "The women in long dresses on roofs, men who had their beards − that was an uncommon sight. Now, they are just part of the community."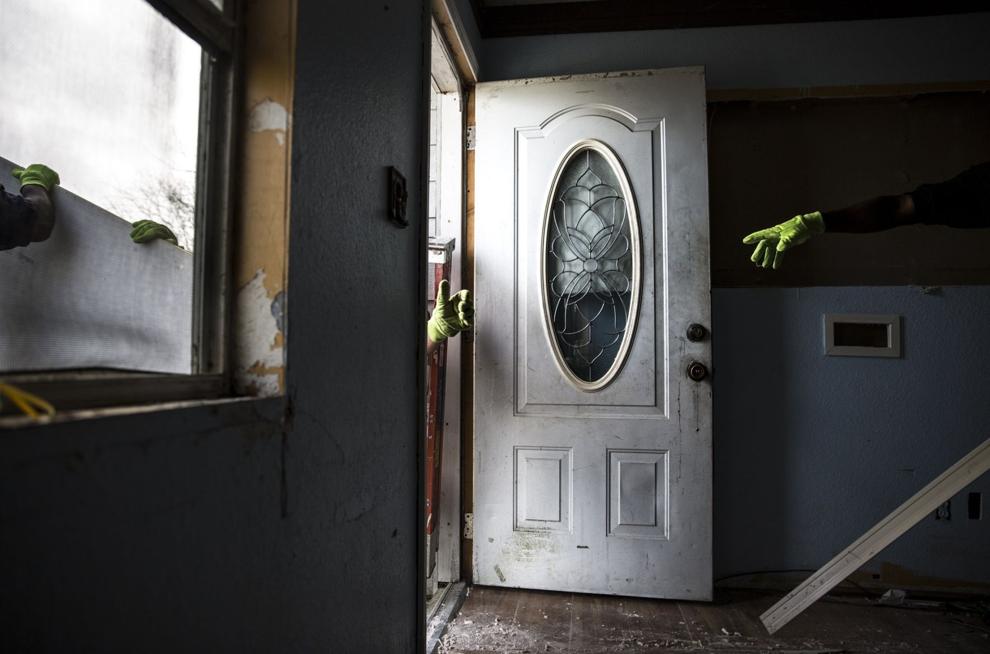 'Everything just crumbles'
Sanchez's Harvey story began in fear but ended in hope.
Although Sanchez had secured a place to weather the storm, she decided to stay in Bloomington to care for her aging father-in-law and parents, who had nowhere to go.
Their decision to shelter at a nearby church during landfall proved a terrifying one.
"I was afraid the roof was going to fly off and we were going to go flying into the air," she said, also remembering how those inside had to screw church doors shut to prevent wind from blowing them open.
When Sanchez returned to her home, which she and her husband were renting to buy, she found it filled with stormwater and waste from their septic tank. Days later, the home would be choked with mold.
"It's money you save to one day get something to be yours − and all of a sudden, everything just crumbles," she said.
Discouraged, Sanchez and her family gathered what few belongings remained and moved to another Bloomington home offered by a friendly rancher.
When that home and most of their remaining belongings were consumed by an intense fire from an undetermined cause, the family was devastated. Sanchez struggled to remember her feelings that day, finally finding a single word while choking back tears.
"Heartbreaking," she said in a whisper.
Houses of straw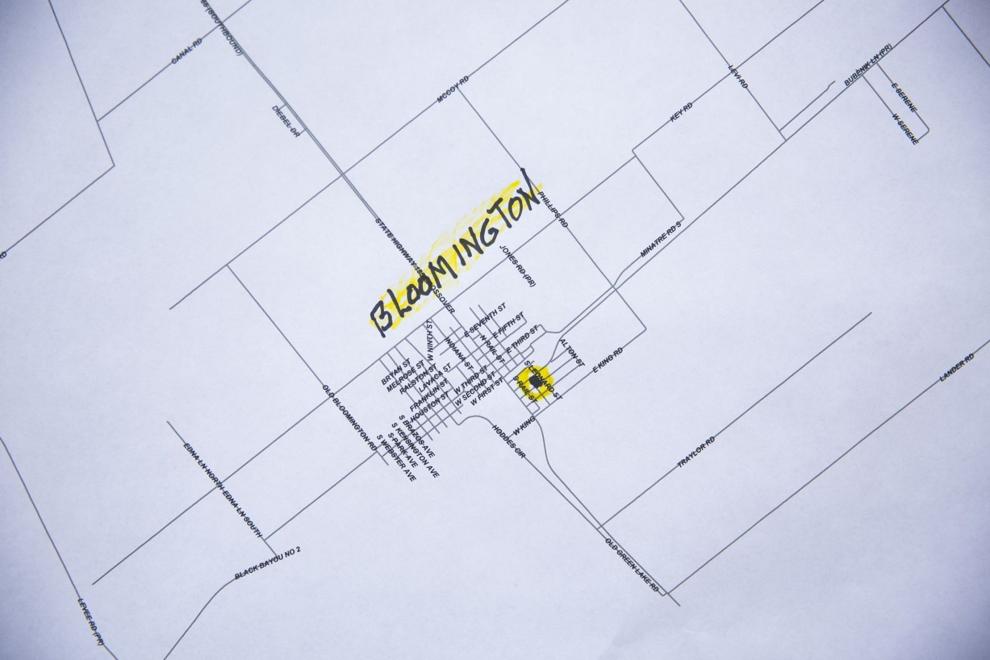 The winds and water that swept through Bloomington may not have been Harvey's most severe, but they might as well have been, Garcia said.
"Have you ever heard the story of the three little pigs?" Garcia said. "Well, we are the houses that couldn't take the hit."
According to U.S. Census data, the average household income of Bloomington's residents is about $15,000 less than that of the average household in Victoria County.
Before Harvey, Bloomington residents got by with a dollar store but no grocery store. Life became more inconvenient for residents after the hurricane destroyed the town's sole gas station, which has yet to be replaced.
Garcia said he also thinks Precinct 1 is home to a disproportionately higher number of underinsured and uninsured residents in comparison to other county precincts. Helping those without much, Garcia said, is further complicated because many of those afflicted by storm damage have no knowledge of the resources available to them.
Since the early days of Harvey's aftermath, Bloomington native Theresa Martinez, 50, has thrown herself into that breach.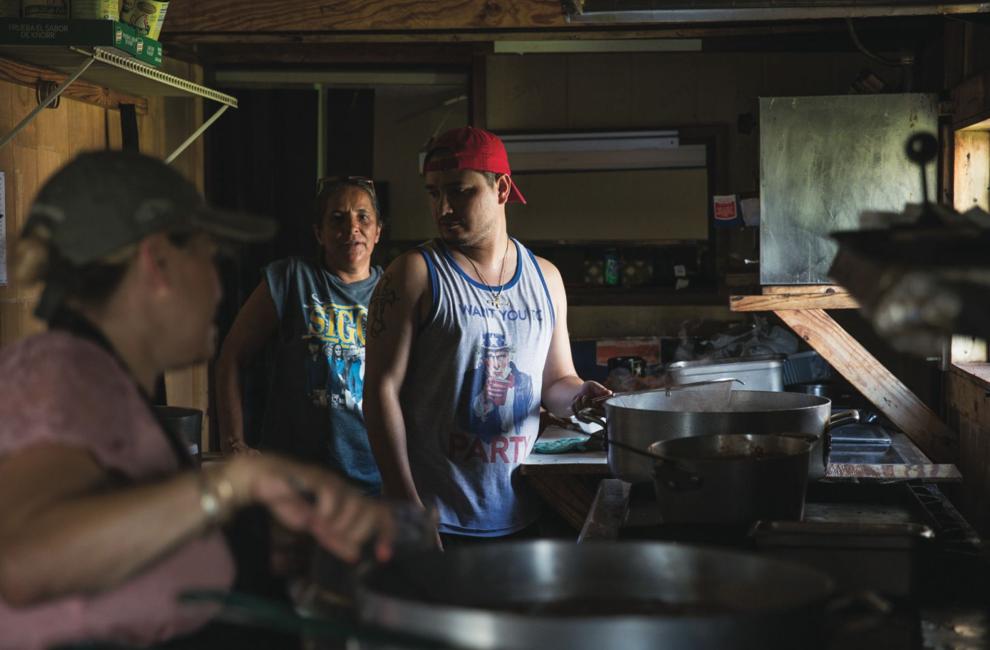 Her initial work in coordinating meals for hundreds of hungry residents has since transformed to serving as a volunteer case worker for the precinct and beyond.
Friday, she said she had conducted about 10 intake screenings that week. During those screenings, she queries residents about their specific problems to bring them the resources and repairs they need.
She said she is currently managing about 140 cases, mostly in Precinct 1.
"That's not normal for a caseworker," Garcia said. "We are overloading her."
Hands and feet of God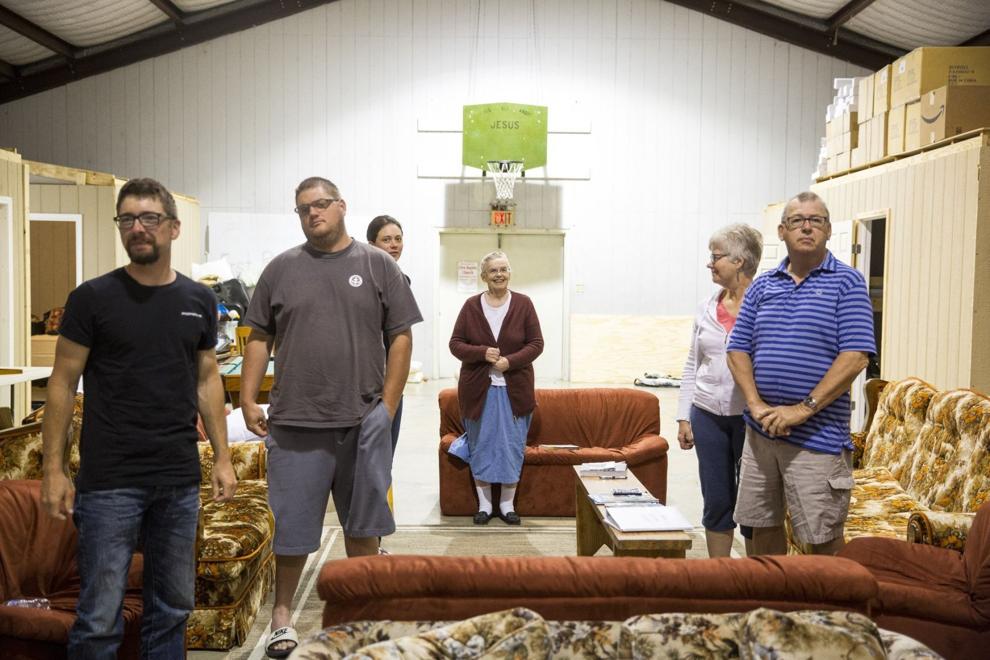 Mennonite volunteer Dave Martin, 61, didn't see devoting a week of his life to Bloomington as an extraordinary act. It was a just the human thing to do.
"Neighbors are not just who lives next to where you live. Neighbors are all over the place," said Martin, of Lombard, Ill.
Martin, a self-described "short-timer" as a Mennonite volunteer, drove more than 1,000 miles to Bloomington after hearing about Harvey. Martin, who wore a Chicago Cubs jersey while working at the Sanchez's soon-to-be home, said although not all in the group follow "old order" doctrines, service to those in need is a shared tradition.
"We see it as actually being the hands and feet of God, serving one another," he said.
Taking their name from 16th century religious reformer Menno Simons, the Mennonites are like Lutherans but not quite, said long-term Mennonite volunteer Jason Wolf, 28, of Saskatoon, Saskatchewan.
Other Mennonite Disaster Service projects are being undertaken across the United States in locations from Southern Florida to South Dakota to Puerto Rico.
On any given week, at least 15 to 20 Mennonite volunteers can be found living and working out of a common room donated by the First Baptist Church in Bloomington. That space, which has a kitchen area and bathrooms, has been converted into a home away from home with the installation of numerous bunk rooms. Couples each enjoy a bed and room to themselves, while the unmarried, separated by gender, cozy up with as many as five sleeping on bunk beds and mattresses in a single room.
A pool table, a basketball net and board games offer a little recreation after dinner and a hard day's work.
In the gravel parking lot, a trailer filled with an arsenal of tools and materials is ready to be deployed to any given job site in the community.
While Mennonites who stay for a week make up most of the group's volunteer power, those who invest weeks and months serve as an institutional memory for longer construction projects, said Wolf, who will serve as a crew leader in Bloomington for about a month.
"I can get a lot more done if I'm here for three weeks as a crew leader," he said. "I can delegate a crew of 10 people instead of trying to do something on my own. It kind of just multiplies that way."
Bloomington couple Benjamin and Vicky Castellanos, whose home was destroyed by Harvey, said they were impressed by the efficiency and organization resulting from that model. Friday, their home repairs, which included a new paint job, were nearly completed.
"They show up, and one day or two days later–" he said, snapping his fingers. "It's like, 'Wow.' That's just what they do."
Mike Stuckey, outgoing project director for the Bloomington work and a dairy farmer in northern Ohio, said much of that efficiency is the result of intensive planning and coordination.
Wolf had another theory.
"I honestly don't know, but, traditionally, the Mennonites are a very hardworking people," he said. "It's probably part of our upbringing. We are often raised on a farm and raised to work hard."
Whatever the reason, the Castellanoses were pleased by the progress to the point of disbelief.
"When they started doing a lot of work, I told my wife, 'Why are they doing this work? You know, I think they are contractors and they have mistaken us for another house,'" Benjamin Castellanos said.
Farewell, but not goodbye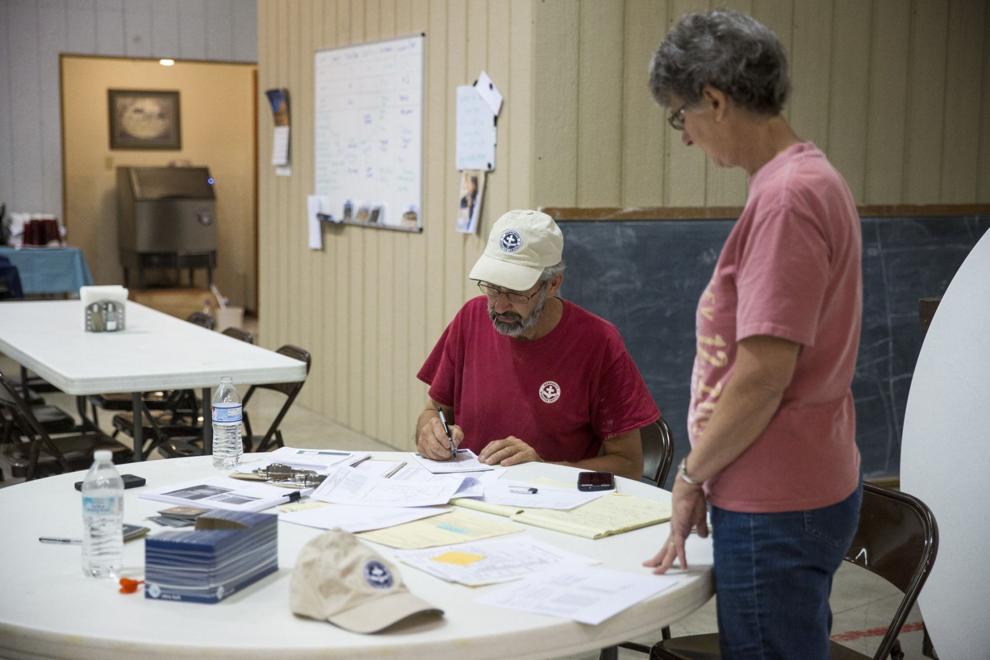 While Sanchez lamented her inability to ever repay the Mennonites, many in the group said she already had.
Their payment is "those friendships that we carry home," said the group's outgoing office manager, Linda Stuckey, who volunteered with her husband, Mike.
"Those relationships that are made are just as important as the work that we do with our hammers and our skills and gifts," Stuckey said.
Sanchez remembered one such dinner in which she cooked for the volunteers a family favorite − enchilada casserole. With laughter, she recalled how some in the group were bewildered by the spiciness.
"I felt so bad. I said, 'Well, I made the spiciness like for a little kid to eat, and she was like, 'The little kids eat that?'" Sanchez said.
March 17, the Stuckeys' final day in the town, residents doted on them with hugs, gifts and vows to visit their dairy farm in Ohio. Garcia, representing the county commissioners court, read a proclamation declaring the day in honor of the Mennonite Disaster Service.
Despite the Stuckeys' departure, the Mennonites' service in the town will continue, Mike Stuckey said.
"We are talking years at this point," he said. "It could be longer than that. It depends on what the need is."