Eric Leonard was on his way to Austin early Tuesday morning when he saw flashing lights in his rear-view mirror, synchronized to the sirens of a Department of Public Safety trooper vehicle behind him.
He did not panic but became "hyper-vigilant."
"The first thing I do is make sure that my hands are where they can see them, immediately," Leonard said. "I also kind of keep an eye on the patrol officer to make sure, you know, is he coming to my car with his hand close to his gun? Is he walking casually or walking in a suspicious-type manner, like he is suspicious of me?
"I watch them all the way to my car – every single time."
The trooper who stopped Leonard was professional and calm, though Leonard's fear remained of being treated differently because of the color of his skin.
"Once you see the lights, your defense-mechanism kicks in," said Leonard, who leads the Golden Crescent Black Chamber of Commerce. "We always say, you know, 'This is not going to happen to me, 'but you hear about incidents so much that it very well could happen to you."
To prevent and expel racial profiling, the Texas Legislature has required agencies to complete increasingly more comprehensive racial profiling reports of traffic stops since 2001. The Victoria Police Department and Victoria County Sheriff's Office submitted racial profiling reports March 1 to the Texas Commission on Law Enforcement, in accordance with the Texas Code of Criminal Procedure, but experts and officials have questioned the usefulness of the reports.
The most common reason for contact with the police is being stopped as a driver, according to the U.S. Bureau of Justice Statistics. Some Americans live with both the perceived and real fear of being racially profiled by law enforcement during these traffic stops, like Leonard or even Pastor Larry Green, who is a chaplain for the Victoria Police Department and who respects its officers. Green always makes sure he is on his best behavior when he is stopped by law enforcement.
"People of color are worried about getting stopped period, whether for good or bad," he said. "Our community may be 100 percent fair and square, (but) the perception of the police in America right now has people worried ... I think everyone actually has that fear."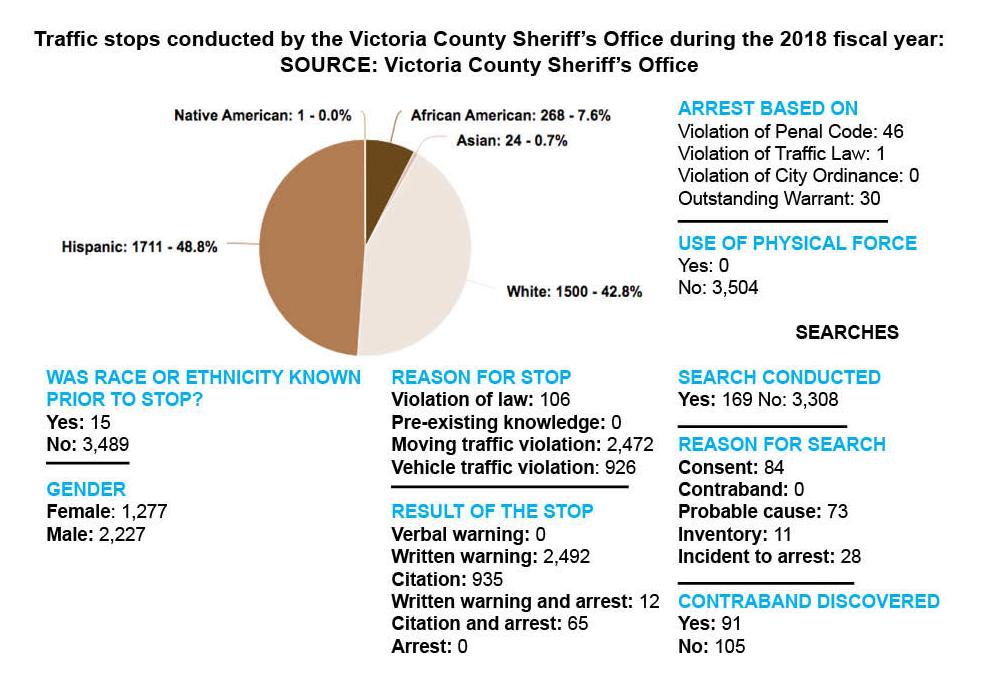 Agencies tend to compare data to population data from the U.S. Census Bureau. The Victoria County Sheriff's Office, for example, directly included U.S. Census data in its reports during its presentation to the commissioners' court. The racial data closely aligns with U.S. Census Bureau data for Victoria County, but experts and officials doubt the validity of that comparison.
Chief Deputy Roy Boyd, of the Victoria County Sheriff's Office, said the census is not an accurate comparison for deputy traffic stops, but he included the data in the report because it is the only population comparison they have.
"We deal with a lot of folks that aren't from Victoria, so a look at our census is a completely false perspective, which is counter-intuitive with what the legislature intended for," he said. "The philosophy was you should be stopping the makeup of your community. Well, that is a very naive and small-minded way of looking at it."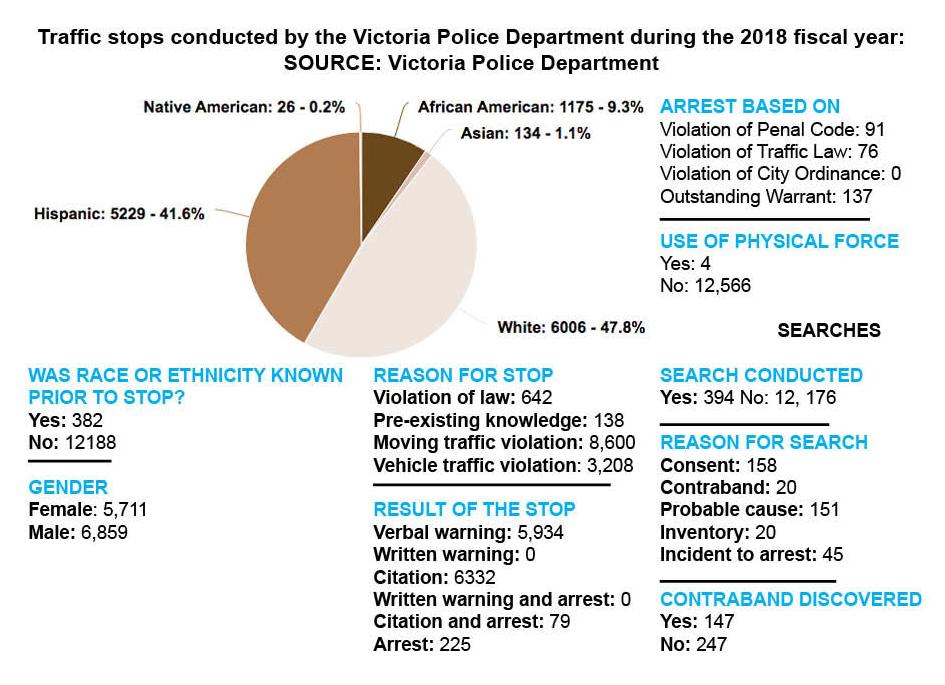 Chief J.J. Craig, of the Victoria Police Department, finds the population data more relevant for his department because police officers patrol the city, which is a more confined area than the entire county.
"I couldn't tell you of all these 12,000 stops, 90 percent of them are from Victoria. We don't collect that data," he said. "(But) I would think, anecdotally, that the vast majority would be local."
Neither the sheriff's office nor police department keep numbers that reflect how many of the drivers stopped actually live in Victoria County.
Brian Withrow, a criminal justice professor at Texas State University and former DPS trooper, has studied racial profiling since 1995. He said he has an issue with using population data for comparison.
"We tend to use census population, but population is a real poor indicator of who actually drives a community," he said. "Particularly, a community that has a lot of interstate highways (and) a lot of transient transportation."
With racial profiling reports, there will never be one proper way for agencies to analyze the data they collect, said Alex del Carmen, a criminologist, racial profiling expert and law enforcement consultant who trains police chiefs in requirements specific to racial profiling on behalf of the state.
"There is never gonna be a template for the analysis of the data because everybody is going to look at it from a different perspective," he said. "The state can only standardize the data collection, but the analysis would vary from jurisdiction to jurisdiction."
The Sandra Bland Act of 2018 required agencies to analyze the data they collect using research methodology, while the Code of Criminal Procedure tasked TCOLE with creating a template for agencies to submit reports in 2009. Gretchen Grigsby, a spokeswoman for TCOLE, said the commission serves as a repository for racial profiling reports, so the review of the reports and any handling of findings would happen at the local government level.
Agencies are not legally required to submit the racial breakdown for the result of a traffic stop. Categories including searches conducted, resulting arrests, warnings, citations and physical force, for instance, do not have to have racial breakdown attached to the numbers.
This issue came under fire in 2018, when an investigation by the Austin American-Statesman analyzed 15 million records of DPS traffic stops from 2009 to 2015 and found that troopers were 33 percent more likely to search Hispanic drivers than white drivers and less likely to discover drugs, weapons or illegal currency in the Hispanic drivers' vehicles compared to their white counterparts.
The public could not draw that conclusion from DPS' reports because while the racial breakdown of drivers stopped was provided, the racial breakdown of drivers searched was not.
Similarly, racial profiling reports from the Victoria Police Department and Victoria County Sheriff's Office do not include the racial breakdown of drivers searched, use of force, contraband discovered, result of the stop, etc.
Withrow said this prevents patterns from emerging, even though those numbers alone would not be definitive proof of racial profiling or bias.
"Rather than the whole stop thing, we need to focus more on what happens after the stop and collect data because there we have a defined population of people by race," Withrow said. "We know who we stopped because we've collected drivers' license data on them and we've seen them; we've been right next to them and looked at them, and we know what race they are.
"What happens during the stop? How are people treated after the stop? That, I think, is way more important."
Consent searches and arrests that do not result in filing charges, he said, are where patterns of racial profiling would emerge if they existed.
"It is the consent search that is the one that deserves most of our attention because it is the one that is predicated on nothing more than the whim of a police officer to want to search somebody's car," he said. "Another thing to look at is how many of their arrests result in a prosecution or filing charges."
Del Carmen also said he prioritizes searches in data analysis. He has been hired by agencies across the state to assess their practices and complete racial profiling reports as an objective third party, including the Austin Police Department, which has one of the more comprehensive racial profiling reports in the state.
"The reason why we analyze the searches and why the Sandra Bland Act now requires that we do that is because searches is where the meat and potatoes of the racial profiling analysis is," he said. "While looking at who the police officer stops is relevant, what is most relevant is what they did once the stop was made."
Both Boyd and Craig said they do not collect data on the racial breakdown for searches, though Section 5.05 Article 2.134(c) of the Sandra Bland Act requires agencies to analyze the racial breakdown for searches conducted during traffic stops.
"I am a criminologist, so I will always tell you that the more data, the better the analysis," Del Carmen said. "Just because the state requires a minimum doesn't mean that it is going to be all we analyze."
Craig, who has been trained by Del Carmen, said he would be open to having a third-party consultant assess his department's racial profiling reporting and analysis practices.
"I am always open to opportunities to work with expert consultants in areas such as these," Craig said. "I'm of the belief that this could only add to and provide additional insight into our collection or reporting capabilities."
While Boyd was open to the idea of an objective assessment, he said he still believes that collecting an increasing amount of data takes up time that deputies could spend enforcing laws.
"(Hiring a third-party to assess our report) is something that hasn't come up, but with the onset of the Sandra Bland (Act), it is always a possibility that we may have somebody come in and take a look at it," Boyd said. "You could have somebody come in, but it is going to have to be a comprehensive study ... they're asking us to simplify a magnificently complicated thing into something that is digestible and the only way to make it 100 percent accurate is to know all that data, and there is just no way for us to collect all that data all the time.
"Eventually, what you are going to have is 15 minutes worth of data entry for a five-minute stop, so now that deputy is no longer doing their job for those 15 minutes."
Racial profiling reports are important because they hold people accountable and provide a system of checks and balances, Green said.
Leonard, like Green, hopes reports will continued to be assessed for improvement.
"The reports are really important, but they don't mean anything if the officers aren't reporting it correctly or no one is doing anything with that data," he said. "And racial profiling is a situation that affects everyone and everyoneshould be concerned about.
"We should all be able to live and get along together."