Kristen Alonzo saved up for more than two years before moving into her apartment last spring.
"We were finally on our own," the single mother of two said.
But when she returned to her apartment after Hurricane Harvey, she found part of her ceiling had fallen, allowing about 18 inches of water inside.
A couple of boxes of photos and some furniture lay ruined.
Since then, Alonzo has moved her family three times.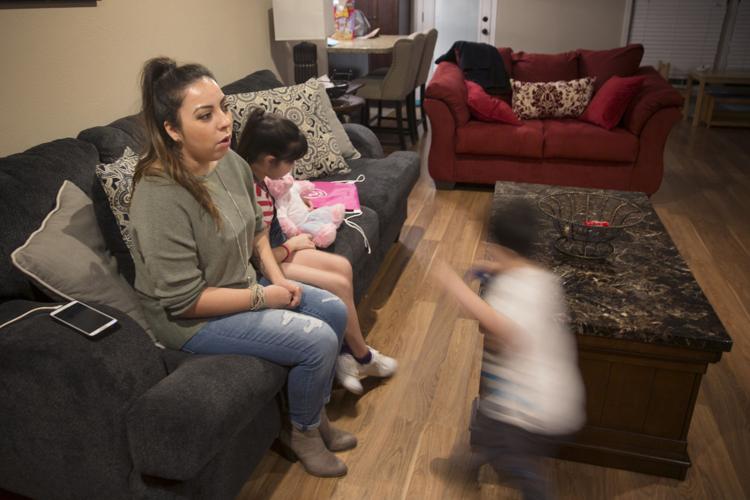 An estimated 31.6 percent of apartments in Victoria were damaged by the Aug. 25 Category 4 hurricane. And at least 405 units in those apartment complexes were damaged enough that tenants had to move.
The newspaper came to this estimate by contacting 53 apartment complexes throughout February.
Victoria Housing Authority's nine complexes are counted as one in the survey.
Forty-seven of the 53 properties shared the number of units that were damaged.
Several would not disclose how many tenants were displaced.
Although it's been six months since the hurricane, many complexes' repairs continue to be hamstrung by insurance. Those leading the recovery efforts worry that renters, some of whom live paycheck to paycheck, have been overlooked.
"What we have found is that some people were already not in great housing," said Ginny Stafford, CEO of Mid-Coast Family Services. "They were living in a trailer that was paid for or they were living with a family that had a trailer, and when that trailer got destroyed and they had to move into an apartment, they didn't have enough funds."
The long process
Last month, Letha Petrash, who manages the Villas, had to ask even more tenants to move out.
"We are extremely frustrated. All we have received is a small allowance to clean up the property, haul away debris, as well as shrink-wrap the roofs to prevent further water intrusion," she said. "We are facing the proverbial 3 'Ds' of the insurance company: Delay, Deny, Dispute."
Nancy Garner, president of Woolson Real Estate, said at one of her five damaged apartment complexes, the insurance company sent adjusters to inspect a roof four times.
She said she hired her own adjuster to map every square foot of her damaged apartment complexes, but insurance approved starting roof repairs for just one.
"It's really the insurance's job to do this," she said, showing the Advocate an 8-inch stack of reports and about 4,000 photographs generated by her own adjuster.
Melissa Moore, president of the Victoria Apartment Association, said the group estimated between 750 and 1,000 units of members' 6,800 units were damaged by the storm.
The association has 115 members throughout Victoria, Calhoun and DeWitt counties.
Moore said most insurance companies require three bids for everything.
Moore also manages Autumn Park, which hasn't started its construction because it, too, is waiting for insurance approval.
Still, she considers herself lucky.
"We only had 20 (units damaged), and some had much more than that," she said.
Leaning on family
The newspaper found the situations varied for renters who had to move to accommodate repairs.
Some were given five days to move because their leases were terminated, while others were only temporarily displaced and received lease abatements or paid less rent.
Jayne Flores was displaced for five months.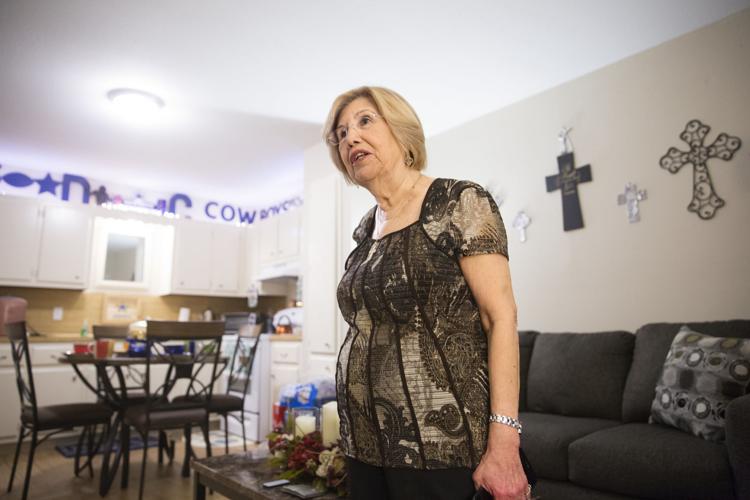 The 69-year-old recently retired from working at the H-E-B Plus! pharmacy, so she was devastated when she came back to her apartment on Miori Lane three days after Harvey to find the ceiling had caved in.
Water destroyed a figurine a late co-worker had given her as well as photos of her seven grandchildren.
She also had to undergo liver surgery in Houston, so she doesn't know what she would have done if one of her sons and her sister hadn't taken her in.
When her landlords, Martha and Bobby Buhler, told her she could move back, and into a unit closer to the laundromat, which will help her in her surgery recovery, she thanked them and God.
She moved in Feb. 1 and admires her freshly painted kitchen walls and the Dallas Cowboys memorabilia her son placed on her walls.
She said her neighbors knew she had returned to the tight-knit complex because they smelled homemade tortillas and beans cooking.
"I am very fortunate that I am back in my apartment. I know there are a lot of people who still don't have their places yet," she said.
Unlike Flores, Alonzo, 28, isn't able to return to her original three-bedroom, two-and-a-half-bathroom apartment at Caney Run Estates.
That's because she no longer meets the income requirements after accepting a different position at BCFS Education Services.
The family had somewhere to go immediately after the hurricane and rented a storage unit for $80, but after a while, they needed more space.
Alonzo packed up her children's belongings and moved from her sister's place to a two-bedroom house.
When writing a $1,100 rent check every month became a burden, another family member came through. Her uncle offered to rent her a different home for much less. She can now save enough money to work toward purchasing the home.
"I do feel very blessed and fortunate to have that support system," she said. "That's the one thing about having a big family — they're always there."
Her 8-year-old daughter is just excited she doesn't have to share a room with her 2-year-old brother.
Now that she's not paying so much in rent, Alonzo can afford to take a trip to California to visit family.
"We've been through so much; we thought it's OK to spend a little bit of money," she said.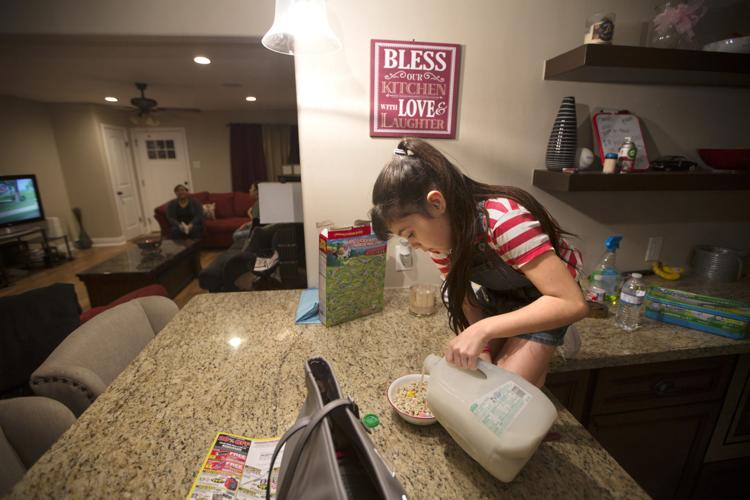 Lack of data
A Federal Emergency Management Agency spokesman said the agency did not assess damage to apartments in Victoria and can't provide data about how renters were affected by the hurricane.
Rick McBrayer, Victoria County emergency management coordinator, said his office didn't have any data related to apartments, either, but it did work with the managers of harder-hit apartments to ensure FEMA representatives visited with their tenants.
Without these two agencies collecting data, those leading recovery efforts have tried to fill a need without knowing how great the loss is. Mid-Coast hired a temporary worker to call apartments and ask whether they were in good repair and had vacancies. Then, using funds from the United Way and the state, Mid-Coast paid the rent and security deposits for 90 households who had been renters before the disaster struck.
"We got $105,000 and expended it pretty rapidly, so now we're using our regular funds," said Ginny Stafford, Mid-Coast Family Services CEO.
Mid-Coast, like other nonprofits, couldn't collect detailed data on the status of apartments like the Advocate did.
"We didn't have the staff to do that, frankly. We needed help, and everybody was just scrambling to do their best to keep their heads above the water," Stafford said.
Mid-Coast also can't work with every apartment that participated in the Advocate's survey because it has to work with apartments that offer units at a fair market rent. Stafford said the U.S. Department of Housing and Urban Development has determined that's $744, including utilities, for a one-bedroom apartment in Victoria. All this came when Mid-Coast had committed to housing more chronically homeless people and victims of domestic violence.
Eight were displaced from apartments that Mid-Coast had set them up in, while another seven had nowhere to go after the hurricane. Stafford said she was thankful for the Gulf Bend Center, which rented to Mid-Coast the units needed from its Wellness Community for $1 less than the fair market rent. For all renters, it may now feel like déjá vu.
The market for apartments is similar to what it was during the height of the Eagle Ford Shale oil boom. There's less supply because of damages, so there are fewer move-in specials, said Melissa Moore, president of the apartment association.
Caney Run Estates, Mockingbird Lane, Victoria Place, The Villas and La Dominion sustained damage to every single unit, according to the Advocate's survey.
Moving forward
Compared to owners, renters tend to be younger and less educated and a larger share are Black and Latino, said Sydney Bennet, senior research associate at Apartment List, a website that helps make the search for an apartment easier.
"Honestly, renters are kind of — I don't know how to say this — but a forgotten population," Stafford said.
When a group comes in from out of town wanting to do a service project, she said, they prefer to help people who own their homes.
They don't want an apartment complex to turn around and make money off a repair.
Still, Mark Longoria, chairman of the Victoria County Long-Term Recovery Group, has been anticipating the results of the Advocate's survey. He hopes the survey will help the group apply for more disaster recovery grant funding.
"One of our top priorities is working on helping displaced people," he said.
---
Victoria Advocate Harvey Apartment Damage Survey
| Apartment name | Total # of units | Total # of damaged units | Total # of units displaced | Year complex was built | Cost of a one-bedroom, one-bathroom | Address | City | State | Phone number | What the apartment said |
| --- | --- | --- | --- | --- | --- | --- | --- | --- | --- | --- |
| Aria Victoria | 240 | 0 | 0 | 2015 | $939 | 8311 Zac Lentz Parkway | Victoria | Texas | 361-703-5127 | Only the shingles had to be repaired. The complex was built to withstand a category 4 hurricane, said Patricia Fernandes, the property manager. |
| Autumn Park Apartment Homes | 288 | 20 | 17 | 1982 | $599 | 4405 N. Navarro St. | Victoria | Texas | 361-489-3401 | We were able to transfer several onsite while others chose to move to a different apartment. Repairs have not been made yet because we are waiting on insurance approval, said Melissa Moore, the property manager. |
| Bretton Village Apartments | 39 | 39 | 5 | 1989 | Affordable housing | 1503 Victoria Station Road | Victoria | Texas | 361-572-8213 | Bretton Village apartments reported extensive roof damage. Five units had to move out to accommodate repairs, but have moved back. All units are now occupied. |
| Cambridge Arms Apartment Homes | 56 | 0 | 0 | 1972 | $695 | 903 Linwood Drive | Victoria | Texas | 361-575-5751 | Tom Tucker, the property manager and owner, said Cambridge Arms Apartment Homes was well prepared because of updates over the past five years. Ongoing maintenance, especially of landscaping, helped protect the property from much damage. |
| Caney Run Estates | 116 | 116 | 116 | | None offered, affordable housing | 101 S. Ben Jordan St. | Victoria | Texas | 361-579-0324 | Caney Run Estates reopened its first 10 buildings on Feb. 1, 2018. One building a week is turned over, so repairs to the entire complex are expected to be completed by late March. The units got new vinyl flooring, carpet, cabinets, countertops. Caney Run Estates will hold units for residents who lived there before Harvey and want to return, said Kimberly Ross, the community manager. |
| Carriage Park Apartments | 120 | 108 | | 1970 | $560 | 1810 E. Colorado St. | Victoria | Texas | 361-576-5122 | Carriage Park Apartments declined to say how many units were displaced. Waiting on insurance to start repairs. |
| Central Park Apartments | 90 | 83 | | 1978 | $590 | 1603 E. Brazos St. | Victoria | Texas | 361-578-5001 | Central Park Apartments declined to say how many units were displaced. Waiting on insurance to start repairs. |
| Colonial Greens 1 Apartments | 24 | 0 | 0 | 1978 | $400 | 305 E. Brazos St. | Victoria | Texas | 361-578-1258 | This complex reported Hurricane Harvey did not damage it. |
| Colonial Greens 2 Apartments | 20 | 2 | 0 | 1978 | $400 | 1507 N. Wheeler St. | Victoria | Texas | 361-578-1258 | "The AC unit was blown off the roof and caused major damage to the roof leaving open holes in the ceiling of two apartments. The AC unit has been replaced and the damaged apartments and ceilings are repaired. At this time, there is still some damage to the upstairs railing and front eaves of the apartment complex. All of the apartments are habitable," said Lisa Griffin, the director of homeless prevention programs at Mid-Coast Family Services. |
| Colorado Street Apartments | 21 | 21 | 0 | 1966 | $550 | 1303 E. Colorado St. | Victoria | Texas | 361-652-3870 | This complex is managed by Platinum Properties. Platinum Properites manages 155 units, which include commercial, residential and storage. This complex has made temporary repairs, but is waiting on insurance to make more, said Pearl Garcia, the rental property manager. |
| Country Lane Townhomes | 84 | 1 | 0 | 2015 | None offered; a two bedroom, two bathroom costs between $1,149 to $1,224 | 4801 NE Zac Lentz Parkway | Victoria | Texas | 361-574-7003 | Susan Hairgrove, the regional manager for Capstone Real Estate Services, which manages this property, reported Hurricane Harvey caused a minor leak in one unit's window. It has been fixed. |
| Lawndale Avenue Apartments | 16 | 16 | 2 | 1970 | $550 | 1811 Lawndale Avenue | Victoria | Texas | 361-573-7653 | This complex is managed by Platinum Properties. Platinum Properites manages 155 units, which include commercial, residential and storage. This complex has made temporary repairs, but is waiting on insurance to make more, said Pearl Garcia, the rental property manager. |
| Creekstone Ranch Apartments | 160 | | 0 | 1998 | None offered. This property is a mix of affordable housing and apartments at market rent. | 5609 N. John Stockbauer Drive | Victoria | Texas | 361-580-2901 | Creekstone Ranch Apartments disclosed its number of units, 160, but declined to disclose the number of damaged units and said zero units were displaced. |
| Deerwood Apartments | | | | 1983 | None offered | 108 Deerwood Drive | Victoria | Texas | 361-703-5246 | Deerwood Apartments did not respond to multiple requests for information. |
| Fox Run Apartments | 150 | 16 | 16 | late 1970s | Affordable housing | 2008 Sam Houston Drive | Victoria | Texas | 361-578-2954 | José C. Mascorro, Director of Operations at Prospera Housing Community Services, said Feb. 23, 2018 that the damaged units at Fox Run are in need of repair and they are dealing with the insurance process. He said displaced residents were relocated within the complex. |
| Gardens of Victoria | 66 | 2 | 1 | 1983 | $659 | 313 Williamsburg Avenue | Victoria | Texas | 361-572-0173 | The two units that were damaged had to have their carpet and sheetrock replaced. One resident moved out while the other stayed while repairs were being made, said Joann Peuttus, apartment manager. |
| Hawthorne at Victoria | 286 | 174 | 1 | 2012 | $950 | 2402 N. Ben Wilson St. | Victoria | Texas | 361-574-7071 | Some of the 174 units received minimal damage while others were more invasive. One resident was displaced and 2 transferred within the community. "We are not struggling to repair damage," said Lorie Glasscock, the regional manager. |
| Houston House Apartments | 50 | 0 | 0 | late 1960s | $615 | 103 Cornwall Drive | Victoria | Texas | 361-578-2914 | The complex reported receiving only exterior damage. |
| Juan Linn Apartments | | | | 1975 | None offered | Juan Linn St. | Victoria | Texas | 361-578-1258 | Juan Linn declined to answer questions. |
| La Dominion Apartments | 51 | 51 | 51 | 1996 | None offered; a three bedroom, one bathroom apartment costs $639 | 3605 E. Forrest St. | Victoria | Texas | 361-572-4566 | There were no occupants as of February as the property was condemned. There are, however, plans to repair and reopen. |
| Latigo Crossing Apartments | 108 | 6 | 0 | 2015 | $950 | 1601 John Stockbauer Drive | Victoria | Texas | 361-703-5062 | |
| Madylark Apartments | 25 | 0 | 0 | 1964 | $525 | 3803 Halsey St. | Victoria | Texas | 361-485-1260 | This property is managed by Elite Townhomes, which manages 313 apartments and townhomes scattered throughout Victoria. Karen Hanys, the property manager, said Madylark Apartments is Elite Townhomes' only complex and it was not damaged. Elite Townhomes' other apartments and townhomes sustained varying amounts of damage. |
| Miori Place Apartments | 33 | 13 | 13 | | $575 | 3008 Miori Lane | Victoria | Texas | 361-573-7500 | Some residents have returned to the complex after damages have been repaired. |
| Mockingbird Lane Apartments | 160 | 160 | | 1999 | None offered; a 2 bedroom, 2 bathroom costs $665 | 2501 Mockingbird Lane | Victoria | Texas | 361-570-3200 | This complex reported that it was being completely renovated. It declined to say how many tenants were displaced because of damage. |
| Mosswood Apartments | 157 | 113 | | 1972 | $575 or $650 | 1906 Sam Houston Drive | Victoria | Texas | 361-578-0951 | Mosswood Apartments declined to say how many units were displaced. Waiting on insurance to start repairs. |
| Norbridge Apartments | 12 | 0 | 0 | 1930 | About $550 | 608 North Bridge St. | Victoria | Texas | 361-935-1162 | |
| Oaks Apartments | | | | | | 307 Westwood Drive | Victoria | Texas | | The Oaks did not have a working phone number, and it was unclear where the leasing office was located. |
| Oak Forest Apartments | 264 | | | 2014 | $775 | 5312 John Stockbauer Drive | Victoria | Texas | 361-703-5030 | After multiple requests for a response in February, Oak Forest still had not received approval from its corporate office to share information about damage to its property. |
| Pinnacle Pointe Apartments | 144 | 4 | 0 | 2005 | None offered, affordable housing | 702 Salem Drive | Victoria | Texas | 361-578-9613 | Pinnacle Point Apartments received minor damage. "I'm not religious, but we are blessed," said Robert "Bobbie" Ryan, the community manager. She said the complex recently fixed roofs, carports and garbage enclosures. She said it is in the process of fixing ceilings and as well as peeling plaster in breezeways and patios. She said capacity is usually 90 percent with a waitlist for lower income brackets, but it has gone up after hurricane. It is now at 100 percent. |
| Point Royale Apartments | 120 | 4 | 0 | 2012 | $889 | 4106 John Stockbauer Drive | Victoria | Texas | 361-730-1155 | This complex reported roof leaks. It reported making its repairs within two to three weeks of the hurricane. |
| Sage Creek Apartments | 292 | 2 | 0 | 1970 | $495-$585 | 607 Fillmore Avenue | Victoria | Texas | 361-573-1666 | Only two units were significantly damaged. Everything else was kind of superficial or on the outside. A few got water on their carpets but that's been taken care of. |
| Salem Village Apartments | 105 | 10 | 0 | 1985 | Affordable housing | 5201 John Stockbauer Drive | Victoria | Texas | 361-576-6170 | This complex reported receiving roof damage, but said it has since been repaired. |
| Silvermine Apartments | 260 | 42 | | 1982 | $620-$735 | 6803 N. Navarro St. | Victoria | Texas | 361-570-7700 | Insurance claims are being processed and are anticipated to be finalized very soon. Repairs are expected to begin in March, said Tricia Peters, the director of corporate communications for Greystar, which manages the property. |
| Stonebrook Apartments | 80 | 16 | 11 | 1976 | $650 | 2406 E. Mockingbird Lane | Victoria | Texas | 361-573-9711 | "We're in a battle with insurance. They (the damaged units) showed signs of mold. There are two vacancies, but they are two bedroom and two baths," said Jayme Flanagan, property manager. |
| Stratford Place | 110 | 10 | 2 | 1978 and 1980 | $659 | 3207 E. Airline Road | Victoria | Texas | 361-578-7381 | We are still working on getting all damaged units back up. We took immediate steps to relocate tenants after the hurricane. Tenants who had their leases terminated because of damage were given ample time to relocate, said Terry Acosta, the property supervisor. |
| Summerstone Apartments | 168 | 20 | 19 | 1977 | $599 | 2107 N. Ben Jordan St. | Victoria | Texas | 361-576-5121 | Repairs are ongoing. |
| Tanglewood Apartments | 104 | 10 | | 1973 | $615-$650 | 306 Sam Houston Drive | Victoria | Texas | 361-578-6291 | Insurance claims are being processed and are anticipated to be finalized very soon. Repairs are expected to begin in March, said Tricia Peters, the director of corporate communications for Greystar, which manages the property. |
| The Colony Luxury Apartments | 180 | 54 | 0 | 2014 | $850 | 4109 John Stockbauer Drive | Victoria | Texas | 361-579-7994 | "We've got most everything done. We had to get a new fence. We had some hardy plank that was down, so we repaired all that and we're just waiting on painting and interior damages, which weren't super intense. We had two units that had to be completely gutted and redone," said Ashley Shannon, the property manager. |
| The Duke Luxury Apartments | 252 | 25 | 3 | 2015 | $900-$1,225 | 3001 Agusta Drive | Victoria | Texas | 361-703-5055 | This complex reported that three units received major damage while 22 needed baseboards repaired. Tenants in the three units that received major damage were moved to different units within the complex and have been moved back. Repairs are finished. |
| The Landing Apartments | 100 | 30 | 0 | 1987 | $845-$880 | 1202 Mallette Drive | Victoria | Texas | 361-576-4915 | Patsy Rice, the assistant property manager, said the complex sustained minor damage that varied by apartment. It was mostly water damage. "We felt very fortunate. It could have been a lot worse," she said. |
| The Reserve Apartments | 96 | 0 | | 2014 | | 8602 NE Zac Lentz Parkway | Victoria | Texas | | This complex reported no interior damage. |
| The Villas | 84 | 84 | 64 | 1984 | $640 | 210 Northcross St., Ste. A | Victoria | Texas | 361-573-0236 | "We are extremely frustrated. After 5 months, we still have not received funds from the insurance company to commence repairs. All we have received is a small allowance to clean up the property, haul away debris, as well as shrink-wrap the roofs to prevent further water intrusion because we had so many broken tiles that we have to re-roof all 15 buildings. We are facing the proverbial 3 "D's" of the insurance company: Delay, Deny, Dispute," said Letha Petrash, the property manager. |
| The Whittington | 160 | 32 | | 1998 | $800 and $875 | 609 Mallette Drive | Victoria | Texas | 361-572-5650 | The Whittington declined to say how many units were displaced. Working with insurance to start repairs. |
| Thomas Ninke Senior Village | | | | 2008 | $600 | 1907 Lova Drive | Victoria | Texas | 361-573-2224 | Thomas Ninke Senior Village's management company did not respond to multiple requests for information. |
| Treemont Apartments | 96 | 84 | | 1965 | $575 | 3104 Sam Houston Drive | Victoria | Texas | 361-579-6611 | Treemont Apartments declined to say how many units were displaced. |
| Victoria Place Apartments | 59 | 59 | 59 | 1969 | $644-674 | 701 E. Airline Road | Victoria | Texas | 361-576-5852 | This complex is closed for construction. |
| Victoria Station Apartments | 224 | 5 | | 1981 | Starts at $709 | 1701 Victoria Station Drive | Victoria | Texas | 361-576-6078 | Insurance claims are being processed and are anticipated to be finalized very soon. Repairs are expected to begin in March, said Tricia Peters, the director of corporate communications for Greystar, which manages the property. |
| Victorian Village | 30 | 6 | 5 | 1970 | $525 | 1903 Lawndale St. | Victoria | Texas | 361-485-1260 | This complex reported in February 2018 it had repaired two of the six damaged units so far. |
| Villa Chateau Apartments | 58 | 5 | 0 | 1966 | $849 | 2904 Miori Lane | Victoria | Texas | 361-574-8318 | This complex reported that wind driven rain came in through the window sills but repairs are complete. |
| Vista Alta Apartments | 48 | 0 | 0 | 2015-16 | None offered; a two bedroom, 2 1/2 bathroom costs $1,055 | 210 Northcross Drive | Victoria | Texas | 361-573-1300 | Letha Petrash, the property manager, said the complex only sustained carport damage. As of Feb. 16, 2018, materials have been ordered and repairs would begin once they were received. |
| Vista Del Sol Apartments | 60 | 16 | 15 | 1976 | $595 | 212 Sam Houston Drive | Victoria | Texas | 361-578-6822 | |
| Windsor Park Apartments | 80 | 4 | 1 | 1978 | $670 | 3001 Arroyo Drive | Victoria | Texas | 361-572-0228 | "We were blessed to be able to prepare our previously vacant apartments quickly in order to provide housing for those that lost their homes," said Mari Garza, the property manager. |
| Victoria Housing Authority | 321 | 256 | 2 | 1953-1985 | Victoria Housing Authority | 4001 Halsey St. | Victoria | Texas | 361-575-3682 | "As for Hurricane Harvey, most every building at all our sites received some type of damage, some major and others were minor," Victoria Housing Authority Executive Director Brandy Hilbrich wrote via email. "We relocated one household to a different apartment home in the same building at our Crestwood location. We had another resident's home that had severe damage due to a tree falling into the roof at our Mary Krenzler Villa location. This resident chose to stay with family while we repaired the apartment home and then returned once it was completed." The housing authority had repairs completed both on the exteriors and interiors of the buildings at all six of its apartments. "Our residents worked with us and our contractors so that we could make the needed repairs while they stayed living in their homes," she said. "At this time, we have only some minor trim work left to replace on just four buildings. This will then complete all repairs from hurricane damage." |
| | | | | | | | | | | |
| | | | | | | | | | | |
| | | | | | | | | | | |
| | | | | | | | | | | |
| | | | | | | | | | | |
| | | | | | | | | | | |
| | | | | | | | | | | |
| | | | | | | | | | | |
| | | | | | | | | | | |
| | | | | | | | | | | |
| | | | | | | | | | | |
| | | | | | | | | | | |
| | | | | | | | | | | |
| | | | | | | | | | | |
| | | | | | | | | | | |
| | | | | | | | | | | |
| | | | | | | | | | | |
| | | | | | | | | | | |
| | | | | | | | | | | |