Sea turtles needed help after winter weather chilled local waters last month.
Rescuers set out by boat to search for the cold-stunned reptiles and deliver them to a safe, warm place.
"Sea turtles are cold-blooded animals, so they can lose their functionality when water gets too cold," Brigid Berger, who coordinated the efforts of Mid-Coast Sea Turtle Rescue volunteers, said. "They either float or wash up on the shoreline when they are cold-stunned."
Volunteers of the rescue operation found more than 100 living turtles in late December, Berger said. Dec. 26 was the most successful day. Six teams rescued 51 turtles. Boaters from Port O'Connor and Indianola scanned Espiritu Santo Bay, the shorelines of Matagorda Island and portions of Matagorda and San Antonio bays for cold-stunned sea turtles.
Ashley Reese, along with her husband Grant and 14-year-old son Jack, were visiting family in Port O'Connor for the holidays when they learned of the need for sea turtle rescue volunteers. The Reeses, who live in the Houston area, had never collected cold-stunned sea turtles before.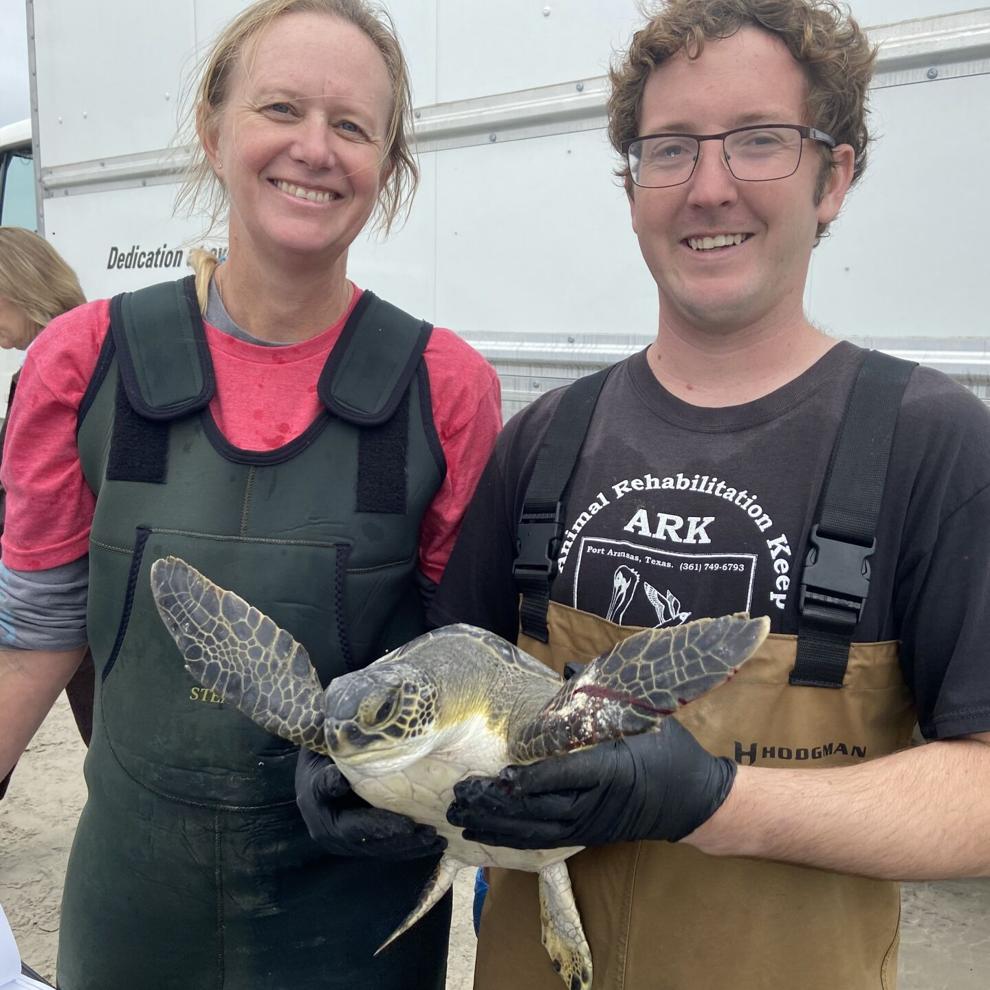 "We wanted to help the people in Port O'Connor who want to take care of the bays," Reese said.
From Dec. 26-27, the family found seven turtles along the shorelines of north Matagorda Island.
"The hardest part was being able to see them," she said. "They can blend in with sand. My son found one that was half-buried in sand."
Berger said examining the bays and shorelines became quite difficult when the gusty winds that pushed the turtles to shore had died down.
"There was a whole lot of water to cover," Berger said.
The rescued turtles were transported to the Amos Rehabilitation Keep in Port Aransas. Alicia Walker, program coordinator for the rehabilitation center, said the facility received 174 turtles during the cold spell.
"When new turtles arrive, our staff veterinarian examines them," Walker said. "Because they float to the surface, they could have been wounded. If they are, we would treat them with antibiotics."
According to the National Oceanic and Atmospheric Administration, sea turtles can be cold-stunned when water temperatures fall below 50 degrees Fahrenheit. Prolonged exposure to cold waters can harm a turtle's organs and immune system.
Once waters in the Gulf of Mexico warm up, the turtles ready to return to their way of life are cleared to swim without supervision. Walker said her team is extra cautious when water temperatures exceed 80 degrees, as the turtles may go into a state of shock.
"We either send them on their way at a beach or by boat if we need to go out further to warmer water," Walker said.
By volunteering from Port O'Connor, Reese said her family had the opportunity to help a turtle rescue team that is not as large as the organizations in Corpus Christi, Galveston and Houston.
"The Mid-Coast Sea Turtle Rescue is always in need of volunteers from the community when an event like this happens," Reese said. "I used the experience of going out to rescue turtles as an opportunity to teach my son the importance of taking care of the environment."