A tropical depression is expected to form by Thursday and likely strengthen to a hurricane that will likely make landfall in Louisiana, bringing storm surge, rainfall, and wind hazards to the central Gulf Coast, according to a National Hurricane Center bulletin.
A dangerous storm surge remains possible in parts of southern and southeastern Louisiana, where water has the potential to reach between 3-6 feet above ground level if the peak surge occurs at the time of high tide.
A hurricane watch is in effect from the mouth of the Mississippi River to Cameron, La., where tropical storm conditions are possible by early Friday and hurricane conditions by nightfall.
The slow movement of the system is expected to result in heavy rainfall through the weekend and early into next week along the central Golf Coast and inland, through the low Mississippi Valley.
Between 6-12 inches of accumulated rainfall are expected in those areas, with maximum amounts reaching 18 inches in some areas.
Rainfall amounts exceeding 6-9 inches already occurred across portions of the New Orleans metropolitan area Wednesday, causing flooding.
The National Hurricane Center has issued advisories for a potential tropical storm that is expected to make landfall in Louisiana.
Water could reach 3 to 5 feet above ground level in Louisiana, prompting the issuing of a storm surge watch and tropical storm watch, according to a National Weather Service bulletin.
As of Wednesday afternoon, the storm remained a low pressure system but was expected to become a tropical cyclone by Thursday.
Along the central Gulf Coast, the storm system could bring 6-12 inches of rain.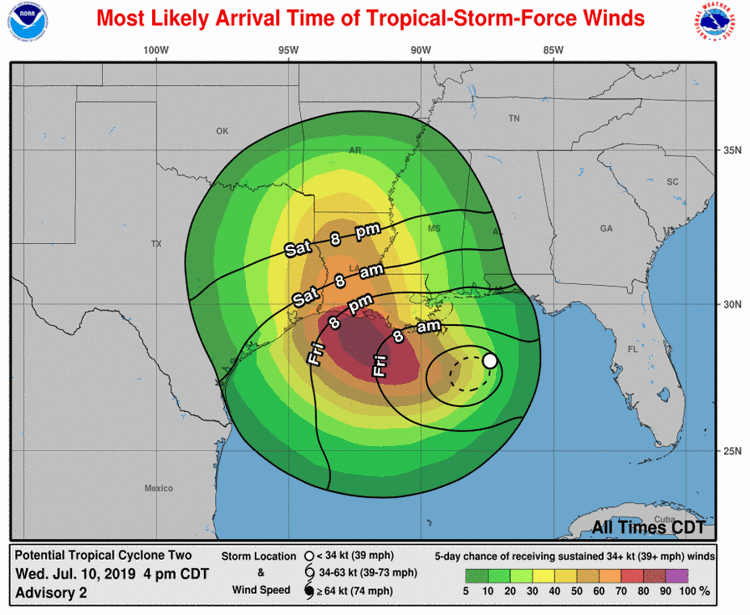 Meteorologists expect a low pressure system moving across the Gulf of Mexico to miss South Texas, according to a late Wednesday morning weather bulletin.
Nevertheless, the system, which is expected to increase to a tropical depression, could bring swells, coastal flooding and increased rip current risk, according to the National Weather Service.
"There is still considerable uncertainty with the eventual track and intensity of this system. Current expectations keep the system north of South Texas, but this could change," the bulletin states.
Located about 170 miles east-southeast of the Mississippi's River's mouth, the system was moving west at about 8 mph and was expected to turn west-northwest on Friday.
A developing low pressure area in the Gulf of Mexico could bring heavy rainfall and strong winds to the Texas coast later this week.
According to the National Hurricane Center, the system is expected to develop into a tropical depression by late Wednesday or Thursday as it continues westward. Meteorologists have calculated a 90% chance of tropical depression development.
"This system could produce storm surge and tropical-storm- or hurricane-force winds across portions of the Louisiana, Mississippi, and Upper Texas coasts later this week, and interests there should closely monitor its progress," states a hurricane center bulletin.
Located just south of the Florida panhandle as of Wednesday morning, the low pressure system was to be monitored by a Air Force reconnaissance aircraft Wednesday afternoon.
In the meantime, Wednesday was expected to get hot with a high of 97 degrees and heat index value of 107 degrees.
That night, a 20% chance for rain was forecast with partly cloudy skies and a low of 76 degrees.
Thursday, there was a 30% chance for rain with a high of 96 degrees and heat index value as high as 106 degrees.
Thursday night, a 30% chance for rain was predicted with mostly cloudy skies and a low of 78 degrees.