Whooping cranes are flying to the Texas Coast, with the first whooper pair of the season spotted in Seadrift.
The Aransas-Wood Buffalo population, the only "natural" flock of whooping cranes in the world, spends each winter in and around the Aransas National Wildlife Refuge near Rockport.
The birds make a 2,500-mile journey south from breeding grounds in northern Alberta's Wood Buffalo National Park to the coastal marshes of Texas annually. The migration can take up to 50 days for the federally protected species, which face threats along the way, including man-made structures like power lines, communication towers and wind turbines.
Whooping cranes are slowly returning from the brink of extinction. The Aransas-Wood Buffalo flock had grown to about 505 whoopers at the Aransas National Wildlife Refuge in winter 2017. The numbers for 2018 have yet to be released.
Heavy rains improved forage and habitat for whoopers in coastal marshes last year, but this year much of the whoopers' winter range is in the moderate drought category.
"The type of foods that they like, like blue crabs and wolfberries, are typically more abundant in wetter years like we had last year and in droughty years the opposite tends to be true," said Wade Harrell, the U.S. Fish and Wildlife Services Whooping Crane Recovery Coordinator.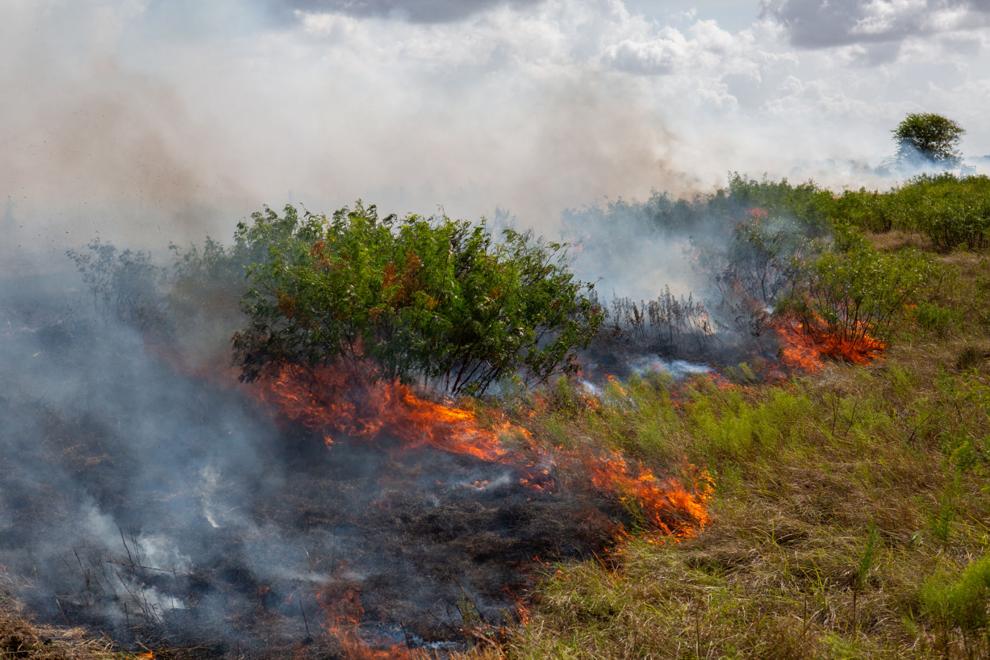 Refuge staff burned a 3,780-acre unit on Matagorda Island and more than an additional 4,400 acres on the Tatton and Blackjack Units of the refuge to provide access to upland prairies adjacent to coastal marsh areas used by the birds. By maintaining the habitats in a relatively open, brush-free condition, additional foraging habitat has been created for the birds.
"It is easier for them to move around in that area and search out food and is easier for them to see the food," Harrell said.
The refuge uses prescribed burns in both the summer and the winter. Summer burns tend to be used to address brush species invading the coastal prairie areas, while winter burns are used more as a quick response to create more food options.
"They'll actually come in and use within a day or two after we burn it because they'll be burned up insects and other small food items that they can see real easily right after the burn and are readily available," Harrell said.
The refuge will likely schedule prescribed burns in December, he added.