Even though the Calhoun Port Authority's own rules forbid it, board chairman Randy Boyd has kept a firm grip on steering the ship straight toward his dredging company.
The Victoria Advocate's most recent investigation into the port revealed Boyd has held control for more than a decade even though the public body's own rules restrict a chairman from serving more than a two-year term. Boyd hardly can claim ignorance of this rule – the board's minutes obtained by the Advocate show he seconded the motion in 1997 to impose the term limit.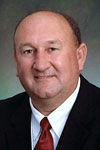 His firm grip on power matters greatly because another previous Advocate investigation demonstrated how Boyd used the port board to steer business toward his private dredging company. He also improperly used his power to hire disgraced former Congressman Blake Farenthold to be the port's lobbyist, touching off a public furor.
Boyd set the stage for the political payback of hiring Farenthold by repeatedly fighting off board efforts to replace him as chairman. Records show the board voted five times between 2011-15 to try to replace him as chairman.
Each time, Boyd, supported by board members Dell R. Weathersby and H.C. "Tony" Wehmeyer Jr., voted against a leadership change. Their three votes created a deadlock on an oddly even-numbered, six-member board. Voting to replace Boyd were board members J.C. Melcher Jr., Shields A. "Tony" Holladay Sr. and Aron Luna.
In an even odder legal opinion, port lawyer Wanda Roberts decided a 3-3 tie goes to the incumbent, even though the board's 1997 rules imposed a term limit. A tie might go to the runner in baseball, but it certainly has gone against the port's taxpayers.
This same tie became evident May 24 when Melcher, Holladay and Luna voted to fire Farenthold soon after the Advocate challenged the illegal hiring of Farenthold. After coming out of closed session May 9, Boyd directed port executive director Charles Hausmann to hire Farenthold without the board voting.
Melcher, Holladay and Luna clearly wanted to immediately right the wrong of the improper hiring, but the trio of Boyd, Weathersby and Wehmeyer blocked that motion and instead voted to waste about $200,000 – and counting – by hiring an expensive Austin lawyer to fight the newspaper's lawsuit and by paying Farenthold's $160,000 annual salary without requiring or offering any evidence the ostracized former congressman was doing any work.
The 3-3 tie meant the port board didn't have the votes to hire Farenthold or to fire him. The former congressman became neither fish nor fowl, but the odor emanating from the port is unquestionably foul. The unseemly tie remains, even though public pressure finally led Farenthold to resign his lucrative lobbying post last month.
The public is trying to break the tie via the May 4 port board elections. Four people already have filed to challenge Boyd for his seat.
To put it another way, that means Boyd now has more challengers than the number of people who voted in the last port election. Until this fiasco exploded into public view, the port previously had managed to stay hidden from voters, canceling most of its elections for lack of any races. Boyd has not even stood for election since 2007.
The public is well aware now, so much so that perhaps the May 4 ballot for his District 4 seat should read, "Anyone But Boyd." One concern arising from the crowded ballot, though, is that the small turnout in a special district election could somehow allow Boyd to slip back in as votes are split among the candidates.
Also on the ballot is Weathersby, who as of yet has no opponent for his District 2 seat. That needs to change before the filing deadline Friday.
The port is a special purpose taxing district, meaning only the state Legislature can change the number of board members or, even better, provide oversight of how such shadow governments operate. Thus far, neither state Rep. Geanie Morrison, R-Victoria, nor state Sen. Lois Kolkhorst, has indicated a plan to introduce such important reform legislation this session.
Their inaction puts the burden squarely on Calhoun County voters. District residents must be sure they are registered to vote and take the chance to get the port board operating on behalf of the public instead of private interests.