We weren't at all ready for the devastation of Hurricane Harvey.
But that didn't stop Theresa Martinez, Mark Longoria and countless others from stepping into the void and lending a hand in every way they could. Private citizens, nonprofit agencies, churches, businesses and more jumped in to lead our community's recovery efforts. Their remarkable efforts deserve our deep thanks.
One shining example is Theresa Martinez, a Bloomington native, who returned home from evacuating after Harvey to find her small town without power and food. A poor town, Bloomington was one of the last in the Crossroads to have its power restored.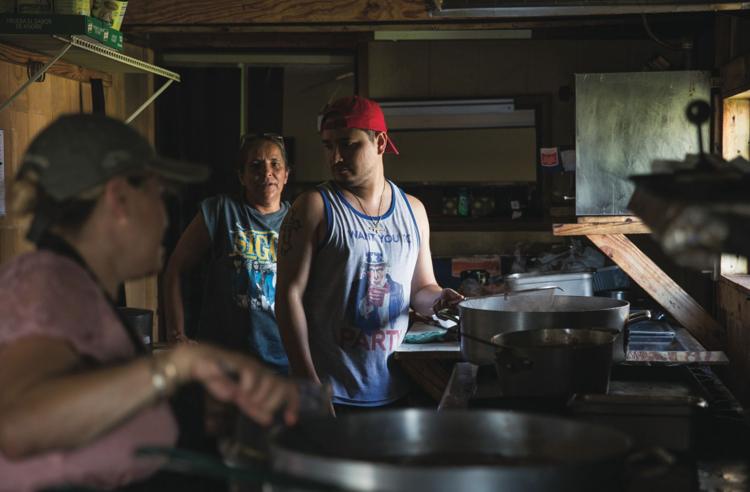 Martinez didn't have power at her home for three weeks, but she immediately went into action. She asked her sister, the manager at the 7-Eleven in town whether she and others could set up in the parking lot to start cooking for people in need.
She hasn't stopped working since. Martinez adjusted her work schedule to evening hours so she could continue the relief and rebuilding efforts in the six months since Harvey hit. The mother of five grown children, the 50-year-old Martinez says modestly that she helps because she has the time to do so now.
She also remembers how hard it was for her, as a single mother, to raise five children. She saw her own mother struggling, too, as a single parent of five. She knows such families desperately need the help.
'I just feel like giving back to help those who are in need," she said.
She even told volunteers to work to rebuild other homes in Bloomington first, even though her own still has a blue tarp on the roof and mold growing inside.
Mark Longoria also set aside the damage to his Victoria home and led relief efforts through Faith Family Church, where he is community life pastor. He soon became chairman of Victoria's Long-Term Recovery Group and hasn't slowed down since.
Martinez, Longoria and countless others immediately reached out to help others even though only blue tarps protected their own homes. They embody the spirit of Victoria and the Crossroads, where our first instinct is to give.
"What a wonderful community we live in where all of our organizations and churches are ready to serve and ready to help people," Longoria said when contacted for this editorial. "We live in a great place with good-hearted people."
More than six months since Harvey struck, the need remains great. Every time it rains, the Long-Term Recovery Group gets calls as people continue to realize the extent of the damage to their homes, Longoria said.
"A disaster like this can really destroy a family," he said. "They can literally lose everything."
The government is doing precious little to help, as we editorialized about last week. Fortunately, Martinez, Longoria and many other volunteers don't behave like the government. Instead, they just stepped in without hesitation where they saw a need.
Where government officials have been paralyzed doing things by the book, volunteers simply follow the Good Book. Here's how Longoria described what's happening: "Everyone is just loving your neighbor as yourself."
Such spirit of giving goes a long way. For it to go even farther faster, the Long-Term Recovery Group recently received a grant that will allow paid staff to help now and to get prepared for what inevitably will be a next time.