Most members of the El Campo school board think Medal of Honor recipient Master Sgt. Roy P. Benavidez is not worthy enough to have the district's elementary school renamed in his honor.
Those board members, including its president, are terribly wrong in their decision as well as the naysayers who attended the Nov. 19 school board meeting to oppose the suggestion.
Still, the town of El Campo, where Benavidez was raised as a child, continues to turn its collective back on a highly decorated and certified war hero.
"If the story of his heroism were a movie script, you would not believe it," President Ronald Reagan once said about Benavidez.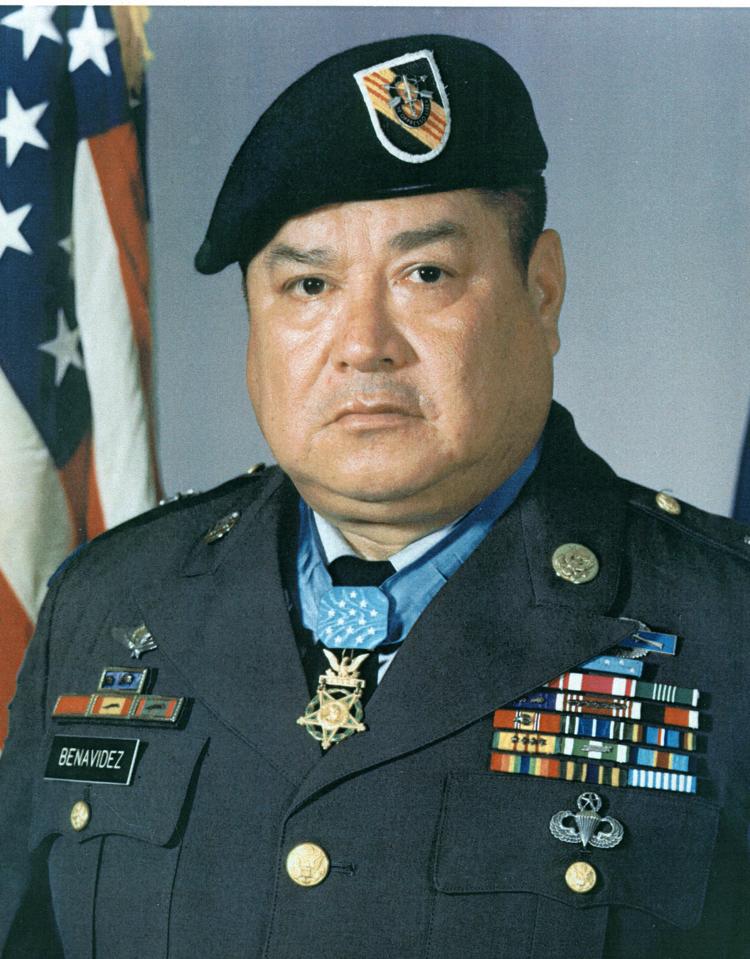 The story of his heroism occurred on May 2, 1968, with a 12-man Special Forces reconnaissance team being inserted by helicopter in a dense Vietnam jungle.
There to gather intelligence about enemy activity, the team found themselves ill-prepared and in the midst of heavy enemy fire. The attack was so overwhelming that three helicopters attempting to extract the team were unable to land in the heavy gunfire.
Benavidez, who was at the forward operating base monitoring the operation by radio, volunteered to fly in a returning aircraft to assist in another extraction attempt. As with the previous attempts, the helicopter couldn't land in the midst of the attack, so Benavidez jumped out of the hovering craft and was shot immediately when he hit the ground.
Despite being injured in his right leg, face and head, he pushed forward. He was shot again in the abdomen, and grenade fragments pierced his back. But he kept going. He didn't stop until he was able to secure his men.
"Under increasing enemy automatic weapons and grenade fire, he moved around the perimeter distributing water and ammunition to his weary men, instilling in them a will to live and fight," Reagan said during a ceremony almost 13 years later when Benavidez was awarded the Congressional Medal of Honor.
One by one, he recovered bodies of men both alive and dead.
"With little strength remaining, he made one last trip to the perimeter to ensure that all classified material had been collected or destroyed and to bring in the remaining wounded," Reagan said. "Only then, in serious condition from numerous wounds and loss of blood, did he allow himself to be pulled into the extraction aircraft."
In all, Benavidez endured 57 wounds to his body through hand-to-hand combat and from heavy gunfire. He was shot eight times, his jaw was broken and shrapnel had pierced his body.
But for those El Campo school board members, its president and some town folk, this sacrifice does not meet the prerequisite to be the namesake of a school. And not just any school. Benavidez attended that school as a child – Northside Elementary School.
The animosity in El Campo toward Benavidez and his legacy is nothing new, said his daughter, Yvette Benavidez Garcia.
"We kind of expected it because of all the negativity and all the opposing statements throughout the community," she said, adding that her father, who died on Nov. 29, 1998, endured a lot of criticism after the Vietnam War.
A few days after the school board meeting, she told the Advocate: "I'm disappointed that the school board chose not to rename Northside after my father. I'm not discouraged though because this just means his name is meant for something bigger."
The El Campo school board members who voted against the renaming have decided not to talk about their decisions outside the meeting. Instead, they referred questions to the board president, James S. Russell.
First, we must remind school board members that they do not answer to the board president or to each other; they were selected to answer to the public, the people who hired them. It might be policy for the president to speak on behalf of the board, but individual members can and should speak for themselves and defend their own decisions. They were elected to do that.
Second, Russell's response: "Respectfully, I will decline comment."
Such words may be respectful, but the action of the El Campo school board that night was not.