PALACIOS — Back in February, the ponds at Brandon Bowers' redfish farm in Palacios were waist-deep with red drum killed by sleet and freezing weather. At the time, foreclosure crossed his mind.
But on Monday, those same ponds were teeming with fish and the brood tanks in Bowers' hatchery were humming. That morning, hundreds of thousands of eggs had been skimmed off the top of one of the massive indoor tanks, starting the life cycle anew.
Weeks earlier, it had remained in question whether Bowers would be able to keep his operation running. But in May, a surprising federal policy change provided redfish farmers like Bowers with a new lifeline.
Bowers had "collateralized everything I ever owned" to open his redfish farm in 2019 after several years running a nearby shrimp farm with his brother Reed. When the unprecedented freeze that swept across Texas in February wiped out more than 98% of his redfish crop — after COVID-19 had already diminished demand, delaying for months his efforts to bring the fish to market — it spelled disaster.
After days spent working in the cold in a futile effort to save his fish, the losses were devastating, Bowers said. He estimates over 500,000 pounds of market-ready fish on his farm went belly-up.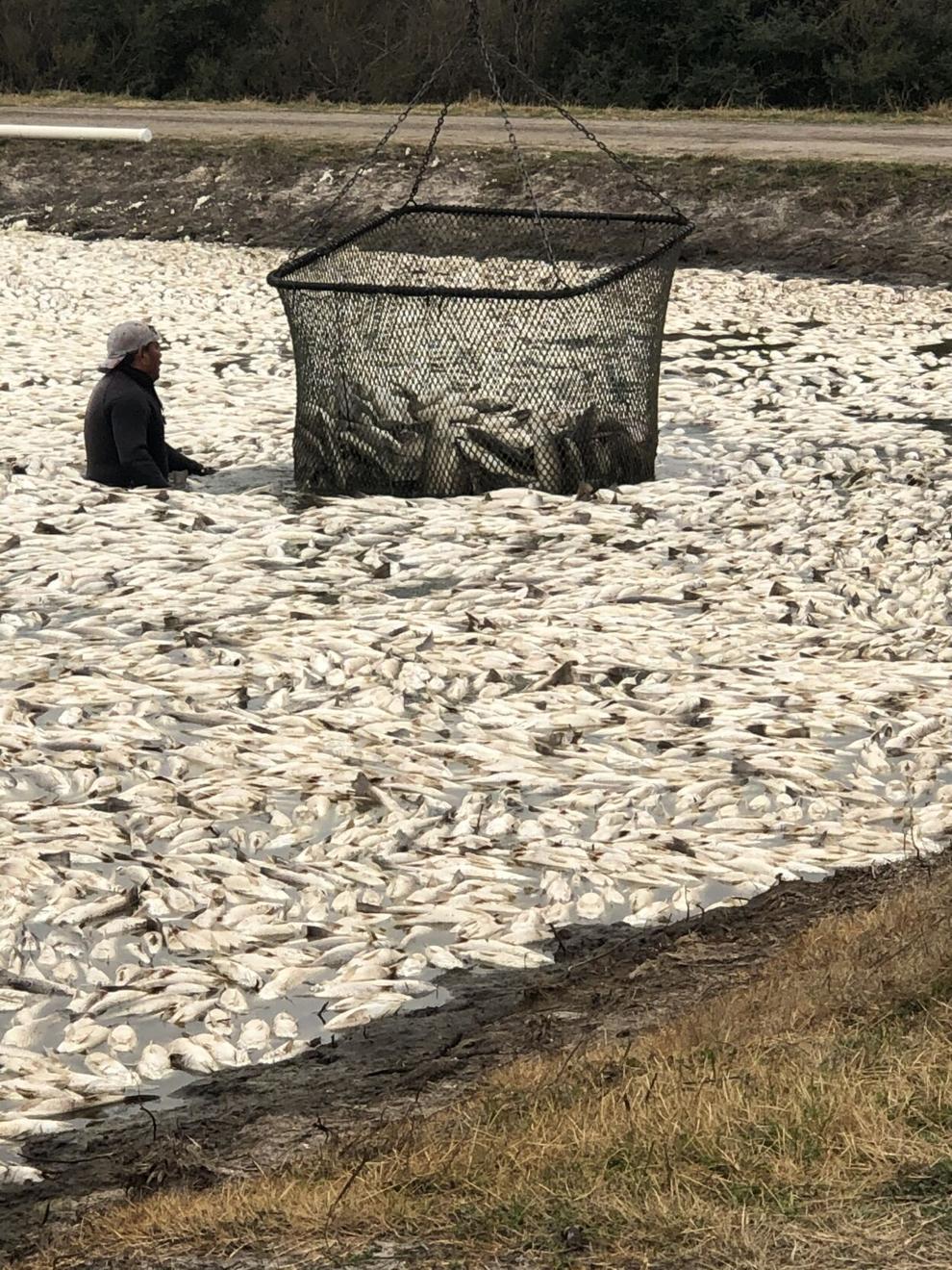 "It's kind of like losing a loved one," said Bowers, whose father shut down his own redfish farm after a freeze in 1989 and switched to shrimp. "You go through the shock at first. It's not until you go back home and you're by yourself (that) you realize now that your fish are gone."
Making matters worse, the sole federal program intended to provide disaster relief for farmers affected by extreme weather events, which is known as ELAP, only covered sport or bait fish, leaving food fish producers like Bowers without a lifeline. Collectively, Texas redfish farmers, who produce more than 95% of all domestically farmed redfish, faced tens of millions of dollars in losses.
But in mid-May, after the Victoria Advocate published a story about the industry's challenges and a group of congressmen including U.S. Rep. Michael Cloud signed a letter urging federal officials to act, the U.S. Department of Agriculture reversed course and expanded the ELAP program to cover food fish producers — not just for the February freeze, but permanently.
"This isn't just for 2021," said USDA administrator Zach Ducheneaux, who credited redfish farmers with advocating for ELAP's expansion. "The policy has been changed permanently, and all of these aquaculture species will be eligible for ELAP into the future, as well."
Nasir Kureshy, co-owner of Turtle Creek Aquaculture, another Palacios redfish farm, said the decision came as a welcome surprise after he lost more than 60% of his crop to the freeze.
Now, instead of contemplating layoffs, Kureshy has started producing fingerlings in his hatchery to get the ball rolling on production for the years ahead.
"We would have had to shut down or suspend operations for a while," Kureshy said. "We were very pleased that USDA really gave us a vote of confidence and paid attention to us like that."
Industry insiders say the decision not only will support farmers facing financial ruin but also is likely to significantly bolster domestic aquaculture going forward by providing financial assurance for the industry as a whole.
"It's a huge leap forward," Bowers said. "It's what aquaculture's been hoping for forever."
Getting started in aquaculture is difficult for many farmers because of the high initial capital investment, lack of commoditization and the breadth of knowledge required. The lack of government backing for the industry has compounded the challenges because banks have been wary of lending to farmers given the considerable risks.
"Pretty much every crop, you put money in for two years before you get it out," Kureshy said. "There's always a lot of money tied up until harvest."
Bowers said these challenges help explain the substantial declines in domestic seafood production in recent years. For instance, the amount of farm-raised shrimp produced in the United States declined from more than 13 million pounds in 2003 to just 3.6 million pounds in 2016, according to the Texas Aquaculture Association.
"In our industry, you have to know science. You have to be able to work with your hands. You have to be willing to get out in the mud, and you have to put on your marketing hat as well," he said. "You've got to be nuts to do it."
But after ELAP's expansion, Bowers and Kureshy both said they see a much brighter future for aquaculture, given the assurance for banks these relief funds provide.
Investors, too, have taken notice. In the wake of USDA's announcement, Kureshy's business partner, Sajjad Khan, has fielded four unsolicited calls from people with "deep pockets" — including private equity and hedge fund investors — who expressed interest in the industry.
"If your principal is going to be protected to some degree, I think you're going to see a lot more activity with aquaculture," Khan said. "There's risk here, but people are willing to wear that on their balance sheet."
For Bowers, the decision has provided a dose of optimism after a difficult winter.
"Our devastation was bittersweet," he said. "That's the best way to describe it."