CUERO — Inside a glass case at Cuero's Chisholm Trail museum, a ledger contains handwritten records older than DeWitt County itself.
Its pages yellowed by almost 175 years, the ledger once served as a practical record of purchases and outstanding bills for a general store once owned by Crocket Caldwell. Caldwell was a prominent merchant with stores in Indianola, Port Lavaca and Hallettsville. He died in 1891.
Like many other items in the two-story downtown Cuero museum, the ledger was hidden for years in obscurity before it was loaned to the museum by a local woman.
"It was out in a barn, and she salvaged it," said Robert Oliver, the museum's board chairman, on Tuesday.
Since 2013, the Chisholm Trail Heritage Museum has served as not only a repository for local artifacts but also a way to give visitors a firsthand look at the region's ranching history. In the latter half of the 1800s, South Texas was an important starting point for the Chisholm Trail, which allowed Texas ranchers to send their cattle east to be sold for higher profits.
Now, the Chisholm Trail museum soon hopes to complete a major expansion into two adjacent buildings and roadway, where a pocket park is planned.
Those improvements, Cuero residents and business leaders said, also are expected to provide an economic boon to the city's growing downtown.
Currently, the museum resides in a two-story building that once served as a meeting hall for the Knights of Pythias, a turn-of-the-century charitable organization.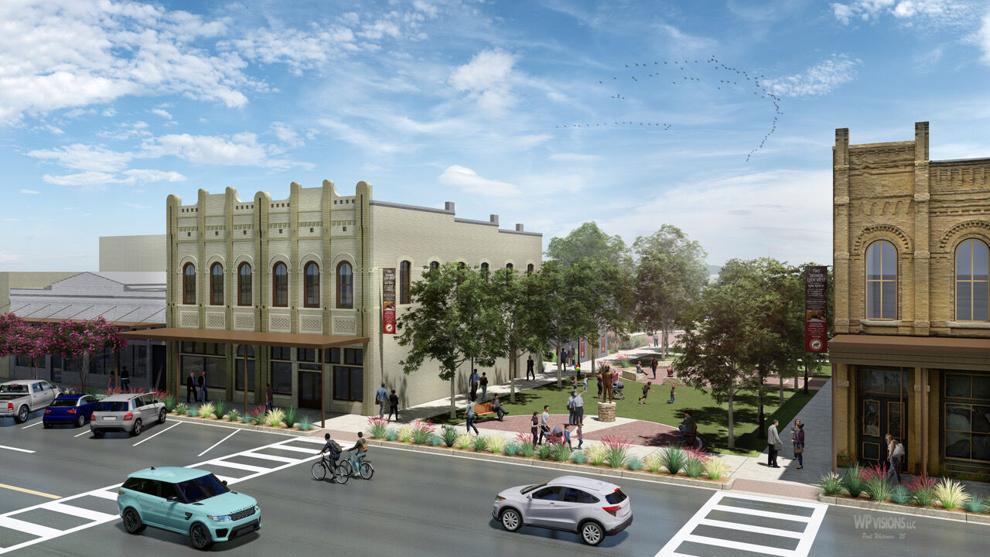 The historic building, which was built in 1903, is an important historical artifact just like the items it now houses, Oliver said. Walking through the museum, which features original stained wood, tall ceilings and a dazzling second-floor stained glass window, its antiquity is easily appreciated.
Lindy Gohmert, a DeWitt County resident and lifelong lover of Texas history, said she and her husband Rick Gohmert sold the building to the museum in part because of their appreciation for history.
Lindy Gohmert said she and her husband, who works full time as a real estate broker and rancher, appreciate the work done by the Chisholm Trail museum in part because of their family's own ranching history in the area.
"You need to understand your past to understand your present and future," she said. "It's an appreciation for those who came before us."
The Chisholm Trail museum has featured numerous traveling exhibits from prestigious organizations such as the Smithsonian Institution. But it also houses artifacts from ranching history in the Crossroads, like Caldwell's general store ledger. Many of those items were donated and boast connections to the ancestors of local residents.
For Oliver, it's only natural for a person to want to learn more about their history, especially as they get older.
"History unfolds to you. As you get older, you begin to ask questions," he said. "Maybe your family moved here from Mississippi or Missouri or New York State. Maybe you had early family that went out to California for the gold rush."
The museum is moving forward with an expansion into two adjacent buildings that have quite a bit of history themselves. Both buildings were donated by an anonymous donor in 2020.
Built in 1894, the Trautwein Building once served as a social gathering spot. Built sometime in the 1920s, the second donated building was once a car dealership. It still features a garage door opening onto North Esplanade and enormous glass display windows. Oliver said the museum plans to house a gallery in the buildings and lease part of the former dealership to a café or restaurant.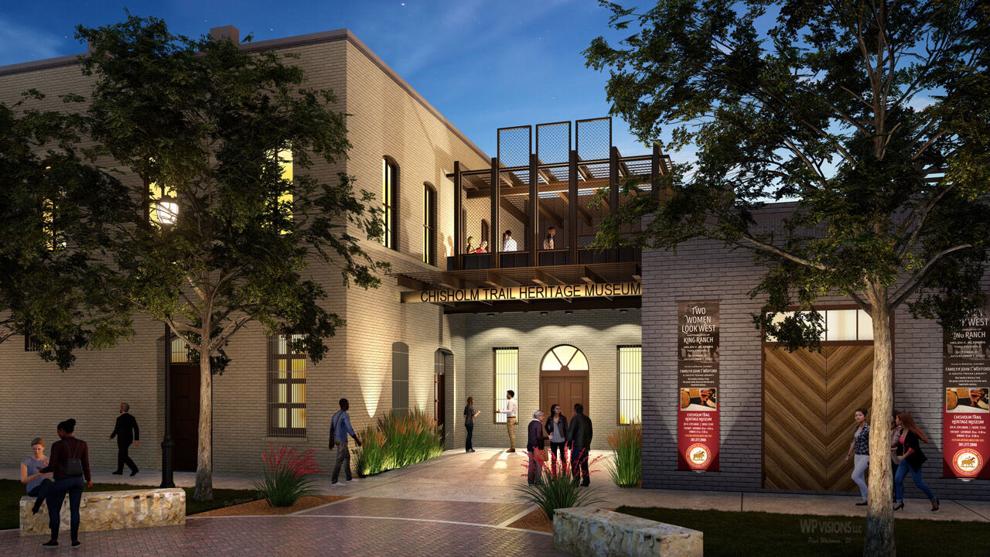 Although much has been done to renovate both spaces, there's still a lot to be done in both buildings before they are ready, Oliver said.
Altogether, the new buildings will increase the museum's space to about 30,000 square feet.
A pocket park, which is soon expected to break ground, is planned to connect the new buildings with the old museum.
That park, said Cuero Main Street Director Sandra Tague Osman, should be an alluring space for not only museum goers but also anyone passing through the city.
The expansion will not only benefit the Chisholm Trail Heritage Museum, she said, but also the three other Cuero museums as well as local businesses.
Ideally, visitors will stop at one museum, decide to see others and perhaps take in a meal or some shopping before departing. That would make Cuero more of a tourist destination, she said, and bring out-of-town dollars to local businesses.
That's why Cuero Main Street has been in close coordination with the Chisholm Trail Museum, said Tague Osman. For many cities, history is not only about teaching a place's heritage, it's also a viable source of tourism dollars.
"Your historical downtowns are the gem of any city," she said. "Historic main streets will always be an anchor even as the industries shift as years pass."
In the age of constant social media distractions and instantaneous information, people more than ever desire to interact with the past, she said.
"It makes them more interested in history," she said. "We miss nostalgia. We miss vintage. We miss our childhood memories of a simpler time."