A seed planted in the 1980s has blossomed into what is now the Victoria Farmers' Market, growing from a handful of vendors selling fresh produce and meats to dozens who now provide those staples and more.
It's been a long journey since those few farmers participated in that first Victoria County Farmers Market, said Meredith Byrd, manager of Victoria Farmers' Market and director of community engagement at the Food Bank of the Golden Crescent.
"It was run by the farmers themselves," she said of the early farmers market at a Tuesday presentation to the Victoria Partnership business group. "They had a governing board, they had a market manager. And it was for a long time at Town Plaza Mall, and then it moved over to the Pattie Dodson Center."
The original market closed in 2015, she said. But the Food Bank of the Golden Crescent replanted the market in April 2016, and moved it to DeLeon Plaza, but it closed again in July 2017. Farmers asked Byrd to return to the Dr. Pattie Dodson Center's parking lot. And Byrd said that's what happened on Nov. 4, 2017, not long after Hurricane Harvey struck the region.
"So we rebranded ourselves as Victoria Farmers' Market," she said. "We're not in the Victoria County Farmers Market anymore because we allow anybody within 100 miles to be considered local for our purposes. And so we don't restrict it to just Victoria County producers."
That's when the market began to grow. And grow. And grow. From a handful of farmers and vendors, to 10, to a dozen. Now there are over 30 vendors nearly all selling produce, meats, dairy, honey, pickles and the like, and a fraction selling other items. One Saturday a month, you might even be able to buy Indian food from a vendor who travels from the Houston area.
"In January of 2017, I think, my first market had five vendors," Byrd said. "I remember when 10 and 12 vendors was a big market. And then all of a sudden, 20 vendors is a big market. And now, if I have 20 vendors at a market, I'm wondering where a few people are. Somebody's sick. Somebody's out of town."
One of the regular vendors, she said, attends the market no matter the weather or other conditions.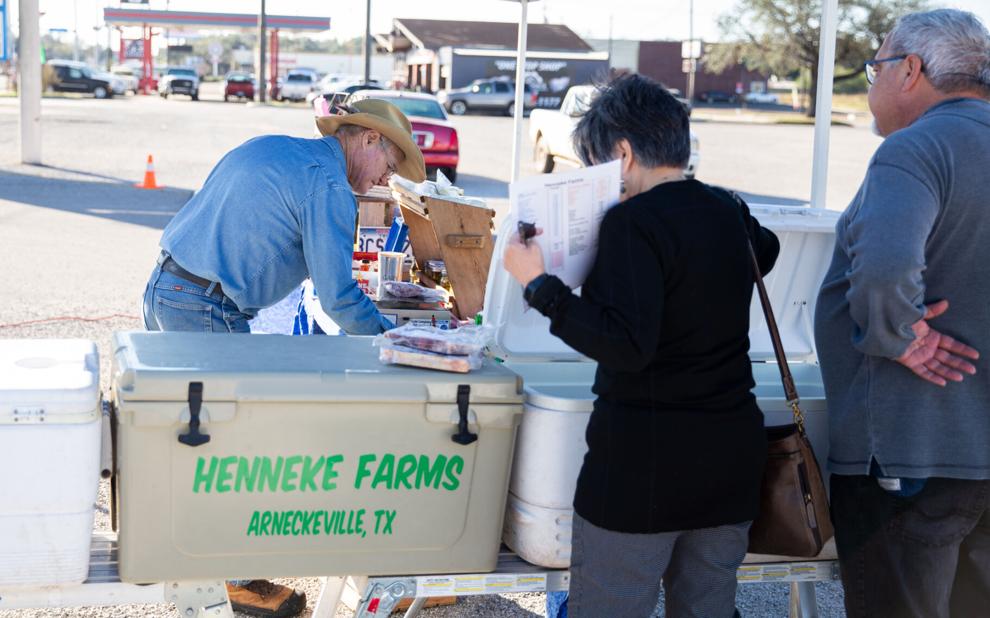 "Nothing keeps Gary Henneke away from the market," she said. "It can be 38 degrees and sleeting, and I'll text him that morning and say, 'OK, are you coming?' And he's like, 'Yep, I'm on my way.' He's like, 'I'm going to be here, so I might as well be there.'
"So he's our local celebrity," she continued. "If you picked up the winter issue of Discover 361, this is Gary Henneke and one of his turkeys that he was raising for Thanksgiving. And he's a DeWitt County farmer. He brings meats, he brings beef, pork, chicken, turkey. And then his wife makes pickles and salsas and jellies and jams and she bakes breads. … People ome in and seek him out."
Being a spinoff from the food bank, she's always looking for ways to help the community, especially those in need of affordable food.
So coming later in 2023, vendors will be able to sell their goods to Victoria residents who rely in part on government SNAP assistance. She's not there yet, but she expects her SNAP program to be in place in a few months.
Until then, Byrd said, fresh produce is slowly returning to the market, following a drought and then rains and a holiday freeze.
Onions, celery and greens will be at the market Wednesday and Saturday.
"We're the only market of our kind," Byrd said. "We are twice weekly and we are a producers market, meaning if you are selling it you have to have grown it, raised it or made it yourself."
The market is open Wednesdays and Saturdays from 9 a.m. to 1 p.m., but closes at noon during the summer.
The market collects an annual membership fee of $35 and charges $10 for a booth on Wednesdays and $20 on Saturdays. Money raised goes back into the market and to the food bank. In addition, farmers who don't wish to lug their products back home with them often leave items for the food bank to add to its inventory.
Byrd said besides the benefits to farmers, it also brings fresh items to the public quicker than the grocery supply chain, educates consumers about where their food comes from, adds items to the food bank and soon will be able to help those with lower incomes who use SNAP.
"Farmers markets, I think, in general have that reputation of being bougie and being something that's geared toward a higher income level," Byrd said. "But we really work hard to be affordable for anybody to come and purchase some fresh local foods with us."