HALLETTSVILLE – Like others on Saturday, Savannah Neece arrived with one thing in mind, a certain Czech sweet pastry. As organizers began setting a table for a kolache eating contest, however, the 10-year-old set her sights on the gold.
At the shout of "Go!" and facing three other contestants in the 5-10-year-old bracket, Savannah, of Hallettsville, quickly dispatched two kolaches in just over a minute, taking only a few sips of water in between bites.
The crowd erupted into cheers, whistles and praises as she rang a bell, signalling she was done.
"She is quick," said Janet Spies, vice president of the Hallettsville Chamber of Commerce, which organized the event. "She really flew past the boys."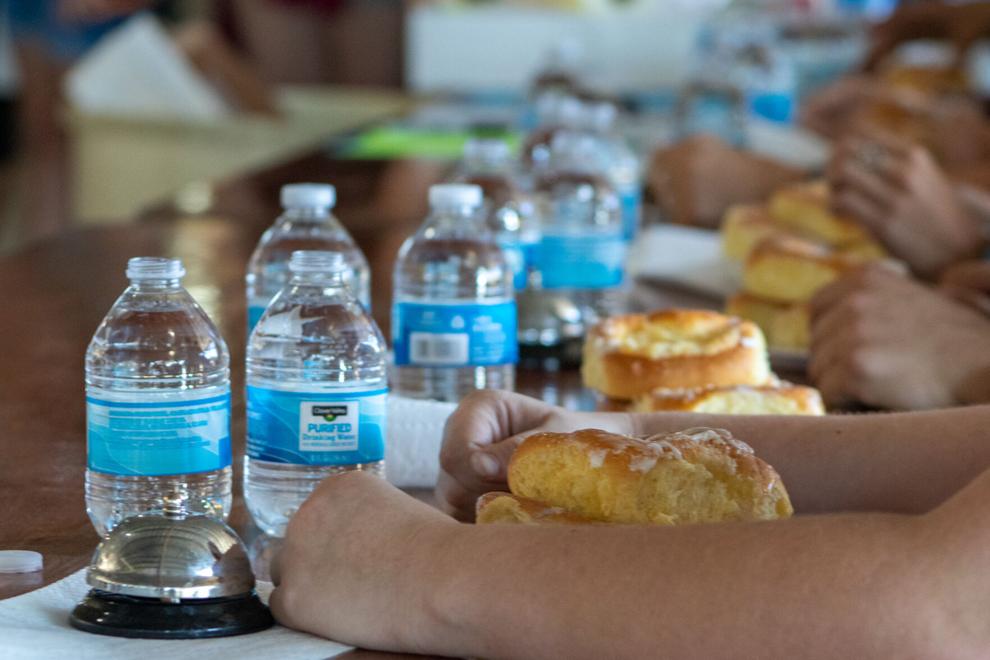 Savannah was cheered on by hundreds of people who came to Hallettsville on Saturday for the city's annual Kolache Fest, an event offering the chance to dance, shop, play and eat kolaches while celebrating the area's rich Czech and German heritage.
For the uninitiated, kolaches are sweet pastries with a fruity filling in the middle with added sugar on top. Kountry Bakery, a local Hallettsville bakery that's served the community since 1979, provided thousands of the festival's namesake pastries.
The event attracts people from Hallettsville and all over Texas. Some, like Erik and Laurie McCowan, have come to the event multiple times, traveling from their hometown of Rosanky.
"It is always a good time," said Erik McCowan. His son, Colton Hancock, finished second in the competition.
"I tried to eat too much at first, and it slowed me down," said Colton, 10. "It was good though."
Spies said this year's turnout was more than expected.
"We've seen a ton of people come in," she said as she set up for another round of the eating contest. "Part of it is the sweets, yes, but people are itching to get out of their homes and have fun."
The event's kolache eating contest won by Savannah was one of the main events, which was followed by a car show, live music and more. More than a dozen participated to see how quickly they could eat the pastries.
Some, like Cody Kremling, leisurely ate and still end up winning in their bracket. As he finished his third kolache in the final contest, he intentionally took a few seconds to slowly ring his bell, seemingly boasting that he had finished. The other competitors were completely surprised he was already done.
"I was struggling at first but I discovered the secret in the middle of the first kolache. It is water," said Kremling, a 28-year-old Weimar resident, with a smile. "It was over for them after that."
Some of his competitors were still finishing their first one when the race was over.
"You don't have to eat them all. And you also just enjoy your kolache," said Spies. "There is always next year to get quicker."