Santa couldn't coax Issie into taking a picture with him. The goldendoodle, large as she was, kept running to her owners in fear, refusing to sit with the jolly man with the bushy white beard.
Eventually, though, she was lured onto Santa's bench, and a photographer snapped a holiday card-worthy photo of her with Santa Claus. All it took to get her there? A few handfuls of treats and her two young owners holding her in their laps.
Pet Resort on Main held their annual Pet Pictures with Santa event Sunday, with proceeds from the event going toward a good cause.
Dozens of pet owners showed up for the event, general manager Brecka Tieken said. Donations from owners to get their pet's picture taken will go toward local animal shelters.
"I think it turned out well," Tieken said. "We would like to draw as large a crowd as we can because it's intended to support local shelters in the area."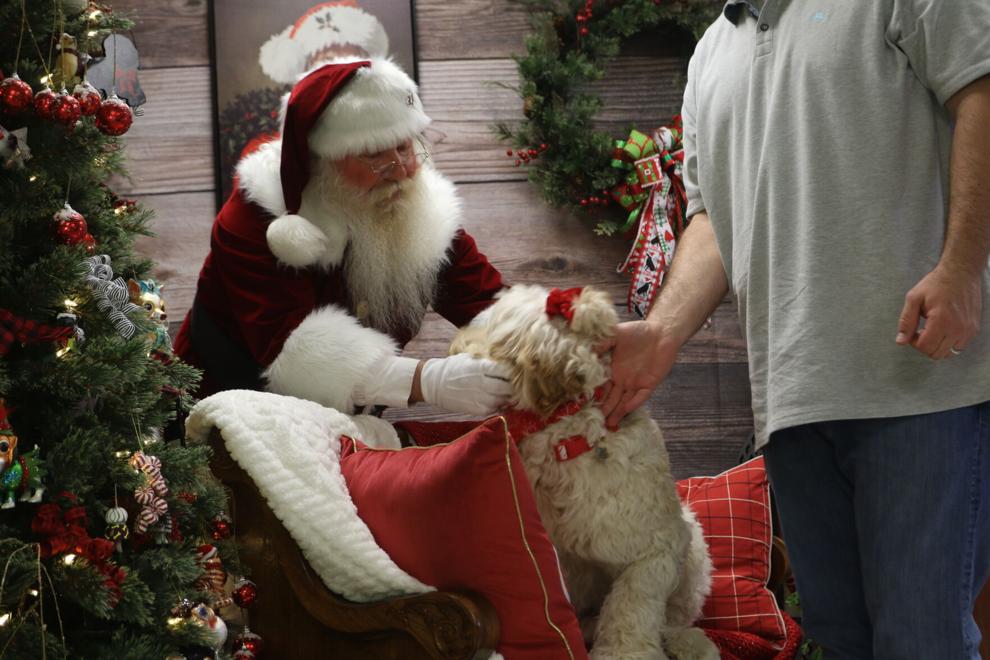 The donations will go toward multiple both major and minor shelters in the county, dog trainer and daycare manager DeAngelo Nava said.
"There is no specific amount going to each shelter," he said. "We divide evenly amongst them."
According to research compiled by the Best Friends Network, 87% of animal shelters or rescue groups are experiencing staffing shortages. One of the more common reasons for staffing shortages is budgetary issues.
The staff shortages can impact organizations by preventing them from providing proper care and support for animals, giving enough veterinary support, holding major adoption events and maintaining full hours and public access, according to the research.
Between 70-80 people stopped in to get their pets in a picture with Santa, Tieken said. Donations were $10 a piece, but the organization does not yet have an estimation for how much money they raised because since some people chose to donate more than the $10 fee.
The picture with Santa event is growing year after year, Nava said.
"I think it's starting to really take off more. We're seeing increased numbers," he said.
The owners coming in to get photos are not just returning Pet Resort on Main customers, either, Nava said. He estimated that around 20% of the dogs are ones they had never seen before.
According to the Humane Society of the United States, 6.5 million cats and dogs enter shelters annually, and as many as 23% them are euthanized there.
Though the number of animals euthanized is still high, the Animal Humane Society noted in their 2020 annual report that their placement rates increased from 59% in 2007 to more than 93% in 2020.
The society partially credits this placement rate to enrolling animals in behavior programs.
Over 80% of animals surrendered to shelters are done so due to behavior problems, Tieken said, and training can help with that.
"If you've got a well behaved dog, you're probably going to keep it longer," she said. "Hopefully, the intention is to keep it for its entire life."