PORT LAVACA — As members of Zaylen Gonzalez's family placed roses into the water and watched them drift away, his brother Noah Rodriguez, 6, held a giraffe stuffed animal tightly to his chest.
It has been a year since Zaylen, 3, was fatally struck by a pickup truck in a Port Lavaca parking lot, and still, the child's family is clinging tightly to their memories of him. On Wednesday evening, more than 20 family members and close friends gathered near the veterans memorial in Bayfront Peninsula Park to mark the date of his death.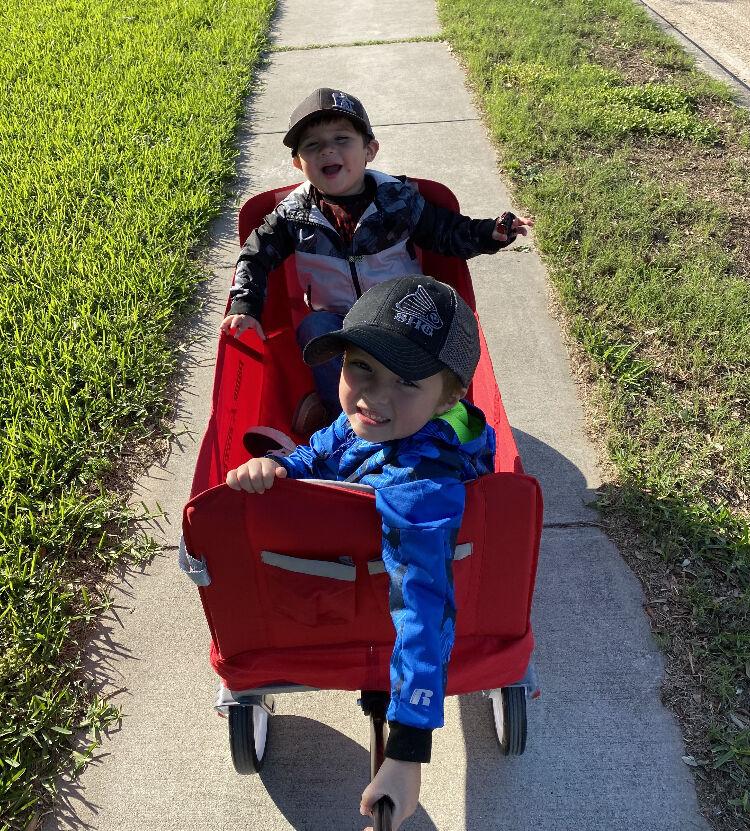 "That was Zaylen's giraffe," said Jessica Helm, Zaylen's grandmother, referring to the stuffed animal in Noah's arms. "He hasn't let go of it since."
In May, a Calhoun County grand jury declined to indict Noe Paez, 53, of Corpus Christi, who had faced intoxicated manslaughter charges for operating the pickup truck that struck and killed Zaylen in the parking lot of an auto shop.
As various milestones have passed — Zaylen's fourth birthday, holidays, the first day of school — Zaylen's parents, Jackie Lopez and Zachary Gonzalez, have been left with their memories of his bright smile, his love of Hot Wheels and tractors and his tendency to come home covered in dirt after a day working on cars and trucks with his father. Helm said she stills finds those Hot Wheels all over her house, bringing back fond memories of how they used to fill Zaylen's pockets.
The legal system, however, has provided the family with no solace. For Gonzalez, who enjoyed taking his son fishing at Magnolia Beach, the grand jury's decision not to indict Paez was a "total shock."
"I sit here, and I dwell on it every day," Gonzalez said. "People say, 'Oh, he's feeling the guilt, he's feeling the guilt,' but yet he's enjoying time with his family, his kids. Where's my son at?"
Since a grand jury declined to indict Paez, Zaylen's family has held out hope that the case could be presented to a grand jury again. But thus far, Dan Heard, the district attorney for Calhoun County, has not done so.
In a written statement, Heard said that it is his office's policy to inform a grand jury of all possible charges it may consider, including lesser offenses, though he did not specify which charges were brought forward for the grand jury to consider in Paez's case. He left open the possibility that the case could be reopened.
"It is always possible that the case could be represented at some point in the future with significant, new, relevant evidence," Heard said.
A toxicology report obtained from the Texas Department of Public Safety shows that Paez had a blood alcohol content of 0.065 after the incident occurred, which is below the legal limit. That test detected no drugs in Paez's system.
In Texas, it is illegal to operate a vehicle with a blood alcohol content of 0.08 or more, according to the Texas Department of Public Safety.
Paez's defense attorney, Sierra Tabone, said Paez drank a tallboy beer with dinner that night, and admitted doing so to officers. The toxicology report was conducted at Memorial Medical Center "within about an hour" after the incident, she said.
Though Port Lavaca Police Chief Colin Rangnow told the Victoria Advocate shortly after the incident that investigating officers noted signs of intoxication in Paez during their preliminary investigation and on-scene witnesses observed Paez driving recklessly at the scene, Tabone said that tallboy was not enough to impair his faculties.
"What he admitted to drinking and what his BAC reflects were pretty consistent," she said. "There is no indication whatsoever that he was actually intoxicated."
Even if an intoxication manslaughter charge wouldn't have stuck, Zaylen's family remains mystified at why Paez hasn't been brought to trial on another charge such as simple manslaughter, negligent homicide or even reckless driving. Helm, Zaylen's grandmother, said the family hadn't even considered the possibility that Paez would simply walk free.
"There was no doubt in our mind that there would be something, some charge," she said. "Then it was no-billed, and we just couldn't even move."
Lopez and Helm said the district attorney's office communicated poorly with them during the legal process, leaving them with more questions than answers. After the case was no-billed, the family was left with little understanding of their remaining legal options, Helm said.
The process grew so frustrating that Gonzalez took it upon himself to research the case, requesting police records and studying up on toxicology testing policy.
"I felt like we had to do a whole lot of calling," Helm said. "And not that anybody's case is less important, but we felt like we had to do a whole lot of initiating communication constantly."
Heard acknowledged that COVID-19 was a "particular challenge" while the case was being handled but said his office made an effort to keep Zaylen's family informed.
"We met with the family on several occasions throughout this process providing as much information to them as we are legally allowed," he said.
Tabone called the incident "horrible" and said Paez is remorseful about Zaylen's death. But convicting Paez, she said, is not the solution.
"Creating another tragedy is not a way to heal the first one," she said. "Sending someone to prison for something they're not guilty of is just as tragic."
But the lack of a conviction in Zaylen's death has left Gonzalez concerned that the incident could be repeated.
"The way I see it, he's out in the street, doing what he wants," he said. "What if he does this again?"
Lopez said forgiving Paez has been difficult despite her Christian faith.
On Wednesday, she and Gonzalez put their arms around each other as they watched the roses slowly float out into the bay.
"People are saying it's eating him up inside, but we don't even know that," she said. "Put him in (prison), at least for a year or something, just so he has time to himself to think about what he actually did. Of course, even if he does, it will never bring our little boy back — but it would put a little peace in our heart."