Riverside Park and roads on the southwest edge of downtown were flooded Monday as the Guadalupe River approached a crest of 30 feet for the first time since Hurricane Harvey.
More than 50 homes in the Greens Addition subdivision were expected to face flooding, along with the neighborhood west of Moody Street between Water and Constitution streets, according to a National Weather Service warning.
Texas Department of Transportation reported continued road closures on Farm-to-Market road 1685 in Victoria and FM 766, SH 72 and FM 236 near Cuero as of Monday afternoon.
The Texas Zoo canceled the first weekend of its Haunted Zoo event and the facility will remain closed until water levels receded, officials said, though the zoo's animals remain safe. Staff are remaining on site around the clock to ensure their safety and zookeepers are being shuttled back and forth to the facility in high water vehicles, according to a news release from Cari Wittenborn, the zoo's interim director.
The second weekend of Haunted Zoo is expected to continue as planned, Wittenborn said.
As of 12:15 p.m. Monday, the river was at 29.77 feet in Victoria and still rising, according to the Victoria County Office of Emergency Management. Water levels were expected to crest to 30.5 feet Monday evening and remain at major flood stage through midday Tuesday.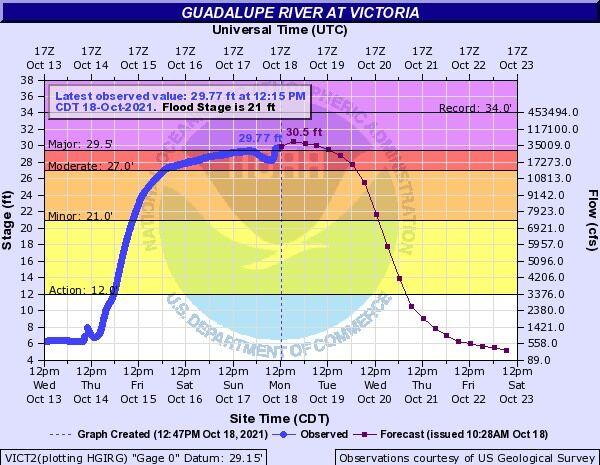 On Monday afternoon, Vine Street was flooded near the RV park at Riverside Park, and the park's entrances at Red River Street and Memorial Drive were barricaded. A thin sheet of water flowed steadily over the roadway near the PumpHouse Riverside Restaurant and Bar.
The National Weather Service warned that cattle from Cuero to Tivoli could be cut off and risk drowning due to the high water levels. SH 35 was also likely to flood over for "several miles," and the floodplain at the confluence of the Guadalupe and San Antonio rivers north of Tivoli was expected to extend several miles wide.
The Guadalupe is forecast to recede below flood stage Thursday.