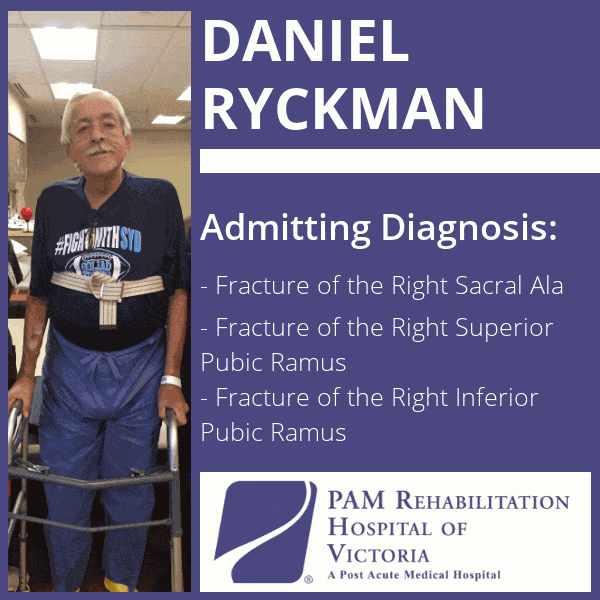 Mr. Daniel Ryckman was at home when he fell and fractured his pelvis, fracturing his right sacral ala as well as his right superior and inferior pubic rami.
Prior to his injury, he was carrying out his daily routine – such as walking his dog and performing light housework - without issue and required no assistive device for ambulation. After Mr. Ryckman had been sent to a local hospital for his initial treatment, he then came to Post Acute Medical Rehab of Victoria for his rehabilitation. He'd made the facility his choice after positive reports from a friend who had chosen to complete their rehab with the staff at Post Acute Medical.
At the time of his admission, Mr. Ryckman had limited mobility due to the pain from his injury and required maximum assistance with transfers and activities of daily living. He was also unable to walk. The staff members he worked with reported that he stayed positive throughout his rehabilitation and showed great intrinsic motivation. Mr. Ryckman's determination helped him improve so that all he requires is stand-by assist with transfers, is able to ambulate 80 feet with a walker, and requires minimum assistance to stand-by assistance with various activities of daily living.

He states, "This is my first time at a rehab facility and it's great" and that "everyone seems to be doing their job to help their patients." He especially wants to recognize Dr. Bakaj, reporting "she listens to me when I talk" and his therapist, AJ, "is a very special person." Mr. Ryckman's goals are to be able to walk, be upright with less pain, and be stronger.
Thank you, Mr. Ryckman, for choosing Post Acute Medical Rehab of Victoria for your therapy!

For more information about PAM Rehabilitation Hospital of Victoria's specialty certified therapists and rehabilitation programs, click here or call them at 361-220-7900.