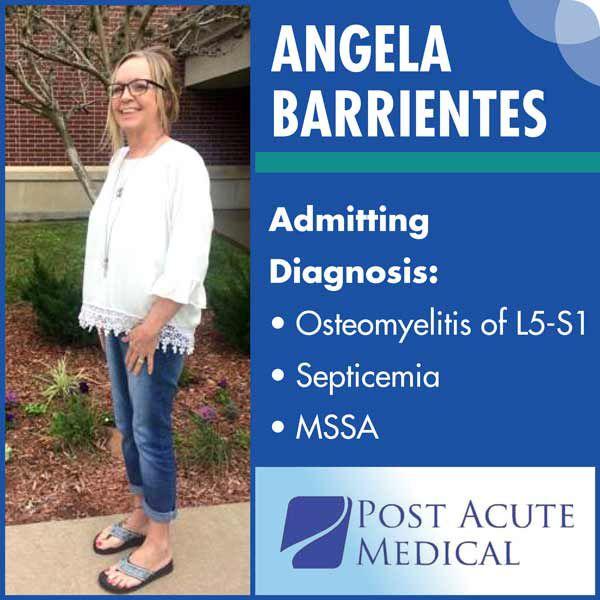 Mrs. Barrientes was working a full-time job and carrying on about her life when she began to experience worsening back pain. Within a few days, the pain had become so intense that she could not get out of bed. Mrs. Barrientes was initially admitted and treated for pneumonia at an outlying hospital. Her condition did not improve and she was eventually diagnosed with MSSA (a form of staph infection) that had affected her spine and blood.
As part of her recovery efforts, she came to Post Acute Medical-North for continued treatment that included intravenous antibiotics, pain management, and therapy to increase functional mobility and strength. She learned of the facility while at a local acute care hospital, and chose Post Acute Medical-North based on the services offered as well as its location. Upon admission, she was unable to ambulate long distances, dress herself independently, or perform normal Activities of Daily Living (ADLs).
While at the Post Acute Medical facility, she was able to increase her mobility, eventually proving able to ambulate without an assistive device, fully take care of herself without assistance, and even climb one to two flights of stairs without difficulty.  During her days at the facility, she would entertain herself by making friends with other patients, and encouraging each of them as they worked through their own treatment. As part of her daily routine, she even went to the effort to set up times to play dominoes or card games with other patients.

After her success with Post Acute Medical-North, Mrs. Barrientes has stated that she would recommend the facility in part because she enjoyed her stay there. She also observed, however, that everyone was always so helpful, respectful, and took the time to understand her and her needs that she felt her care was personalized. As part of her praise for the Post Acute Medical-North, Mrs. Barrientes said, "I definitely consider the staff here at PAM-North my second family."
PAM Rehabilitation Hospital of Victoria is accredited by the Joint Commission, which also has awarded the hospital its Certificate of Distinction for Amputee Rehabilitation. When asked about their willingness to recommend the hospital to others, its patients have given it an "A" rating (versus the national and regional average of a "B").
For more information about PAM Rehabilitation Hospital of Victoria's specialty certified therapists and rehabilitation programs, click here or call them at 361-220-7900.